Jeff Mills to celebrate 20 years of Axis Recordings with 2xCD retrospective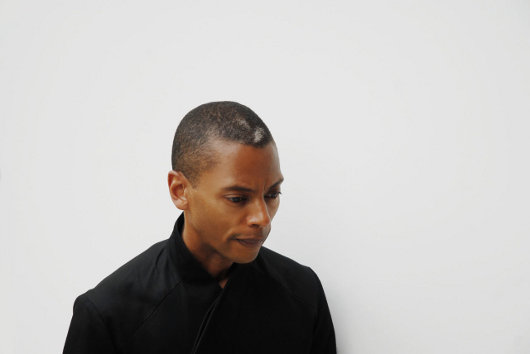 Jeff Mills has announced an exhaustive double CD+booklet release charting the history of his Axis Records imprint.
Sequence: Axis Retrospectiv will feature a track chosen from (almost) every year of the label's history. As a member of the second wave of Detroit techno producers, Mills has pursued a singular, uncompromising career path, taking a deeply cerebral approach to his craft. His early releases (such as the Waveform Transmission series, released on Tresor, and the ubiquitous The Bells) remain some of the most thumping slabs of concrete-shattering techno ever produced.
Mills was one of the first techno producers to dabble in soundtrack work (he scored Fritz Lang's Metropolis in 2000), while his recent output on Axis has been dominated by the twitching, paranoid DJ tools of the Something In The Sky series.
Since it was launched in 1992, Axis has almost exclusively remained a home for Mills' own output, with the odd release from close friends like Claude Young and Robert Hood. The Sequence 2xCD collection includes the first ever Axis release (1992's "Mutant Theory" by H&M aka Mills and Hood, from the Tranquilizer EP), a track from the aforementioned Metropolis score ("Perfecture") and a late 90s live recording from the Rex Club in Paris. This will be accompanied by a booklet containing notes from Mills which explain the concepts behind each track selected on the compilation.
Recently a number of utterly essential Mills mixtapes from the late 80s appeared on the Little Detroit website (via XLR8R), which offer a timely reminder as to how he earned the title of The Wizard.
No word on a release date yet but keep an eye on Juno Plus for more details as they emerge.
Tracklisting:
1. Tranquilizer EP (AX-001) 1992 "Mutant Theory"
2. Mecca EP (AX-004) 1993 "Step To Enchantment" (stringent mix)
3. Drama EP (AX-006) 1993 "Suspense" remix version
4. Cycle 30 EP (AX-008) 1994 "Utopia"
5. Growth EP (AX-010 1994 "Growth"
6. Purpose Maker EP (AX-011) 1995 "Casa"
7. Humana EP (AX-012) 1995 "Gamma Player"
8. Very EP (AX-016) 1996 "Normalism"
9. Tomorrow EP (AX-018) 1997 "What if"
10. Live Series (PM-007) 1998 "5 minutes, 29 seconds at The Rex – Paris
11. Apollo EP (AX-019.5) 1999 "Starless"
12. Metropolis CD/EP 2000 "Perfecture"
13. Preview EP 2001 "Glen21"
14. Every Dog Has Its Day Vol. 1-3 2002 "composite EDHID review
15. See The Light 1-3 2003 "A "seethelight" mix" – 7 minute mix
16. The Tomorrow Time Forgot 2004 "Man Made"
17. Suspense/Dramatized" 2005 "Dramatized"
18. Blade Runner (AX-044) 2006 "Deckard"
19. One Man Spaceship 2006 "The Art Of Barrier Breaking"
20. Systematic/The Sin (AX-048) 2007 "The Sin"
21. Alpha Centauri EP 2008 "Alpha Centauri"
22. The Good Robot (AX-055) 2009 "composite The Good Robot review
23. Sleeper Wakes CD 2010 "Space walk"
24. The Occurrence 2010 "CD segment excerpt"
25. The Power EP 2011 "Microbe"
26. The Messenger CD 2012 "Industry Of Dreams"