Native Instruments Maschine Mikro review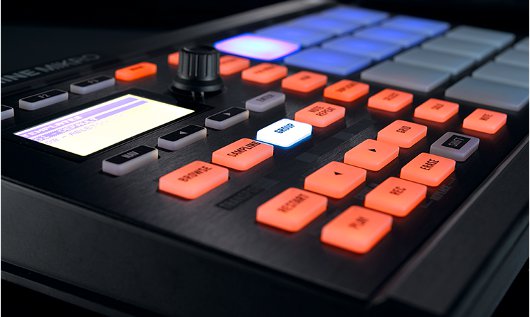 With the success of their flagship Maschine beat production workstation, Native Instruments introduce us to its little brother, the Maschine Mikro.
The Mikro is all about offering a hands-on feel and practicality of making music in a digital age, whilst retaining the feel of a performance. To this end Native Instruments have given us a solution that is two fold: the hardware itself, in the form of the physical unit, and their own software specifically designed for use with Maschine Mikro. It's easy to see where the Native Instruments people are going with this smaller and lighter version of its larger sibling – it has the look and feel of a classic drum machine. In the size department there has been some clever shaving and shaping. It's the same width as the Maschine but about a third shorter, and marginally less high, and as a result weighs much less. It'll easily fit in hand luggage next to a laptop.
The Native Instruments software, which comes in the box with the unit, is the same software that ships with the original Maschine. Its simple to use pattern sequencer is arranged into four areas with a browsing section on the left, which allows you access to the six plus gigabyte library included, as well as your own hard drive and any samples and loops which you may have already prepared. At the top of the screen is a simple arrangement page, on which you can build your music by adding patterns into as many as 64 scenes per project. This way of working is conducive to getting a fast workflow going once you have your elements in place. At the bottom is a pattern editor, which is organized into the grid-type arrangement that has become standard in most sequencers these days. Directly above this is the part control area, where you can use any two of the 21 effects. This is also the area where you can record and edit either external or internal audio and manipulate it using the sampler engine. It's  possible to use the software function without the hardware unit itself, and with an extensive library of sounds provided by well known artists and sound designers, as well as a few of Native Instruments' remastered Battery kits, it's a very useful bit of software in its own right.
"The Mikro is all about offering a hands-on feel and practicality of making music in a digital age"
The package really comes alive, however, when you use it with the Maschine Mikro controller. Once connected to your Mac or PC via the USB 2.0 lead included, it's easy to understand what Native Instruments have accomplished: they get your eyes away from the computer screen so you can free up your own headspace for creativity, although getting to know the layout and workflow of the unit might seem a little daunting at first. There are 16 pads designed to help tap rhythms into your track – you can also use these pads for playing some of the instruments as well. They have dual modes, which are enabled by holding down the shift key. This makes it easy to access the quantize functions, undo, redo and compare operations. In the top left hand corner is the control section, where you can access all sound, group and master parameters as well as browse and assign sounds and effects. It can be easily read off a single LCD display and changed using the single push encoder knob and a set of simple navigation and function buttons used on their own or in combinations to access different parts of the software. Directly below is the transport section, which is where you'll find eight dual function buttons that allow you to play, record, erase and step back bar by bar in your arrangement.
Essentially, the Mikro asks you to understand two aspects of its functionality to get your creativity flowing. The first is the creation of patterns – the building blocks of your music – and it's here that Native Instruments focus on workflow. It doesn't take long to get simple rhythms going and it's fully editable on the fly, so there's no need to keep stopping and starting in order to "get it right". Once you have the bricks and mortar ready you can add effects to your sounds; compression, EQ, reverb and delay are all accessible from the control section, to name a few. The second aspect of the Maschine's capability is how it helps turn those building blocks into a fully arranged track using the scene-based sequencer. Again the workflow is the key, and organising your scenes can be done on the fly with the feeling that you're jamming your arrangement into shape with the stroke of just a few key combinations.
"The Mikro gets your eyes away from the computer screen so you can free up your own headspace for creativity"
Mikro's capability doesn't end there; it's also possible to edit samples from the internal library or record and edit your very own sounds from an external source. In this respect the Mikro is not just a sequencer and sampler but an instrument in its own right. It'll also find any of your favourite VST or AU instruments and allow you access to those as well. Furthermore you can harness the Maschine's capability in your DAW of choice, or with the touch of two buttons you can just use it as a MIDI controller.
To those who are completely new to production, being daunted by the learning curve needed to understand how this unit works is entirely understandable. There are a lot of routines you need to get used to that involve multiple button strokes and combinations. But, then again, this isn't just any old groove box. It's a high end music production system and furthermore, although this is the compact version, there is nothing cut down. Native Instruments have effectively given you everything that you would get with the Maschine, only in a smaller and more compact form. The backlit rubberised buttons are nicely spaced and the main sections of the unit are easily laid out and even though there are quite a few multi function button combinations to get used to, nothing of the full Maschine's utility has been left out.
Specifications:
| | |
| --- | --- |
| Dimensions | 320mm x 195mm x 55mm |
| Weight | 1.2Kgs |
| Controls | 16 performance pads, one push encoder knob, 28 rubber control buttons, One LCD display |
| Connections | One USB 2.0 cable |
| System Requirements | Mac OS X 10.6 or 10.7 (latest update), Intel Core Duo, 2 GB RAM |
| | Windows 7 (latest service pack, 32/64 Bit), Intel Core Duo or AMD Athlon 64 X2, 2 GB RAM |
| Space needed | For full installation your recommended to have 11 GB or free disk space. |
| Supported Interfaces | Stand Alone, VST, Audio units, RTAS (Pro Tools 9 or higher), Asio, CoreAudio, WASAPI |