Maxmillion Dunbar drops some Polo action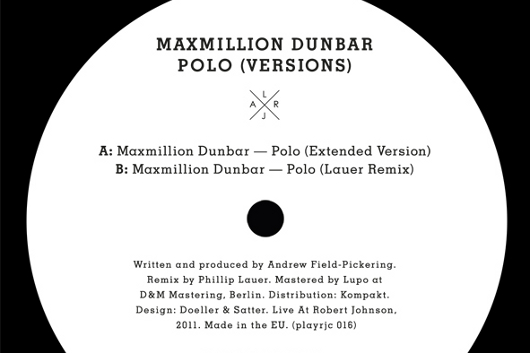 In what can only be described as a good move by all involved, erstwhile Beautiful Swimmer Maxmillion Dunbar will add the excellent Live At Robert Johnson imprint to his already impressive arsenal of record labels.
Alongside regular emissions for Future Times, the Washington DC based imprint he is heavily involved in, Dunbar has also contributed to the likes of Ramp, L.I.E.S., Peoples Potential Unlimited and Permanent Vacation with his own trademark blend of hard to categorize dancefloor material.
Dunbar's debut for the esteemed Frankfurt label sees the Future Times artist rework a track from his back catalogue at the behest of Robert Johnson's resident DJ Ata and Live At Robert Johnson manager Oliver Hafenbauer. The duo were so taken with the "bleepy bonbon" of "Polo" from Dunbar's 2011 EP Max Trax For World Peace that the label offered it a "place by their fireside."
Expanded to twice it original length, the extended version is complemented by a remix from Arto Mwambe's Phillip Lauer filled with his "trademark sluggish bass line barrage tracks with falsetto synths and sharp snares" that is described by Dunbar himself as "completely ill".
Live At Robert Johnson will release Polo by Maxmillion Dunbar on 12″ on February 6, 2012.