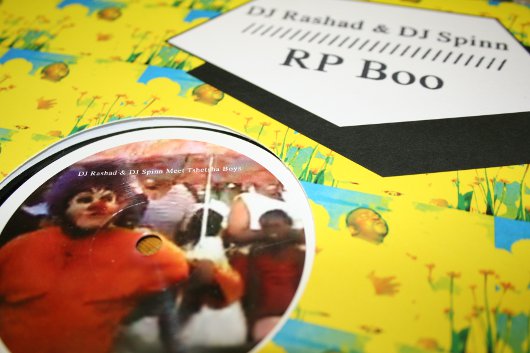 With a skeleton crew left in the Juno offices the week before Christmas, it wasn't necessarily the best time for a mountain of records to arrive, but arrive they did, with a few long awaited gems making a welcome appearance.
One such release was the eagerly awaited second round of Virgo Four remixes from Rush Hour, featuring Capracara and Scott Fraser's sinister, acid tinged jack version of "Lites Go Out", and Hieroglyphic Being's "Pongo Remix" of "Boing", adding clattering rhythms and bass bounce to what was previously a deep house excursion, creating a dusty, mechanoid monster which bears almost no relation to the original. The other big house release this week came from FXHE associate Big Strick, who delivered an EP filled with the finest vintage Motor City house with his own unique and woozy touch to it. Also essential was JD Twitch and Andy Blake's monster reworks of Scottish band Sons & Daughters, with JD Twitch's white noise snares and pulsating bass propelling "Silver Spell" forward like a rave juggernaut, and Blake's "Haunted Fairground" remix of the track sounding like a possessed merry-go round.
Techno fans were spoiled this week, with the arrival of the latest Blackest Ever Black transmission from Young Hunting proving the most beguiling, with looming bass and tribal drums combined with the kind of furious vocals that bring to mind Mark E Smith interrupting a black mass. This was joined by a new Function EP on Sandwell District, Shifted's latest on Our Circula Sound, as well as Pacific Blue's "Industry" getting the remix treatment from Silent Servant and Rrose. Add to this a live 12″ from James Ruskin and Karl' O Connor, and the debut record from Wincent Kunth on Marcel Dettmann's own imprint, and you've got one of the best weeks for techno releases this year.
In the world of bass, Machinedrum's hand numbered 7″ for Austrian label TLM provided "$$ Life", combining a bumping 808 rhythm with a growling sub, layered over with candy coated synth melody, and the vintage boogie funk inspired "The Way". Our record of the week however was the latest round of Shangaan Electro remixes from Honest Jon's, with Chicago juke titans Rashad & Spinn and RP Boo proving an inspired choice to rework the frenetic sounds of the South African dance sensation.
It was far from quiet over at Juno Download, where a pair of great Clone releases entered the digital domain, with the release of Blawan's exceptional Peaches EP, filled with his trademark burrowing rhythms and indescribable drums sounds, and Clio's "Eyes", a curious Italo-disco classic from 1984 that sounds like a long lost Bobby Orlando production, backed with Bottin remix. Further heat was dropped by the on point Unknown To The Unknown imprint, delivering an all too rare Capracara production, "House of Dolls", backed with a cheeky 8 Bit dub version from TAPES, and Instra:mental's Jon Convex, who released Pop That P, two tracks of booty shaking, ghetto house inspired techno through Irish label [Naked Lunch].