Air further chart A Trip To the Moon
In more formerly celebrated French duo rising Phoenix-like news, Air will return with a new album next year which expands on the updated soundtrack they composed for the classic silent short French film Le Voyage Dans La Lune.
Released way back in 1902 and directed by Georges Méliès, the 14 minute short black and white silent piece is considered one of the first films in the Science Fiction canon, drawing inspiration from two classic novels in Jules Verne's From the Earth to the Moon and H. G. Wells' The First Men In The Moon.
A previously unheralded colour print of the film was uncovered in 1993 by the Filmoteca de Catalunya and after years of painstaking manual and digital restoration, the film was finally ready to be shared with the world. Air, who are no strangers to the art of the soundtrack, were approached by the film's producers to compose a modern day audio accompaniment for the film when it premiered at the Cannes film festival earlier this year.
Seemingly inspired by their work, the Record Makers founders elected to develop and expand the ideas into a fully fledged album which is set for release in February 2012, and features vocal contributions from rent-a-French-troupe Au Revoire Simone and Beach House singer Victoria Legrand. Le Voyage Dans La Lune essentially sees the Parisian duo return to the lunar ideas explored on their first album, Moon Safari, which is considered a classic of the late 90s.
Astralwerks will release Le Voyage Dans La Lune by Air on February 7, 2012.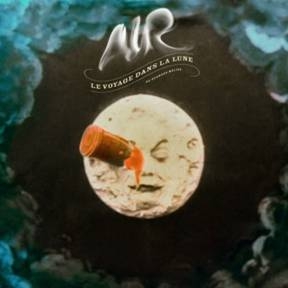 Tracklisting:
1. Astronomic Club
2. Seven Stars
3. Retour sur terre
4. Parade
5. Moon Fever
6. Sonic Armada
7. Who Am I Know?
8. Décollage
9. Cosmic Trip
10. Homme lune
11. Lava