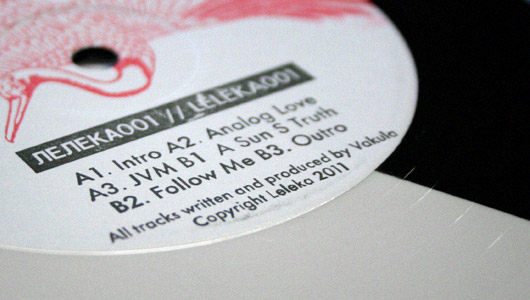 On any given week all manner of vinyl comes across the desk here at Juno Plus HQ: marble, paint splattered, clear, picture discs – we've seen it all. Or so we thought. Step forward Vakula with his 65th release of the year – and the first on his own Leleka imprint – which arrived sporting the above two tone vinyl finish which has had us scratching heads all week.
The Ukrainian matched the mind bending presentation with some fine music which veers beyond the richly layered house music he's treated us and you to in 2011, nudging in some warm and delicate beatdown and glistening head nod delight amongst the constantly fluctuating house rhythms. Vakula also appeared in remix form on Cottam's debut for Aus, rewiring the nine minute saunter through slo-mo twisting alien techno that is "Deep Deep Down" with his own production eccentricities.
At the opposite end of the prolific scale to Vakula is Fright, the Giallo leaning label set up by Michael Mayer back in 2009, which returned after a Dracula-esque period of hibernation with their third release that saw Glasgow's Naum Gabo at the helm. If you've not indulged in the label yet, The Crystal Line is a perfect example of the Fright aesthetic, featuring a triplet of creeping, throbbing synth exercises which at times sound like there's not a correct speed on the turntable. If freaked out discotheque is your thing, then may we also recommend the one sided twelve inch from Ramirez, which was produced by Hype Williams' Dean Blunt and sounds very much like Jamal Moss and Sylvester collaborating – some mad phaser action on this one!
Some big records surfaced from the land they call Bristol this week too, with October and Borai collaborating on the inaugural release from the BRSTL imprint. An auspicious twelve from the vowel shy label it was too, with the title track "Sticky Fingers" combining Mid West warmth with a West Country snap and complemented by the claustrophobic, drunken swagger of "Left Out". Just as good was the latest missive from Idle Hands alumni Kowton, who added Danish label TEAL to his growing  CV with the rather fine Dirty Little Bomb, which provided yet more examples of the producer's talent for crafting chugging mid tempo house filled with crisp and grainy percussive tones and deep bass tones. Further reason to indulge came in the shape of an excellent remix from Naked Index star Adam Rivet which somehow extracts all of Kowton's unique textural nuances and recomposes them inside a pulsating warehouse bomb.
Ahead of his Conducted mix CD for the Music Man imprint, shaggy haired Berghain resident Marcel Dettmann slipped out not one but two twelve inch shaped samples of what to expect, bringing a nice balance of forgotten dusty gems ("Night" by Bluemoon Productions is immense) and the new school of techno such as Morphosis and perennial vinyl huggers The Analogue Cops. Also doing things in twos was Al 'Boddika' Bleek, who unveiled a double helping of new identities in Transportation AAD and Grey Goo across two twelve inches for the Darkestral label which sound like nothing else released this year.
Over at Juno Download, we were treated to a tantalising glimpse into the upcoming Canyons album on Modular; "See Blind Through" is a slow burning Chicago house jam boasting the vocal talents of Ramona Gonzalez (aka Nite Jewel). It's one of the heaviest Canyons productions to date – right up there with the excellent "Blue Snakes" – and came replete with some nice remixes from the likes of DJ Harvey and Mic Newman. In another forthcoming album teasing affair, Cooly G dropped "Landscapes" ahead of her LP for Hyperdub; co-produced with Simbad, it's utterly devastating in its use of simple elements for maximum effect.
Our man Xhin dispensed with the teasing, thankfully, and dropped his keenly awaited debut set Sword on the ever excellent Stroboscopic Artefacts, while the new Oneohtrix Point Never album, Replica, also arrived via the Software imprint. Gone are the warbling arpeggios and, for the most part, the waves of synth drone that characterised OPN's debut album Returnal, replaced with predominantly sampled audio, supposedly from television advertisements, supplemented by Mr Lopatin's famous Juno-60. Other digital releases of note came from Lowtec on Nonplus, DJ Stingray on Unknown To The Unknown, Kink & Neville Watson on Rush Hour, Mosca on 3024 and Rocketnumbernine on Soul Jazz.
CD-wise, the Juno Plus editorial team fell into a collective swoon over Rush Hour's Amsterdam All-Stars compilation; the record store turned stable of labels saluted a new wave of (mostly) homegrown Dutch heroes with a superb compilation of previously unreleased material from both established producers (Dexter, Neworldaquarium, Tom Trago) and exciting newcomers (Melon, Awanto5, Maxi Mill).