DJ Stingray: The Man Behind The Mask
Certain events leave an indelible mark, and for this writer, one of those moments was in June, 2002 when Warp's Magic Bus tour came to my hometown.
The line-up featured Plaid, a staple act from the Sheffield imprint's roster, as well as Warp DJs and at the time, the ubiquitous Keith Tenniswood from Two Lone Swordsmen. There was one notable unknown – a performer billed as 'Drexciyan DJ Stingray'.
With Detroit act Drexciya and their many side-projects releasing a spate of landmark releases around this time – take your pick from Harnessed The Storm and Grava 4 as Drexciya; Hypothetical Thought by Gerald Donald's solo guise Abstract Thought and album projects from James Stinson's projects Shifted Phases, Transllusion and The Other People Place ‑ there had been a lot of speculation in the weeks leading up to the gig as to whether James Stinson – who sadly passed away a few months later – or Gerald Donald were going to make their Irish debut behind the decks as a warm-up for Plaid.
The mystery and sense of anticipation was heightened when the house lights went down and a ski mask-clad individual took position behind the decks. It isn't easy to faze a crowd full of Warp trainspotters at the best of times, but as 'Drexciyan DJ Stingray' started to play, it is fair to say that 'what the fuck is going on' was the most common reaction among the crowd.
Records like Rob Hood's "Minus" were sped up to 45 and then pitched way down, there were frenetic ghetto tracks but also an underlying feeling of depth and spaciousness common to Drexciya's own productions.
In short, Stingray's set felt in places familiar and drew on some references that the crowd could identify with, but it also pushed into genuinely new territories and in places sounded completely off the wall. So who was the man behind the ski mask?
It turns out it wasn't Stinson or Donald, but Sherard Ingram. More astute crate diggers would have encountered Ingram long before the Magic Bus tour rolled into town through the gloriously evocative downtempo of the 1998 Urban Tribe album Collapse of Modern Culture on Mo'Wax, a collaboration with Carl Craig, Shake, and Moodymann. At the time of the Warp gig though, the Stingray alias would have been largely unknown.
"The Magic Bus tour was the first time I ever played overseas. Man I was so nervous that night I played in Dublin, it wasn't even funny! My records weren't so organised and the whole thing was so nerve wracking, but it worked out in the end," he explains modestly to me over Skype.
While Stingray's DJ schedule is increasingly hectic – dates in Dublin, Glasgow, Paris, Finland and Denmark are in his diary for the next month – Ingram has been playing records since the 80s.
"Kenny Dixon Jnr taught me how to mix," he recalls. "He took me to his house after school and his mixer didn't even have a fader, just slides. The next one to influence me was Mills and then May – he'd spin back records, do edits, play eclectic selections."
From an artistic and aesthetic standpoint, it sounds like it was Electrifying Mojo who gave Ingram an insight into the possibilities of fusing black music with electronic sounds from Europe.
"Detroit has always been into high-speed, high-tech stuff. When Kraftwerk came out, guys who you wouldn't imagine could be into it listened to it," Sherard says. "Hip-hop was king, R&B was king, so we can thank Electrifying Mojo for Detroit's love of Kraftwerk. He played music that you weren't supposed to play for a black crowd, he carved this into our psyche. Where he influenced me most was in the selection. I listened to things that weren't normal, things that were off the wall."
Apart from being influenced by Mojo, it's also true that Ingram earned his own DJ stripes in an unusual setting. "When you talk about standing up in front of people and playing records all night, the first regular gig I had was at a bikers' bar in the 90s. In the late 90s there was a period where I didn't DJ, mainly for personal reasons. After the first DEMF I got back into it," he says. It was at the bikers' bar, where Kenny Dixon Jnr also played, that Ingram crafted his ability to slip in and out of styles through his quick mixing technique.
"It was a hard crowd. It wasn't exclusively bikers, there would be civilians there too. It was the 90s and they were a hip-hop crowd, so you had to make sure that they didn't get bored. We'd sandwich in some hip-hop and a lot of the Miami bass stuff. We didn't go into straight techno too much," Sherard recalls. "I had a great bird's eye view of what went on there and from playing there, I learned that clubs are not the greatest places to get into a fight!"
The bikers' bar gig also gave Ingram the opportunity to drop some homegrown electro from Drexciya, an act he had encountered through working in a local record store. The group would later ask Ingram to become its official tour DJ –  hence the name on the bill for the Magic Bus tour – and this arrangement seemed like a natural progression. While Donald and Stinson's work would have an influence on Stingray's productions, in the first instance their work became part of his DJ sets.
"I knew Drexciya for years before that from Buy Rite and I brought Donald down a few times to the club," Sherard explains. "We used to play Drexciya there – there was one track in particular we used to play – its name escapes me now – and the crowd used to do the hustle. It was a modified hustle, not a full on 70s hustle, but you gotta remember that this was a motorcycle club.
"Certainly I was a fan of Drexciya, even though we were the same age. I also draw from Parliament, Kraftwerk of course, Severed Heads, Front 242, early Ministry and Skinny Puppy. It's almost like I can't tolerate to hear records at a certain pace," he adds. "I heard other guys speeding up records and they sounded better, more high-tech, faster."
Drexciya's unwillingness to engage with the media and their habit of sending out mysterious messages via the inlays of their releases is embedded into electronic music lore, so it is unsurprising that part of Ingram's job description as tour DJ involved covering up his face while performing.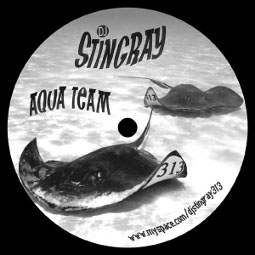 Given that he still wears a mask during club gigs, does he feel that he is upholding Drexciya's, and, to an extent, Detroit's legacy? Does he want his audiences to focus on the music instead of who is playing the records or is it simply a desire to remain anonymous?
"It's a little bit of all of the above," Sherard explains. "There is a tradition of doing this and James suggested it to me. I got a balaclava because the ski mask was way too messy. Wearing it at gigs is only a small amount of discomfort, at this stage it's just like another piece of clothing. When I go to gigs I don't want to smoke or drink, I want to work and feel like I've accomplished something. I stay low-key. I talk to people in the crowd, but it's less about the cult of the personality and ultimately it's about the music and it's the artists who drive the DJs."
Unsurprisingly, Ingram is dismissive of the superstar cult that surrounds DJs and feels that it is often used to mask musical shortcomings. "Some guys play into the cult, you see guys waving from behind the mixer, throwing their heads back like they are having a spiritual epiphany, you know, waiting for the spaceship to land (laughs). To them it's all just an acting job, but I feel that if my music isn't moving you then I shouldn't be acting to try to make up for it," he says.
One of the challenges facing Ingram as a DJ is the fact that he doesn't play straight 4/4 house or techno. While Detroit's clubs have always been open to fast-paced electro and ghetto, Ingram's growing international profile means that he is playing to crowds with differing expectations. However, he feels that the experience that he gained in Detroit clubs has helped him to overcome this challenge.
"If you are not mixing a lot of 4/4 stuff you can't be too abstract. It's the same if you are playing quite fast. People are so used to 4/4 that if you are doing something a bit offbeat, they think 'what is this guy doing'? I try to throw in as many records as possible and you also gotta look at the crowd," he says. "I mean I'm not a dictator and if the crowd is into a particular record, I'm gonna let it play – but the bikers club had a deep influence on my DJing style."
The pacy rhythms and sub-aquatic bass that are common features of Stingray productions for Trust, Pomelo, Micron Audio and [Naked Lunch] are a logical progression from Drexciya's own work and the Urban Tribe albums on Rephlex -which followed the serene debut in 2006 and then 2007 – but Ingram feels uncomfortable with the manner in which his productions are interpreted, especially the phraseology used to describe his music.
"When I think electro, I think of an 80s analogue keyboard and an 808," he says. "My music doesn't have a typical 4/4, the music I make may not be typical techno, but I want to be filed in the techno category. People are adulterating the word electro. I went to a record store in Japan and I played a record from their electro section. It was really crowded and had these really heavy, distorted beats, I mean it's not even what I'd consider to be clichéd electro. If it doesn't fit into minimalist house or techno, it gets thrown into electro. Electro has become the trashbin of genres, just throw anything into it. I don't want to see people who make non 4/4 music just being called electro," Ingram adds.
Despite his desire to be included in the techno bracket and to be disassociated with a term that he sees as an 80s construct, Ingram is in some aspects still very much a traditionalist.
"I'm still 100 per cent vinyl. I love the feel and sound of it and if I am looking at a computer screen all day producing music or answering emails, I don't want to be looking at a screen when I'm DJing," he explains. But despite this, he is quick to point out that "I'm pretty much a software producer these days and it has served me well" and that "I would never go totally analogue unless I won the lottery".
Despite his love of vinyl, Ingram believes that laptop DJing is an inevitable development among the new generation who grew up in the last decade. He is adamant when he says that he "would never look down on a young kid who uses a laptop to DJ with as that's what they grew up with", but equally, he advises that "if you are going to use software, push it to the limits, do something exciting with it. The problem I have with laptop DJs is that a lot of them don't get beyond the basics."
Like many DJs who were around when electronic music exploded during the late 80s, Ingram has an ambivalent, almost cautious attitude towards technology. On one hand, he realizes that technology makes it far easier and quicker to make music, but he is also conscious of the fact that it is a facilitator rather than the driver of creativity-  a point he feels is lost on many producers.
"With my productions, there is a certain aesthetic that I want to bring. I don't want to make it sound like I'm doing neurosurgery, but at the same time, if you are really serious about making music, leave an imprint," he says.
"It's almost like I can't tolerate hearing records at a certain pace. I heard guys speeding up records and they sounded better, more high tech, faster…"
"But not everyone is an artist: just because you have the necessary tools, you may be a good technician, but you are not automatically an artist. The standardisation of technology, the ease with which it is available to the common man is a good thing and you don't have to mortgage your future to get music-making equipment. I remember years ago looking at a 32-track digital recorder and the price was $30,000. Those kinds of barriers don't exist anymore but it means there is a uniformity of sound now -the autotune in pop music is the most obvious example."
It's not just homogeneous, generic music that Ingram has a problem with, and viewed from a wider perspective, he thinks that the misuse of technology has become a societal problem.
"Technology has allowed me to communicate to and with the world, but it also has fostered this intrusive culture. You have cameras and databases everywhere collecting information, especially if you live in a quote unquote civilised society.
The technology itself is soulless. I mean I am all for high tech, but it's the use of it that, and I shudder to use this word, affects morality. A person with a camera phone can record a crime, or record a private moment that you shouldn't. Technology is a pandora's box, but it's all about what you do with it."
Yet as he notes himself, communication technology has raised his profile and has even helped him to get record deals. Micky from [Naked Lunch] got in contact with Ingram through MySpace and it was through the same process that Ingram himself hooked up with Trust, resulting in releases for Stingray and Urban Tribe.
"I love Trust. I met him (DJ Glow) on MySpace, he was someone else's friend. I loved this one record on Trust, "Who Am I", by Glow. It's a safety net for me – whenever I am mixing, it gets me out of trouble. I was also proud to be associated with [Naked Lunch], it's a great label," he explains.
In the absence of a commercially available Stingray mix CD, the internet has also allowed Ingram to showcase his DJing skills, but again he sounds a note of caution about making too many mixes available online.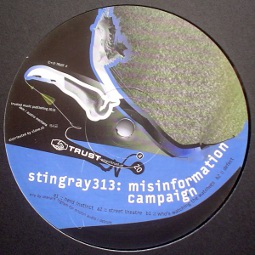 "Saturation can be a good or a bad thing – people only have so much time and the charm wears off if you are putting out a mix every day. Why would I go to see a DJ if you are putting out 200 mixes online? It's too much of a good thing," he observes.
Like Drexciya and Underground Resistance, Ingram's Stingray project is nothing if not idiosyncratic and "Misinformation Campaign", the latest Stingray release on Trust, offers an understanding of why this is.
Based on frenetic rhythms, branded with acid-burnt bleeps and lent a sense of drama by discordant synths, tracks like "Who's Watching the Watchers" also serve as reminders that electronic music has the potential to make political statements. Before we start talking politics, Ingram explains how he approaches production.
"I take my time, I can't make a track in three days. I make a bank of textures, put together a rhythm track, sometimes I compose from scratch. I have a bank of components, or sometimes I'm pissed off and want to start from scratch. Maybe if I have a weird dream or see stuff on TV or watch sports, that'll inspire me," he says.
That said, there is no ambiguity that the Stingray releases are anything but overtly political and that Ingram is keen to inform and provoke his audience as much as possible.
"There is no question about that. I try not to stand on a soap box, but I also try to make people aware of things that affect the common people. Don't forget that governments and institutions are there to serve us and that we place a lot of trust in very few hands. I'm not ashamed of that. My music may even get more political, but I don't want to say more about that yet. There is nothing wrong with providing hope -sometimes you just gotta take a stance."
"Electro has become the trashbin of genres; people just throw anything into it. I don't want to see people who make non 4/4 music just being called electro"
Ingram dismisses the argument that electronic music is apolitical and should be seen as a form of escapism. He views this as passing the buck and believes that producers and DJs are duty-bound to send out messages to their listeners.
"With this position comes a huge amount of power, so why not be responsible? Rock, pop, metal, they all have lyrics and messages, techno is international music as well -why do we have to bite our tongue? I'd love to run into the sunset and everything is beautiful, but things ain't like that. If we want to be credible, we gotta take a stance. We can be just as vocal as a rapper and a heavy metal singer screaming his head off."
One of the messages that Ingram appears keen to communicate is about his hometown. Detroit is invariably portrayed as a dying city, a blighted urban space – it helps to sell the stock in trade cliché of techno being all about escapism after all – but Sherard feels that reports of its demise have been greatly exaggerated.
"Detroit has its difficulties, but it's the same in many parts of the US. In fact the recession is pretty much a universal thing in the States," he says. "It's not a race thing. Sure it's more acute in minority communities and ethnic communities, but it's not just Detroit. Anyone who tells us otherwise is just lying."
Ingram will be leading a Detroit show of force early next year when the next Urban Tribe album surfaces. Scheduled for release on Carl Craig's Planet E label, "it has input from Gerald Donald and Nina Kraviz. It won't be a huge departure from Mahogani. We have done some vocals – we want them to be a central part of the album. Next spring I plan to do a live tour".
In the meantime, Ingram has a Stingray release planned for Micron Audio, and The Sadist 12″ just arrived on UK imprint Unknown To The Unknown. He also has a Stingray artist album in the pipeline, about which he says: "It'll be all about the dance, I'll keep serving meat and potatoes on that."
If it's anything like the rest of Stingray's endeavours, it should leave an unforgettable taste.
Richard Brophy
Juno Plus Feature Mix – DJ Stingray
(This mix has now been archived. You can still stream it via the Mixcloud player above)
Tracklisting:
1. Adam X – Downburst (Prologue)
2. Dopplereffekt – Speak & Spell (Clone)
3. Addison Groove – Work It (Swamp 81)
4. The Sentinel – Wrong Place (Southern Outpost)
5. Kronos Device – Raveger Of Planets (Battle Trax)
6. Shapeshifter & The Sentinel – Night Vision Beats (Southern Outpost)
7. Clatterbox – Machine Code (Trust)
8. Instra:mental – Delta Zone (Nonplus)
9. Drexciya – Running Out Of Space (Warp)
10. Africa Hitech – On In The Streets (Warp)
11. Marco Bernardi – Preacher Teacher (Frustrated Funk)
12. Manasyt – Circle Of Trends (Monox)