Planet Mu compiles Bangs & Works Vol. 2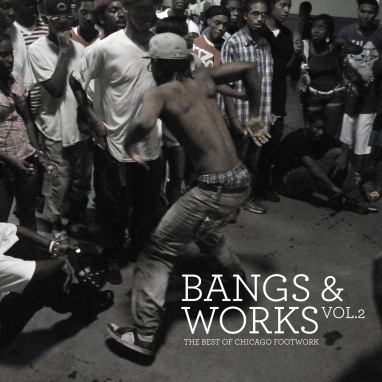 Planet Mu will follow up last year's Bangs & Works compilation with a further volume of footwork handpicked from Chicago's local scene.
Obsessively compiled by Planet Mu boss Mike Paradinas, Bangs & Works Vol. 1 was the first compilation of its kind, bringing what was a highly localised genre to the ears of people across the world. Its critical and commercial success allowed Planet Mu to tour two of the movement's most prolific producers, Rashad and Spinn, to the UK and Europe. The compilation's influence on the wider world of dance music cannot be underestimated, with Planet Mu artists Machinedrum and Kuedo's recent albums wearing its influence on their sleeves, while producers like Addison Groove adapted the sound to their own brand of bass.
According to the Planet Mu's press release, Bangs & Works Vol. 2 will cover different aspects of footwork from the first compilation, with the hallucinatory and leftfield elements of the first giving way to "mad techno style" tracks and other material "built around long forgotten Europop songs, soul, and hip-hop".
As well as established names of the scene such as the aforementioned Rashad and Spinn, Traxman, DJ Roc and RP Boo, the compilation will also feature younger producers such as Jlin, DJ Young Smoke, DJ Y Fall and DJ Rome, whose track purportedly sounds like "a fevered hallucination".
Bangs & Works Vol. 2 will be released on November 14 through Planet Mu.
Tracklisting:
1. RP Boo – Heavy Heat
2. Jlin – Erotic Heat
3. DJ Earl – Hit Da Bootz
4. DJ Rashad & Gant-Man – Heaven Sent
5. DJ Metro – Burn Dat Boi
6. DJ Clent – Ball'em Up
7. DJ MC – Y Fall
8. DJ Spinn – Crazy 'n' Deranged
9. Traxman – Funky Block
10. DJ Rome – Showtime
11. DJ T-Why – Finished
12. Tha Pope – When You
13. Boylan – Bullet Proof Soul
14. Jlin – Asylum
15. DJ T-Why – Orbits
16. DJ Roc – Get Buck Juice
17. Traxman – Brainwash
18. DJ Clent – DJ Clent #1
19. DJ Metro – Smak My Bitch Up
20. Young Smoke – Space Muzik Pt.3
21. DJ T-Why – Juice
22. DJ Solo – What Have You Done
23. Young Smoke – Psycho War
24. Young Smoke – Wouldn't Get Far
25. DJ Metro – Tekno Bangz
26. RP Boo – Off Da Hook