Hyperdub reveal full list of King Midas Sound reworks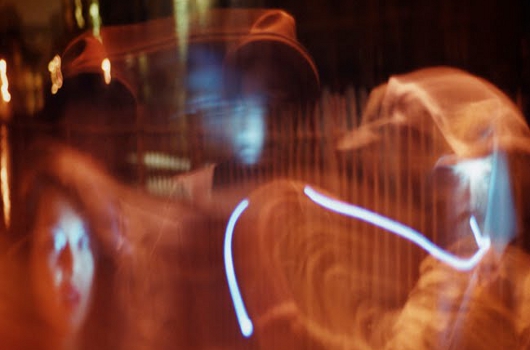 Arch UK imprint Hyperdub have rolled out a truly impressive and far reaching cast of artists commissioned to rework and revoice material from the King Midas Sound album Waiting For You.
Entitled Without You, the forthcoming collection sees contributions from close friends of the Hyperdub family in Mala, Cooly G, Flying Lotus and recent additions Hype Williams. More illuminating however is the further inclusion of reworks from names such as Gang Gang Dance, Nite Jewel and Ford & Lopatin's Joel Ford.
It's been stressed already that this should be seen as something more ambitious than just a remix album, indeed the contributions from Cooly G, D Bridge, Joel Ford and King Midas Sound's own Kiki Hitomi actually see them providing revisions with their own vocals, whilst the label has even managed to coax Scritti Pollitti frontman Green Gartside into producing some new material for the first time in a while.
The extensive collection is to be released across a fifteen track CD and a 17 track 2xLP set which features a slightly different tracklist. An additional danceflooor 12″ featuring the reworks from Mala and Jamie Vex'd's Kuedo project will also be released ahead of the album.
Further details regarding the release of this project are yet to be revealed, but you can feast your eyes over the tracklisting below.
CD :
1. Goodbye Girl – Kuedo rework
2. Without You – D-Bridge revoice
3. Lost – Flying Lotus rework
4. Earth A Kill Ya – Gang Gang Dance rework
5.Tears – Kiki Hitomi revoice
6.Spin Me Around – Cooly G revoice
7. Goodbye Girl – Robert Aiki Aubrey Lowe rework
8. Say Somethin' – Joel Ford revoice
9. Lost – Nite Jewel rework
10. Sumtime – Hype Williams rework
11. Meltdown – Kode 9/Spaceape rework
12. Earth A Kill Ya – Mala rework
13. Goodbye Girl – Deep Chord presents Echospace rework
14. Come and Behold – Green Gartside revoice
15. Cool Out – Ras G & the Afrikan Space Program rework
Vinyl :
Record 1
Side A :
1. Goodbye Girl – Kuedo rework
2. Without You – D-Bridge revoice
3. Lost – Flying Lotus rework
4. Miles & Miles – T++ rework
Record 1
Side B
1. Earth A Kill Ya – Gang Gang Dance rework
2. Tears – Kiki Hitomi revoice
3. Spin Me Around – Cooly G revoice
4. Goodbye Girl – Robert Aiki Aubrey Lowe rework
Record 2
Side C
1. Say Somethin' – Joel Ford revoice
2. Lost – Nite Jewel rework
3. Sumtime – Hype Williams rework
4. Meltdown – Kode 9/Spaceape rework
5. Come and Behold – Green Gartside revoice
Record 2
Side D
1. Goodbye Girl – Intrusion rework
2. Goodbye Girl – Deep Chord presents Echospace rework
3. Goodbye Girl – King Midas Sound Dub
4. Cool Out – Ras G & the Afrikan Space Program rework