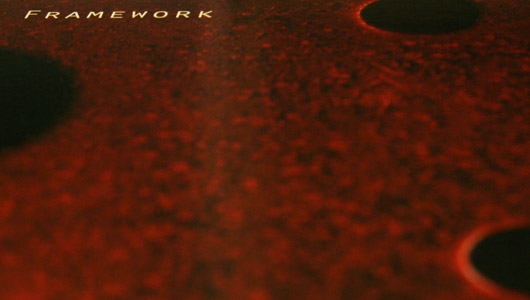 The unexpectedly announced Four Tet/Burial/Thom Yorke twelve split the Juno Plus office right down the middle with some of the comments too ripe for publication; clearly the guilty party was in the minority as the twelve spent less than an afternoon in stock before completely selling out.
Such feverish snaffling up of a record proves there's still life left in the vinyl market and there was plenty of other releases to get your teeth into this week, specifically techno!
The first of two heaving masses of album shaped techno from the Delsin camp finally arrived with Framework from Mike Dehnert. Despite the album focusing on the floor, it avoids repetition thanks to Dehnert's widened focus within the parameters of techno functionalism. And wait till you hear the Morphosis LP!
Keeping things Dutch, Clone finally dropped Conforce's contribution to their Basement Series and it did not disappoint – two tracks that were filled with dark sweatbox rattling menace and dizzying bouts of percussion. The presence of two remixes from XDB make it an essential release. Shout out to Creme Organisation for the delightfully gothic looking reissue of some choice 90s acid, techno and industrial output on DJAX and Acid Planet from Rude 66.
Sticking with techno, two twelves from the Mathematics imprint were definitely an example of the prolific Chicago label at their lo-fi best, FIT dug into the Dow Records vaults for the first of several official Walt J reissues, Detroit machine funk technician Marcellus Pittman added Seventh Sign to a fine discography that already includes FXHE, Sound Signature and Track Mode whilst a new release from Shifted added a requisite degree of techno mystery to the weeks proceedings.
Two of Pearson Sound's secret weapons finally got released this week thanks to the Night Slugs White Label machine with a distinct ghetto tech/bmore flex pervading both sides. On a similar tip was the thrilling two track sampler for Instra:mental's forthcoming LP – all about the evil juke styles of "Thomp"! – and Om Unit flexed his Drexciyan muscles for Civil Music.
If you want some epicness in your life you could check out Erol Alkan's remix of the delightfully obscure Connan Mockasin or Sascha Dive's fifteen minute reimagination of Melon.
If you prefer your music to come without physical form then we suggest you check out the latest example of Vakula's depth and diversity on the Archipel imprint whilst that Genius Of Time release for Clone Roal Oak also dropped digitally. Oh,  and the Lone remix of 90s rave anthem "Sweet Sensation" brought back memories of the Magic Wire don killing it at Bloc last weekend. If you're looking for something more substantial check the massive new album from New York's Falty DL on Planet Mu ahead of its physical release or John Roberts, Nico Jaar, Munk, Tim Hecker and more adding their own musical touch to Dust by Ellen Alien.
Moving on to albums, proceedings have been dominated by the stunning debut set from Night Slugs alumni Egyptrixx and the Rama/Pearson Sound Fabric Live mix – seriously check the movement from "Wad" through to his refix of Joy Orbison – whilst Rephlex indulged themselves in the art of obscure reissues with albums from Dwayne Omarr and The Criminal Minds.
Those of you waiting to hear what we thought of last weekend's Bloc Festival can expect a full and detailed run down early next week so we suggest you occupy yourselves with the delightfully different Juno Plus podcast from Wolfram – thanks to Wolfy we've had this stuck in our heads all week.