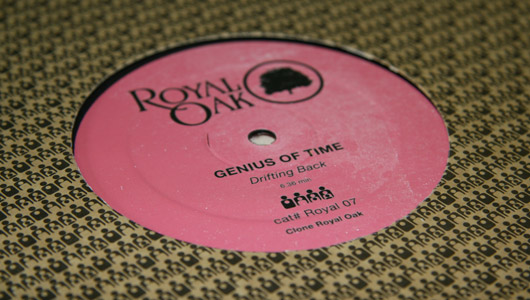 Granted, the bulk of this week has been devoted to hastily assembling fancy dress costumes and earnestly assessing the Great Western Rail website in an attempt to find the cheapest tickets to Minehead in anticipation of this weekend's Bloc Festival.
Yet despite the frenzied levels of excitement there were plenty of record-shaped treats to keep us from getting too carried away. For example Ray Keith's nephew tried out the latest variant on the Joy Orbison moniker with a return to Hot Flush that demonstrated just how far he's progressed since the HYPH MNGO days. If "Ladywell/BB" signalled his intentions to take a house-centric turn, then "Jels" & "Wade In" is O/Orb/Orbison tackling Chicago and Detroit in his own inimitable style.
And if you are partial to a bit of thumping house n techno, we suggest you divert your gaze in the direction of Relative's fifth release, which saw the excellently named John Swing at the helm, delivering three diverse tracks that will delight all you Livejam freaks out there.
Elsewhere, Swedish production duo Genius Of Time made the step up to Clone's Royal Oak series, previously graced by the likes of Space Dimension Controller, Reggie Dokes and Gerd. Taking this esteemed company into account, we don't take it lightly when we say this record is as good as anything we've heard on Royal Oak, with A Side offering "Drifting Back" a jazzy house delight that wouldn't seem out of place in the KDJ back cat.
Still on a house tip, Vakula, perhaps Juno's favourite Ukrainian export since Mila Kunis, returned to 3rd Strike Records and together they delivered perhaps their finest work to date. Everyone seems to have pulled out all the stops on Saturday, with 3rd Strike enlisting the Nthcreative design agency to produce some striking sleeve art and Vakula excelling musically.
Oh, and as if we weren't smitten enough with Instra:mental's relentless ability to constantly reinvent the sound of their NonPlus imprint whilst still maintaining a discernible musical thread – in the last six months they've release material from Kassem Mosse, Jimmy Edgar, LOL and Actress – they go and drop a 12" from Lowtec on our doorstep. It's superb.
(Did we mention we're going to Bloc this weekend?)
Meanwhile Loefah's Swamp81 are also in the midst of a real purple patch right now, swiftly following the crucial Boddika release with the latest and eagerly awaited drop from Addison Groove. Rounding off a stellar week we had Marco Passarani returning to Running Back, while Full Pupp boss Prins Thomas dropped his first DJ friendly twelve on the label for some two years and it was pure dirt!
Meanwhile Juno Download, Boxcutter gave us a peek behind the curtains of his upcoming album for Planet Mu, and Norman Nodge took some time off from working as Ostgut Ton's solicitor to release a couple of tracks on the revered Berlin imprint.
Den Haan's debut album Gods From Outer Space also hit the digital shelves and it's packed to the rafters with hard analogue synthesizer grooves, retro-futurist melodies, dark dancefloor thrills and spiraling, John Carpenter-ish atmospherics, plus some of the campest artwork we've seen in a while. And it goes without saying the delivery of another set of Rahaan edits previously only available on vinyl is always cause for celebration round these parts. "On & On" features three more essential peak time bangers expertly reworked by the renowned Chicagoan.
On the album front, the week was dominated by the towering presence of Wordplay From Working Bees, the debut album from Stroboscopic Artefacts chief Lucy. We think it's an early contender for Best Techno Album Of 2011; Mills, Dehnert – you've been warned.
Elsewhere Wolf & Lamb and Soul Clap wrote themselves into DJ-Kicks history, while Simon Baker popped up with a quietly impressive debut album for 2020 Vision.
Anyway, that's it from us for another week. BLOC!