Korg upgrade Wavedrum series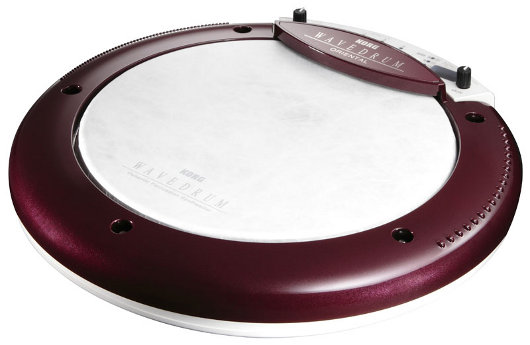 Korg have announced the Wavedrum Oriental, a 2011 update to their legendary synth model.
Last year we reviewed the re-issued model of Korg's legendary wavedrum; fast forward to 2011 and they've updated the modern day classic with the addition of almost everything you'll ever need to add that all important Eastern promise to your percussion.
The Oriental offers all the original features and functionality of the white and black Wavedrum original with the build quality, realistic skin and uber sensitive rim following suite with its predecessors. Then comes the addition of nine added algorithms which represent the way in which middle-eastern instruments respond.
There are also 50 all new PCM instruments which range from the common to the extremely rare, and 150 new programs which combine both aforementioned additions for out of the box instantaneous play.
There is also the standard 150 user programs which will allow a total of 300 variations, which isn't bad considering it's the size of a deep pan pizza.
To top it all off there's another 40 added loops and phrases that you can play along to as well as that magic aux in so the user can pass any signal they please through the audio engine for hours of jamming.
This is the perfect companion to sling in a courier bag and plug in at any DJ gig, or indeed for professional drummers looking to avoid checking in their prized tools of the trade pre-flight. Dubstep producers craving that organic Ramadanman or Shackleton vibe take note and disco dons are also advised to check the impressive sound arsenal.
Check out the full specifications below. [Find out more at Juno Records]
| | |
| --- | --- |
| Korgwave Drum Oriental: | |
| | |
| Synthesis: | DSP + PCM Combination |
| DSP Algorithms | 45 Total |
| PCM Instruments | 300 Total; 150 Head, 150 Rim |
| Programs | 300 Total; 150 Preset, 150 User |
| Loop Phrases | 140 Total; Various genres and tempos |
| Effects | Reverb, Delay |
| Panel Controls | VOLUME knob, VALUE knob |
| | WRITE button, 1-4 buttons, BANK/MODE button |
| Output | L, R ¼" unbalanced |
| Phones | Stereo mini phone jack |
| AUX IN | Stereo mini phone jack |
| Display | 3-character 7-segment LED |
| Sampling frequency | 48 kHz |
| A/D, D/A conversion | 24 bit |
| Power supply | DC9V 1.7A |
| Dimensions | W x D x H: 13.74″ x 13.54″ x 2.95″ |
| Weight: | 4.41 lbs. |
| Included items: | AC Adapter, Tuning key, Allen wrench |