5 Best: DJ Audio Interfaces
An Audio Interface is the missing link between a DJ's laptop set-up, the club's sound system and, ultimately, the dancefloor. As such, a solid, reliable and easy-to-use interface is essential for any digital DJ who wants to play consistently trouble-free sets; we've all seen the nightmares that await those who roll into a gig unprepared. To ease you along this potentially hazardous path, the Juno experts have selected the five best DJ audio interfaces on the market across a range of prices…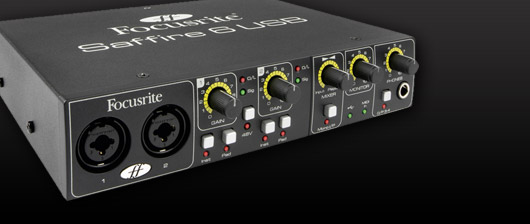 Built like a tank, the bus powered Saffire 6 USB is a very safe bet for the working club DJ due to a 2 in/4 out configuration that is perfect for cueing up tracks and sending them to the left and right channels on a DJ mixer. It's got a fantastically punchy 24bit sound, not to mention immaculate analogue – digital / digital – analogue conversion. Performance wise it's rock solid, and the manufacturer guarantees near zero latency seamless integration with your computer. Doing away with complicated control panels, everything can be set up from the hardware which is great for Ableton users who'll be able to monitor the main mix or cue at the touch of the button, eliminating any re-routing on the laptop. The fun doesn't stop there as also included are the Compression, Reverb, Gate and EQ plug-ins (VST and AU) from the Focusrite Plug-In suite meaning you'll be able to tweak your sound to absolute perfection – regardless if you're playing your local pub's karaoke system or Fabric's Funktion One rig. If you fancy dabbling in a bit of music production, it ships with 1Gb of royalty free samples plus 500+ drum loops, Novation's Basstation and Ableton Live Lite 8.
Focusrite Saffire 6 USB:
Output level
9 dBu
Bit Rate
24 bit
Supported Sample Rate (khz)
44.1kHz / 48kHz
Outputs
2 ¼" TRS + 4 (RCA phono) + 1 x pair of 5 PIN DIN MIDI I/O
Dedicated Headphone Out
1 x TRS stereo headphone output (switchable to outputs 1 and 2, or 3 and 4)
Inputs
2 x XLR Mic/Line/Inst Neutrik Combi-Jacks (Inputs 1-2)
Bus Powered
Yes
Midi
Yes
Size
W = 220 mm / 8 ¾", H = 45 mm / 1 ¾" , D = 145 mm / 5 ¾"
Weight
1 kg / 2.2 lbs
System Requirements:
Mac
• Computer: Apple Macintosh with a USB 1.1 compliant USB port
• CPU/Clock: PowerPC G4/1 GHz or higher (Intel/Dual 1 GHz or better recommended
• Memory (RAM): 512 MB (1 GB or more recommended)
• Screen Resolution: 1024×768 (1280×1024 or more recommended)
PC
• Computer: Windows compatible computer with a USB 1.1 compliant USB port
• CPU/Clock: Pentium or AMD with 1 GHz or higher (Dual 1 GHz or better recommended) ***
• Memory (RAM): 512 MB (1 GB or more recommended)
• Screen Resolution: 1024×768 (1280×1024 or more recommended)


True to the old adage that good things come in small packages, this audio interface from Native Instruments is the most compact USB DJ soundcard in the world. It's versatile enough to allow you to output both channels of your Traktor set up to a DJ mixer separately or mix internally in your computer and use one output for headphone monitoring and the other as your master output. Its small size and simple design make it ideal to travel with. Compact enough so you can prepare your mixes on plane and train journeys and yet still powerful enough for you to rock the main room in any super club you care to name world wide, then unplug it and put it in your pocket ready for the next adventure.
Native Instruments Audio 2 DJ:
Output level
+9.6 dBu
Bit Rate
24 Bit
Supported Sample Rate (khz)
44.1, 48, 88.2, 96
Outputs
2 x 1/4′
Inputs
N/a
Dedicated Headphone Out
Yes
Bus Powered
Yes
Midi
N/a
Size
2.6cms x 5.9cms x 9.1cms
Weight
84g / 0,19 lbs
System Requirements:
Mac
Mac OS X 10.5 (latest update) or 10.6 (latest update), Intel core duo, 2GB RAM
PC
Windows XP (latest SP, 32bit)/Vista (latest SP, 32/64bit)/Windows 7 (latest SP, 32/64bit), Intel Pentium 4 or Intel core or AMD Athlon 64, 2GB RAM


M-Audio's soundcards are undoubtedly their strongest products, and the Fast Track Pro is their pièce de résistance. Not only is it equipped with the all important 4 RCA outputs, it allows you to switch the headphone output between stereo pairs. Another useful feature can be found in the two ¼ inch inserts, which will happily accommodate an effects unit or compressor. The front of the box boasts two multipurpose XLR and ¼ inch jack inputs which allow for 24-bit 96kHz sound recording whilst keeping MCs happy with the 48v phantom power and >40db pre-amp gain, which can also be used for instruments in the event of a live set. In practice the Fast Track Pro performs reliably, with no complaints as far as audio dropouts or latency are concerned, with above average sound quality at this price range. It's more compact than the Focusrite, a fact that will appeal to those of us who need to travel light. It's fully equipped and although the case is plastic it doesn't feel flimsy, with the knobs and connectors looking like they'll withstand a decent bashing. It also ships with Ableton Live Lite (with a discount for the full version) plus Pro Tools M Powered, so you're practically getting a whole studio set up in a piece of kit the size of a paperback book.
M Audio Fast Track Pro:
Output level
+1.8dBV unbalanced / +10.1dBu, balanced
Bit Rate
24bit
Supported Sample Rate (khz)
44.1kHz – 96kHz
Outputs
2 balanced outputs (¼" TRS) + 4 unbalanced outputs (RCA) + S/PDIF digital  + 5PIN DIN MIDI I/O
Inputs
Dedicated Headphone Out
headphone output (¼" TRS) with level control
Inputs
2x XLR Mic/Line + 2 x ¼" TRS inserts + S/PDIF digital
Bus Powered
Yes
Midi
Yes
Size
8.5 x 1.75 x 4.5″ (WxHxD)
Weight
1lbs unpackaged


System Requirements:
Mac
Macintosh G3** 600 / G4** 667MHz (higher speed may be necessary for laptops)
256MB RAM
OS X 10.3.9 / 10.4.2 / 10.5.1
(earlier versions of Mac operating systems are not supported)
USB port
Dolby AC-3 and DTS pass-through with Apple DVD player
* M-Audio suggests that you also check the minimum system requirements for your software, as they may greater than the above.
** G3/G4 accelerator cards not supported
PC
Pentium 3 – 500 MHz (higher speed CPU may be necessary for laptops)
256MB RAM
DirectX 9.0c
Windows XP (SP2)* / Vista SP2 (32Bit , 64 Bit) / Win7 (32Bit , 64 Bit)
(Windows 2000, 98, 98SE, ME & NT not supported)
USB port


The Numark DJ iO is a work horse audio interface that does what it says on the tin at a decent price. Although it may not be packing the raw power of the Native Instruments Audio 2 it does come replete with two independent RCA stereo outputs and a 1/4" microphone input with level control. It's got a dedicated headphone output allowing you to cue and monitor whilst keeping the output pairs intact for further re-routing. The box is compact and lightweight but ultimately reliable, like many of Numark's products. Performance-wise it's very impressive; the ASIO drivers work without any fuss, there's very little latency and this can be adjusted for smooth playback in most DJ software set-ups including Traktor Pro, Traktor LE, and Ableton, making this a practical solution for everyday, no-frills DJing.
Numark DJ IO Audio Interface:
Output Level
+2.0dBV +/-0.5dB
Bit Rate
24 Bit
Supported Sample Rate (khz)
24–bit, 44.1 kHz and 88.2 kHz
Outputs
2x RCA stereo
Inputs
Microphone input with adjustable gain (1/4″)
Dedicated Headphone Out
Stereo headphone output (1/4″ TRS)
Midi
No
Size
15.9 x 14 x 7.6 cm
Weight
454 g boxed / 190 unpackaged
System Requirements:
Mac
* OSX 10.5/10.6
* Intel Core Duo processor or higher
* 1 GB RAM or higher
* USB 2.0 Port (single channel operation with USB 1.1)
PC
* Windows 7 (32-bit or 64-bit)
* Windows Vista (SP1, 32-bit or 64-bit)
* XP (SP3, 32-bit or 64-bit)
* Pentium IV or Athlon 1.4 GHz or higher or higher
* 1 GB RAM or higher
* USB 2.0 Port (single channel operation with USB 1.1)


This little soundcard has a reputation for being a god-send to those of us operating on a tight budget. It looks and feels a bit like a TV remote control, and the plastic casing appears to be sturdy enough for DJing. It's certainly got the connection credentials for life on the road: key features include a cool crisp 44.1/48kHz sample rate with 4 x RCA audio in and output with amplified headphone monitoring. The addition of an optical output also makes this a piece of kit that could well be suitable for the studio as well. You do, however, get what you pay for, and although the hardware performs very well, the drivers aren't exactly the smoothest ride. This isn't to say they're unstable; they're just a bit rough around the edges, with possible audio drop outs and sticky control panel faders from time to time (but only when put under extreme pressure). For home use, field recordings and aeroplane laptop production you can't really go wrong, as the sound is great. We wouldn't really recommend it for the serious club DJs, although if an absolute must set the output levels at the beginning of the set, making any further volume amendments through the DJ mixer or club PA. Ships with Toontrack EZLite DJ software.
| | |
| --- | --- |
| Maya 44 USB: | |
| Output level | -10dBV |
| Bit Rate | x24 |
| Supported Sample Rate (khz) | 44.1kHz, 48kHz |
| Outputs | 4 RCA & Optical |
| Inputs | 4 RCA |
| Dedicated Headphone Out | 1/8″ connector |
| Bus Powered | Yes |
| Midi | No |
| Size | not specified |
| Weight | 360g boxed |
| System Requirements: | Windows 2000, XP and Mac OS X |