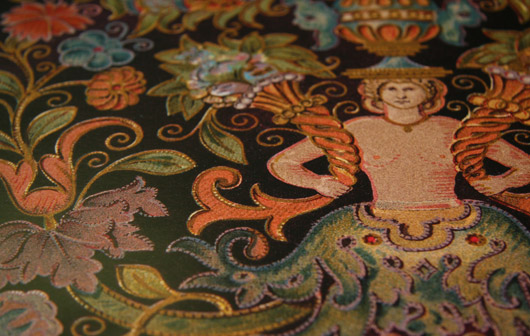 To quote Charlie Sheen, Tom Trago has got a certain poetry at his finger tips and based on the sampler that was released this week, you should be getting more than a bit excited about his forthcoming debut album.
The three tracks present were a perfect example of the diversity that you can expect when Iris is released, with "Space Balloon" sounding like the track Kyle Hall and Space Dimension Controller wish they'd made, laying down heavy bass flourishes and outer galactic pads over a delicious beat.
Staying in the house music haven that is the Netherlands, we were very pleased to present the third Juno Plus podcast this week from Danny Wolfers aka Legowelt aka lots of other monikers. Check the mix out here and accompanying light hearted interview here.
Of course it would be remiss of us to talk about the Dutch and house this week and not mention the superb Virgo Four boxset from Rush Hour. Lovers of the golden era of Chicago House and attractive vinyl packages will be adding the Rush Hour team to their Christmas card list this year thanks to the luxurious 5 x vinyl box set version of previously unreleased  material.
Elsewhere we were reminded of how much the record buying public are enjoying deep, sensual 90s NYC house right now, with the killer new My Love Is Underground 12″ featuring a track entitled "Around 94", while Detroit producer Kai Alce release "Simply 93" as part of a sampler that also featured Theo Parrish and Larry Heard (the latter in Loose Fingers mode). The aforementioned MLIU release came from US duo Jerzzey Boy, which marked their first release since 1993. That's 18 years. Where have these guys been? Surely not doing anything more important than producing sumptuous house records like this.
We were also quite excited to see Actress return to the production fold for the first time since his brilliant 2010 album Splazsh,  dropping two tracks of his idiosyncratic brand of muggy electronica. The thick compression and hazy, undulating Detroit chords on "Harrier ATTK" saw the former Wolverhampton born producer once again succeed in creating a dense soundscape in which deft samples and effects-laden instrumentation throb and pulse almost of their own accord.
Uruguay's finest/only purveyors of Balearic nu-disco, International Feel, also returned with a 12″ from Bubble Club aka Dan Keeling (artwork pictured above). "The Goddess" is noticeably more laid back than his previous output, which consists of three very impressive 12″s all released in 2010 – with softly chanting vocals and oven warm cinematic synth sweeps. What however makes this release truly special is the sprawling remix from Quiet Village, aka Matt  Edwards and Joel Martin – don't miss it.
Lucy and Xhin – perhaps one of the most exciting collabs in contemporary techno – popped up on Chris Liebing's CLR imprint, while we hit round three of the Skudge remix series with the most impressive line-up to date – Underground Resistance don Rolando and Dutchman 2562 shared the honours this time.
Vying for the title of 'best release from a talented young London based future bass producer' this week was none other than James Blake and Jamie xx, who dropped impressive 12″s that served as a neat addendum to their respective albums.
Over at Casa De Juno Download there were the usual array of digital treats, most notably new dubsteppish releases from Kahn (on Punch Drunk) and Pangaea (on Hessle Audio) – both excellent and well worth your attention. London distributor, PR/DJ agency and all-round nice guys EPM celebrated 10 years in business with a compilation that features some of electronic music's most respected names, including Rob Hood (as Floorplan), Sandwell District and Alexander Robotnick.
It's common knowledge among the disco dancing fraternity that the On The Prowl Party Breaks series rarely disappoints, and the four tracker from Runaway man Marcos Cabral this week was no exception, showcasing a number of tasty reworks of forgotten proto-house, deep house and electronic disco gems. As if one wasn't enough, a second OTP release hit the mp3 shelves this week, with Andy Ash behind the wheel.
On a CD tip we were once again humbly indebted to DJ Koze and his Pampa imprint, this time for reissuing and remastering his buddy Isolee's first two albums, namely We Are Monster and Rest. If you missed them first time round – or his most recent opus Well Spent Youth for that matter – we recommend you check them out sharpish.