Ramadanman Fabriclive 56 details revealed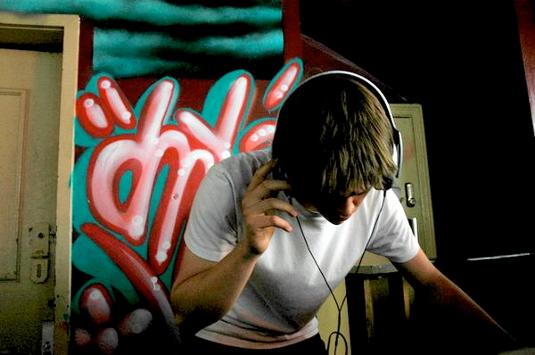 One of electronic music's most in demand characters, David Kennedy, has mixed the 56th instalment of the Fabriclive series.
Although the news was first revealed late last year, details were scarce as to what the producer, who (mostly) goes under the Ramadanman and Pearson Sound aliases, had in store.
Now the artwork and tracklisting have been released, with 30 tracks that features a healthy sprinkling of his own work, plus previously unreleased material from the likes of Joy Orbison, Pangaea and Addison Groove.
The early stages of the tracklist lean towards house and techno (Levon Vincent's "Late Night Jam", Marcello Napoletano's "Everyday Madness", Julio Bashmore's "Battle for Middle You" and the Carl Craig re-edit of "Void 23"), before things take a turn for dubstep and future bass territory with A Made Up Sound, Jam City, Pinch, Burial, Girl Unit and Mala among others.
2010 was a watershed year for Kennedy, with a seemingly endless run of 12″s on labels like Aus Music, Swamp 81, Hemlock, Soul Jazz and his own imprint Hessle Audio (which he runs with Ben UFO and Pangaea). Curating a Fabriclive mix at the age – he's still very much in his early twenties – is a remarkable feat in itself.
Kennedy is a known vinyl purist (he runs a vinyl only club night in Leeds called Acetate), and said his Fabriclive mix contains "very much live mixing, no time stretching or auto beat matching".
"It's a bit of a retrospective of some of my favourite music from 2010, and is representative of a set I would play in a club," he added.
"Even though I don't play much stuff at 140bpm these days, I always like to end up at that tempo as that is the music that got me to where I am, and tracks like Sub Zero by D1 are very powerful for me because they remind me of spending time at FWD in 2006, which was so formative.
"I remember going to the first time that Fabric booked dubstep DJs, think it was January 2007, when room 2 was taken over by Mala, Skream etc. and it was a great night. I didn't really go to Fabric very often when I was younger, but I knew of its reputation so it was very exciting to play there for the first time. For a DJ to play there, it's great – everything works, no technical problems and even if something did go wrong there's always technical guys on hand."
Fabriclive 56 – Ramadanman/Pearson Sound will be released on March 11, 2011 – check out the full tracklisting and artwork below.
Tracklisting:
1. Pearson Sound – Hawker
2. Levon Vincent – Late Night Jam
3. Elgato – Music (Body Mix)
4. Marcello Napoletano – Everyday Madness
5. Tiyiselani Vomaseve – Vanghoma
6. Pearson Sound – Wad (fabric Edit)
7. Julio Bashmore – Battle for Middle You
8. Ramadanman – Grab Somebody
9. Ramadanman & Appleblim – Void23 (Carl Craig Re-edit)
10. Pearson Sound – Project
11. Joy Orbison – GR Etiquette (Pearson Sound Symphonic Refix)
12. J Kenzo – Ruckus (Martin Kemp Remix)
13. Fugative – Bad Girl (Lil Silva Dub)
14. A Made Up Sound – Demons
15. Jam City – Night Mode
16. Mr Mageeka – Different Lekstrix
17. Pangaea – Inna Daze
18. Pearson Sound – Stifle
19. MJ Cole feat. Wiley – From the Drop
20. Pinch – Qawwali
21. Joy Orbison vs. Ramadanman – J. Doe Them
22. Pearson Sound – Picon
23. Burial – Pirates
24. Die Barbie Musik Kollektive – Face (Junk)
25. GIRL Unit – IRL (Original / Bok Bok Remix)
26. D1 – Subzero
27. 18. S-X – Woo Riddim / Ramadanman – Glut
28. Addison Groove – Fuck the 101
29. Mala – City Cycle / Joe – Claptrap (Tease)
30. Sigha – Light Swells (In A Distant space)