Soul Jazz unveil Future Bass
Mala, Four Tet (pictured above), Ramadanman and Untold are among the producers to feature in a new compilation from London based label Soul Jazz, entitled Future Bass.

A teaser 12″ for the compilation was recently released, featuring stunning efforts from Four Tet and Mala. The rest of the tracklisting includes a healthy mixture of established heads – most notably Digital Mystikz man Coki and Hemlock boss Untold, alongside relatively unheralded producers like Distal and Randomer.
Soul Jazz has made a name for releasing lovingly curated and colourfully designed compilations that focus on everything from obscure New York post-punk to German experimental rock and electronic music. Now it's the turn of the underground bass scene, with its roots very much in the UK, to shine.
The compilation will be released on a heavyweight triple vinyl, triple-vinyl. The CD version will come in deluxe plastic casing, complete with a set of limited edition postcards. It will be followed a series of 12-inches featuring more exclusive tracks by the artists included, kicking off with Untold.
Future Bass will be released on September 20, 2010. Check out the cover art and full tracklisting below.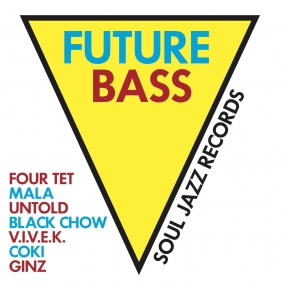 Tracklisting:
1. Mala – Don't Let Me Go
2. Four Tet – Nothing To See
3. Untold – Fly Girls
4. Coki – Ransom
5. Ramadanman – Bass Drums
6. Black Chow – Air
7. LD – Mastermind
8. V.I.V.E.K – Talking Shadows
9. Randomer – Puzzled
10. Ginz – Boss
11. Harry Craze – Gone
12. Distal – Grape Donut
13. Sub Version – Free To Funk