Full Commix remix album details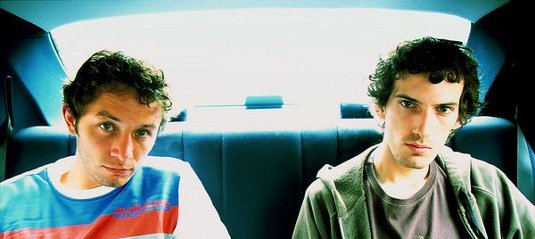 As Juno Plus revealed back in May, Cambridge duo Commix will release a remix album of their debut LP Call to Mind, featuring heavyweights from the world of dubstep and techno.
The full details of the album have now been made public: it will be titled Re:Call to Mind and the remixes will come from Instra:mental, Burial, A Made Up Sound, and Marcel Dettmann among others. Perhaps the biggest revelation since our last story is the inclusion of US techno legends Underground Resistance, who have remixed "Satellite Song", while German ambient techno producer Kassem Mosse has recrafted "Strictly".
It will be released on October 4 via Goldie's Metalheadz imprint. If you're reading this and you live in or near London, chances are you'll be keen to head along to the launch party on October 8 (see details below).
Tracklisting:
LP 12" Sampler
A: Be True (Burial Remix)
2 x 12" EP Part 1
A Belleview(dBridge Belle-Reviewed Remix)
B Change (A Made Up Sound Remix)
C How You Gonna Feel (Pangaea Remix)
D Japanese Electronics (Instra:mental Moog Remix)
2 x 12" EP Part 2
A Emily's Smile (Sigha She's Still Smiling Remix)
B Satellite Type 2 (Marcel Dettmann Remix)
C Strictly (Kasem Mosse "Needs To Feel Edit" Remix)
D Spectacle (Two Armadillos Remix Rhythm of Life)
Limited 10" Single
A Satellite Type 2 (Marcel Dettman Remix 2)
AA How You Gonna Feel (Pedestrian Remix)
CD
1. Japanese Electronics – (Instra:mental Moog Remix)
2. How you Gonna Feel – (Pangaea Remix)
3. Change – (A Made Up Sound Remix)
4. Belleview – (dBridge Belle-Reviewed Remix)
5. Be True – (Burial Remix)
6. Strictly – (Kassem Mosse "Needs To Feel Edit" Remix)
7. Spectacle – (Two Armadillos Rhythm Of Life Remix)
8. Emilys Smile – (Sigha She's Still Smiling Remix)
9. Satellite Type 2 – (Marcel Dettmann Remix 1)
10. Satellite Song – (Underground Resistance Remix)