Greco Roman unveils boxset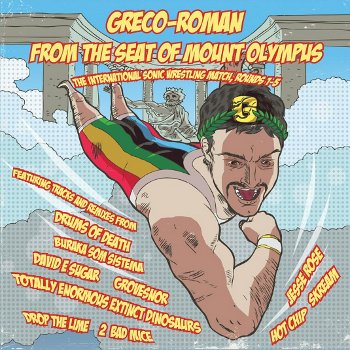 Boutique London-Berlin label Greco Roman has released a 5xCD single boxset featuring Drums of Death, Grovesnor, David E. Sugar and Buraka Som Sistema, with remixes from Hot Chip, Jesse Rose and Skream.
The label has built up a strong following since its inception in 2007 with an eclectic mix of electro, disco, dubstep and ghetto beats.
The release is the first in their new "International Sonic Wrestling Match" single series, and features the distinctive artistic direction (namely buff, scantily clad wrestlers) which have ensured Greco Roman releases never go unnoticed.
The boxset is out now, and you can buy it from Juno Records here.
Disc 1
DAVID E SUGAR "Oi New York This Is London"
1. Original
2. Hot Chip vs. Ragga Twins remix
3. Skream remix
4. Jesse Rose remix
Disc 2
GROVESNOR "Drive Your Car"
1. Original
2. Grovesnor's Rebel Quarter version
3. Hot Chip remix
4. Oliver $ remix
Disc 3
BURAKA SOM SISTEMA "Kalemba"
1. Original
2. Hot Chip remix
Disc 4
DRUMS OF DEATH "Steps Into The Ring" EP
1. Breathe
2. Breathe (Drop The Lime remix)
3. Cursed By Magick
4. Midnight Stalker
Disc 5
TOTALLY ENORMOUS EXTINCT DINOSAURS "All In One Sixty Dancehalls" EP
1. Bournemouth
2. Moon Hits The Mirrorball
3. Sickly Child
4. Moon Hits The Mirrorball (2 Bad Mice remix)