Featured DJ chart: Shadow Dancer (Best of 2009)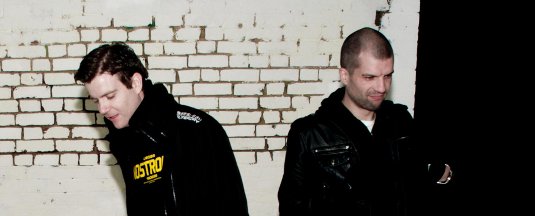 Shadow Dancer combine an encyclopedic knowledge of music with an ear for obscure samples to produce a unique, driving form of glitchy electronica. The duo, which consists of the Farrier brothers Paul and Al, released their debut album Golden Traxe in early 2009, on Boys Noize Records. They spoke to Juno Plus about the year that was.
Highlight of 2009?
Paul: Would have to be the release of Golden Traxe and it's amazing, and – to us – surprising, critical success. Dance albums are a tough thing to crack, so it felt like we'd done it right.
Al: We released our debut album and I got to meet so many producers and DJs I never thought I'd meet.
Biggest regret?
Paul: Probably not finishing off new productions….I don't know really. I don't like to dwell on regrets. It doesn't do anyone any good, least of all somebody who worries about petty things, like me….
Al: Not taking better care of myself, meaning some gigs I didn't enjoy as much as I should.
Favourite club?
Paul: I would say Sankeys in Manchester. There's just something about playing there that feels different from anywhere else.
Al: I don't really like clubs I'm afraid as I get claustrophobic, but any one that has a Funktion 1 soundsystem, friendly promoters and an enthusiastic crowd is fine by me!
Favourite festival?
Both: Pukkelpop – amazing crowd and organisation, and sunshine!
Favourite new producer?
Paul: Floating Points. Talented, versatile, young. Git.
Al: Noob has produced some remixes that sound really dynamic on a good soundsystem and get the dancefloor moving.
What does 2010 hold for Shadow Dancer?
Paul: I always say this, but there will definitely be a new EP. It's a matter of not repeating what we, or other producers, have done before, so it's taking more time that I'd probably like. Especially as I get bored with ideas very quickly and don't follow them through when I perhaps should. I need to discipline myself a little on that front.
Al: There are a couple of remixes in the pipeline…other than that I have no idea at this point. Playing Glastonbury would be nice. I've said this for the past three years to no avail, but throw enough s**t at a wall…
SHADOW DANCER'S TOP 5 OF 2009:
Paul: Modeselektor and Apparat continue to do whatever they want, without a care for fads and scenes and, although not everything they release is to my liking, this is definitely one of the year's best albums. If you can get past the second track ("Rusty Nails"), that is… I just ended up with that on repeat. It's a beauty.
Al: Love this album, probably my favourite of the year, despite occasionally showing its Human League influences a bit too much. I already liked all the singles and so was really impressed that the album offers a lot more than just them and a load of fillers – "Tonight" is our favourite.
Paul: I find this track utterly hypnotic, either in spite of or because of its repetition and simplicity. I see it as proper, old-fashioned techno music in that sense: there's no gimmicks or big "drops", which is something I've come to dislike in a lot of recent club tracks. It's also a joy to play out but, sadly, it seems to divide the crowd a bit. Of course, the people who don't like it are obviously in the wrong.
Al: The title track is the big dancefloor moment of the year for me, I can see us playing this out for a while to come. Vitalic shows that one of the few producers around to come up with something to rival "La Rock 01" is himself.
Paul: We find this reminiscent in content and structure to a 90s techno album (think Funk D'Void, Slam or Dave Clarke), so it was always going to be a winner in our eyes. And ears. It's stylistically much more to my tastes than 'Oi Oi Oi', too…'Drummer', 'Nerve' and 'Jeffer' being my particular highlights. We've remixed a track from it which should see a release in 2010.
Al: "Jeffer" is my favourite track from 'Power', which I prefer to Oi!Oi!Oi!. The driving, choppy chords make this another great one for the dancefloor that also sounds excellent on your iPod whilst sitting on a train.