Featured DJ Chart: Linkwood & House of Traps (Best of 2009)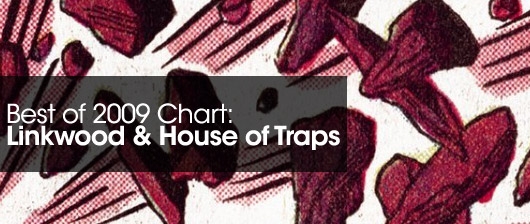 Edinburgh's mysterious Firecracker imprint has built up quite a following since its inception in 2004, taking deep house music as the central sound but delving into influences as diverse as jazz, reggae, hip-hop and Detroit techno.
The label's distinctive artistic direction with limited runs of 10″ vinyl that combines bold fonts with comic book illustrations on a hand screen printed finish has helped secure Firecracker cult status amongst the vinyl fetish disco edit lovers.
Two of Firecracker's brightest – Linkwood (aka Nick Moore) and House of Traps (Lindsay Todd) – have had a big 2009, with Linkwood dropping a hugely impressive debut album, while the pair also teamed up on remixing duties for the re-issue of seminal Layo & Bushwacka! Tune "Deep South". The pair talked to Juno Plus about what was floating their musical boats in 2009.
"Yes! House like it was 15 years ago … deep, emotional and understated. We could groove to this all day … especially "I Get Deep Beat"!"
"Another one that will stay in the box for years. Combine a Salsoul beat with wonky synths and you have a pure workout!"
"This one does exactly what it says on the tin. Chez is on form like it was '92 all over again."
"Soundway is the shit!! The best re-issue label around and this is pure dirt – claps, drums and bassline is all you need."
"Wild Geese put out my two favourite records this year, this and "Macho Disco Disaster". "Touch" is stripped-down house music with a heavy nod to its roots – great stuff."
Check out the full Linkwood and House of Traps "Best of 2009" chart at Juno Records.