James Manning travels to the south of Sweden to witness the beginnings of something new in experimental electronic music.
The best way to get to Malmö if you're not travelling from the Scandinavia situated above is via Copenhagen. From the Danish capital's airport, a cheap train journey will land you in Malmö central within 20 minutes. I arrived on the Thursday evening to see Rrose open Intonal with a free performance of James Tenney's "Having Never Written A Note For Percussion" in St Johannes church. This is a piece now synonymous with Rrose and sees her perform on a giant Zildjian cymbal with her back facing the audience. Beginning with absolute silence aside from the intermittent throat-clearings that seem to flare up in quiet, stone-walled church spaces, Rrose would over time generatively increase the intensity and rate she would hit the cymbal with two soft mallets. This would build to create a lashing thrum of metallic noise while warmer over-and-undertones would sing in free harmonic modulation before Rrose's playing would gradually ease the cymbal's vibration back to silence once more.
It was a fitting way to ease attendee's ear drums into Intonal, a festival focused on the abstract, physical and immersive aspects of sound, noise; or do we just call it music. Kontra Musik's Ulf Eriksson  and Malmö's international art centre Inkonst are the brains behind Intonal, with the festival made possible for a second year through collaboration with kindred event spirits Unsound and CTM, as well as Stockholm's Elektronmusikstudion. You could call Intonal Malmö's very own Unsound. In the same way Unsound invites you to explore the gothic and neo-Soviet landscape of Polish second city Krakow, Intonal is an excuse to see more of Sweden. Food-wise, Malmö's Turkish community are famous for their falafel while the city itself is small, clean, by the seaside and full of skaters who can actually land a kick-flip.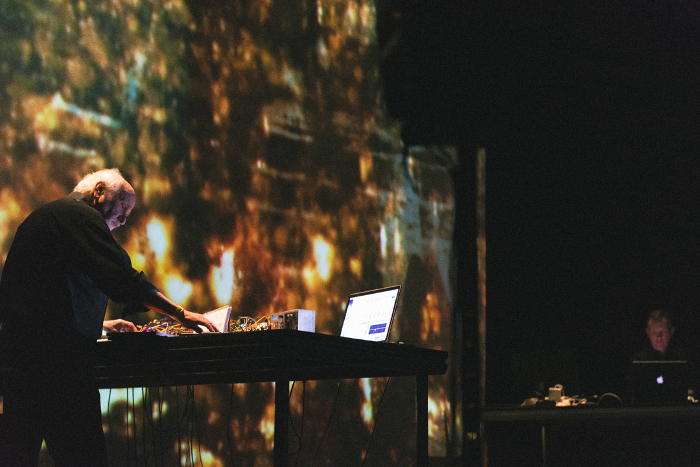 Morton Subotnick and Stephen O'Malley were Intonal's biggest draw cards, with the latter closing the festival on the Sunday night with just under two hours of pulverising post-rock feedback; the red hot valves of his amplifiers the only thing visible in Inkonst's Black Box performance space. Ulf Eriksson did cheerily warn us beforehand: "it's gonna be loud." The Black Box space, however, was home to the softer sounds of Intonal including the sickly stomach gargles and burps of Subotnick's spatial set. With Lillevan's deteriorated, honeycombed visuals to accompany Subotnick – dressed all in black aside from a pair of sporty red Asics – the American synth music patriarch moved his set from the sounds of subtle nightmarish whispers and bodily auscultations to crackles and pops panned to such effect they were untraceable. Subotnick ended his performance with an uplifting, poppy arpeggio sequence – similar to Holy Ghost's DFA hit "Hold On" (only bent out of shape) – to standing ovation.
A rare set of beats in Black Box came from Spanish duo and Editions Mego affiliates LCC who softly thumped the walls of the theatre space with a mellow forward progression of cloudy, dubbed out techno with the type of long-winded grooves you'd expect from Deepchord man Rod Modell. Meanwhile the melancholic and celestial croons of Kara-Lis Coverdale's synth music transformed the space into a womb of warm sound made all the more immersive by cushioned seating on the floor. James Holden and percussionist Camilo Tirado, too, came down to this level during their performance, sitting cross-legged to deliver a combination of rotating modular arpeggios and tabla percussion which made Black Box feel at the centre of a bizarre, Middle Eastern carousel.
A strong cast of local Swedish talent was omnipresent; Mai Nestor of Minimal Wave duo Facit was one of the lesser known names I saw DJing in the Inkonst Bar space alongside Malmö's own Rivet and Funeral Fog founder Jurko Haltuu. The latter was on warm up duties for the gathering assembled to witness O'Malley's closing performance on the Sunday. Nestor's selections of rhythm tracks maintained the room's taste for wave, industrial and disco-inspired sounds, and provided sanctuary from the brutal hardcore of SØS Gunver Ryberg. The Danish artist took no time in quashing the syncopated glitch and Romanian minimal of Tyler Friedman's breezy polyrhythms, with Ryberg's haywire gabba beats and over-the-top ghoulish synth-rave making Inkonst's club space feel like '90s Rotterdam up to speed with the appetites of 2016. It's clear after seeing this why people like Samuel Kerridge are releasing SØS Gunver Ryberg's music.
Equally savage was Peder Mannerfelt's performance early on the Friday, only he refused to let any of his beats or sequences hit the point where a groove could be gripped. His broken hour of sonics also touched on hardcore, but in essence the music remained discombobulated industrial with themes from his Controlling Body album conceptually trickling through on screen behind his swaying cap of drape-like millinery. Intonal played host to a premiere performance of Andreas Tilliander's forthcoming TM404 album, Acid Dub, and I entered the room to a swaying sea of bodies ebbing and flowing to the murky, exotic rhythms of a live and recreated tribal splice from the LP. With this live set as my reference point, it seems Acid Dub will bring the style of the self-titled TM404 album closer to the dancefloor with faster BPMs, straight drums and camouflaged 303s incorporated into a dubbier, scratchier sonic palette similar to what's heard on Tilliander's Time Axis Manipulation album as Mokira. Taking on the appearance of a gnarly Richie Hawtin thanks to his new haircut, Tilliander was clearly a fan's favourite and his rugged session of Roland sequences reared the biggest cheers from Intonal all weekend.
Tilliander's artist talk attracted the music nerds with drum machines, rhythm composers, Eurorack addiction and post-rock Swedish Grammy nominations under discussion. One particular nugget of fun was the revelation of Richie Hawtin introducing Tilliander to his parents as the 'acid master.' Düsseldorf icon Detlef Weinrich – aka Tolouse Low Trax (and DJ Sport before that) – opened up about eight of his most influential records in another artist talk. Black Devil Disco Club, Miles Davis LP On The Corner and M. Zalla's sought-after Problemi D'Oggi – sold to him "at a good price" by Antinote's Gwen Jamois – all discussed. "The Carrier" from Brian Eno and David Byrne's My Life In The Bush Of Ghosts LP was highlighted too and that album's inspirations felt all the more apparent watching Weinrich play Intonal's Friday night after party in an eerily quiet, industrial pocket of Malmö.
Entering something of a community centre/wallpaper factory, Golden Pudel resident Phuong Dan threw down a gritty set of mutated industrial, EBM and techno setting just the vibe you want walking into an off-location, after-hours DIY set up. Fans were even strapped to the ceiling. The mood switched from Hamburg to Düsseldorf as Wolf Müller lightened the intensity with a live rendition of tropical percussion and ad-lib keys which gripped and entertained the dancefloor. Sipping wine and sucking down cigarettes, Tolouse Low Trax brought it home with a circular run of thick, grungy and lo-fi rhythms everyone was waiting for.
Intonal festival is still very much in its infancy but with a full house (of hair past the shoulders) turning up to witness Stephan O'Malley play the sole performance on the Sunday, it's clear there's an audience for this kind of music and art outside of Sweden's most recognisable experimental festival, Norberg. It will take a few years yet for Intonal to receive the same recognition as Unsound and CTM, however all the credibility, and makings of something legendary, are already there.
James Manning

Photography courtesy of Mikael Holgersson and Alexis Cancino