Best reissues and archival releases: April
Vintage Roman techno, oddball Yugo-wave, exemplary German minimal synth, Milanese Italo and the precursor to Cybotron feature in the latest archival roundup from Flora Pitrolo.
Šizike – U Zemlji Čuda with lost DATA Tracks (Discom)
Spring is in the air, across the Balkans the linden trees are in bloom. Perfect timing to listen to one of the freshest, and previously most unaffordable, records from the Yugoslav 1980s: so youthful and oddly girly it is, it almost makes you want to do your homework. Šizike were a dummy girl band that actually acted as an off-shoot of the experiments of Zoran Jevtic and Zoran Vracevic – also behind Master Scratch Band and Data, whose unreleased efforts are also documented here. The record is cream of the crop oddball Yugo-wave, with moments of interesting, dusty bubblegum (the single "Don't Stop", "Hula Hop Disco") and ultra-inspired passages such as the strangely childish "Tuzbalica", the electro-orientalist "Čudni Ples" and the distantly dancy "Svemirski Čistač".
On the Data side, things are exciting – not least because Data only released their poorest tracks and left everything else in the vaults. There are no singles here, it's the Data vault that Discom rifle through. Odd, eclectic stuff, much of it extremely seductive, including duets the two Zorans performed with other important players in the Ex-Yu wave scene, Du Du A and U Škripcku. Highlights here are the 1981 dark synth classic "Video Heroj", the opaquely elegant saxophone and sequencer ballad "Beograd", and surprises, such as the frozen, dusty alt-Schlager of "Granice Ljubavi". After Max Vincent's retrospective last year, Discom again gift us one of the most fantastic records of the month, and shine much needed light on some inventive and neglected music that has to be heard. Where to next, I wonder?
Listen/buy vinyl
Leo Anibaldi – 94-96 (Future Primitive)
This is the perfect April listen after last month's Mons Testaceum by Heinrich Dressel on Mannequin. Perhaps phonically dissimilar at first, these tracks share a taste for the epic and the sparse – a mythological illbient if you like – and they are products of a deep dark Rome-ness that still casts a long shadow over the capital's scene. Let's have some vintage Lory D next, shall we?. This generous dusting down of these mid-'90s tracks also makes for a fascinating moment of hindsight over 'our' techno versus the previous generation's – by which I mean, isn't it interesting how we step twice in the same river. This cut of sophisticated Anibaldi now reveals itself as perfect for our time: a haunted techno, shiny at the top but anchored to the ground, and dripping with removed malaise.
Archival schlep aside, if there has been no Anibaldi in your life – and indeed even if there has – this is amongst the sweetest flowers of April. The 2016 "stretched edit" of "Aeon Fusion" (a true renaissance for the track) performs the classically Anibaldi gesture of delivering a pounding, thump in one ear and a melancholy high-pitched whistle in the other, vaporous yet earthy, something like a black train galloping through abandoned countryside. On side B "Evocation Part II" moves further into the blackened corners of Anibaldi's work – clocks ticking, water dripping, crickets in the night measure time within what sounds like a stripped down synth version of Barber's "Adagio for Strings" that never quite gets past the first groove. What a record for a label's début: Future Primitive, we're licking our lips.
Listen/buy vinyl
Ghibli – I'm Looking for You (Dark Entries)
By now, lovers of Italo and Dark Entries have both almost come to expect the label's traditional 'Springtime hamper' collecting three unmissable Italo 12'' you've had pounding in your ears for decades. Seemingly always three of the Italo singles that you've seen go off on Discogs at prices that made you feel heartbroken, deserving and poor. This year's bouquet is probably the best assorted so far, containing the sociologically and emotionally brilliant Are You Loving? by Brand Image, the monumental Italo folk tale that is Dario dell'Aere's Eagles in the Night and this, Ghibli's I'm Looking for You. It's the latter chosen for this column; although less beautiful, it's something quite different, and completely glorious in just how unhinged it is.
The only testament to the existence of young Milanese Alberto Garbelli, I'm Looking for You is a rare example of maximalist, dare I say even Baroque (!) Italo Disco. Fabulously melodic driving synthline: tick (and even darker and thicker in the instrumental); overly high-pitched girl chorus: tick; relative lack of sense, albeit terribly inspired: tick. And then? And then everything happens! Ghibli (named after a Maserati and a desert wind) throws himself into an Escher painting of operatic arias, lovelorn spoken word and jazzy schizo-euphoria over driving disco chords, a sophisticated and strange multitude of influences expertly patchworked together to bring you one of the richest Italo experiences of your life. Probably the best record to contribute to the bankruptcy of its original label, the historical Italian Durium. May it bring roses, champagne and discotheques to Dark Entries.
Listen/buy vinyl
Richard Davis – Methane Sea (Spanish Mission)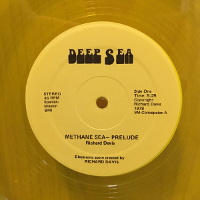 Plenty of 12'' releases in this month's round-up, and this 1978 single is perhaps the most long-awaited and mythical of the lot. Unusually obscure and rare for something so frequently cited as seminal, Methane Sea was released in 1978 by Richard Davis, who went on to found Cybotron with Juan Atkins a couple of years later. As brilliant as Cybotron's overstated techno-funk is, here Davis was quite far off in another direction. Driving melodies, sweeping drum machines and rhythmic vocoded space poetry seemed to matter much less to Davis at the time, who appeared to be in a more experimental mood, producing a soulful though broken, bleak Kosmische.
The two tracks, "Prelude" and "Aftermath," privilege texture over beat, atmosphere over danceability, and perhaps also concept over form. Colour, mood, feel is what we mostly have; from opaque sequenced belly-washes to starry sweeps of tingling white noise, to swathes of synthesised supernovas hovering just above the listener's head. Sounds go in and out of frame, of volume, of presence – in fact, it's like listening to Cybotron zoomed in, so close that you can see the fibre, the way one sonic molecule attaches onto the next. Davis, only slightly vocoded – enough to sound distant but not alien – is the religiously solemn instrument piercing through this foggy, mysterious techno-ambient. Defiantly, almost threateningly he begins: "I am my own fate/ I am my own destiny/ I write my own biography/ I am my own God". Bang goes Detroit: a tradition was born.
Listen/buy vinyl
Der Musikant – Musikantenmusik 1980-1984 (Vinyl on Demand)
Trust Vinyl on Demand to once more do all the dirty work for us, and put out material so intrinsically important yet ever so painfully rare. You might have never heard of Der Musikant, but you know the thing we call minimal synth? This really is it; Der Musikant is exemplary minimal synth. Because classic minimal synth has something rusty and broken about it, and something typically Mitteleuropean folk about it, and something angsty in a fuzzed out, gagged punk way, and this fine cut of Musikantenmusik is exactly that. This is music for cold yet immense interiors ("Rumbum", for example), music for barking dogs ("Fernsehen"), music where fuzzy drum machines dream of distant neon discos ("Tanz 2"), but also a music with a fundamental, central tenderness beating at its core, a smallness if you will. The knowledge of its smallness, of its own domesticity, of its own disproportionately passionate understatement ("Wir sehen Kühe").
I struggle to give an overview here, for these are 51 tracks of emotional yet sparse, sophisticated yet scruffy, irritated yet charming bare room synthesis. Up there with the likes of Max Guld and Guyer Connection's Portrait, to name some recently reissued similarly canonical stuff, your heart will beat for this Musikant if unassuming electric loners keep your world turning. And in classic "on demand" fashion (because everybody knows that it's supply that dictates desire), VOD also release the record as part of their equally extraordinary Bu/Bu-Musikverbreitung Recordings 1980-1985 box. But that's another story…
Listen/buy vinyl
Flora Pitrolo