Ahead of their long-promised debut album, Dirk Leyers and DJ Nomad discuss all things Africaine 808 with Matt Anniss. 
Africaine 808 has made a habit of confounding expectations. Since making their debut in 2013 with a pair of contrasting 12" singles – all skittish drum machine polyrhythms, fluttering synthesizer lines and humid South American influences – the Berlin-based duo have become increasingly hard to pin down.
Successive singles for New York's Golf Channel Recordings have thrilled and surprised in equal measure, fusing such disparate influences as Konk, British bass music, Kraftwerk, horror soundtracks, Afro-Latin disco and West African percussion. Listeners now know, as the cliché goes, to expect the unexpected.
"It's tough for marketing," says DJ Nomad laughing, a veteran of the Berlin scene who forms one half of the production partnership. "It's immensely hard to make a profile out of this in the modern dance music world, because everyone's looking for this trademark sound, and these endless repetitions of the same thing."
Dirk Leyers, the other half of Africaine 808, chuckles at his production partner's honesty. "We don't want to get bored while looking at each other in the studio saying 'we've done this disco track, let's do another one because it works'," he says. "That's the wrong approach."
Nomad murmurs in agreement. "When you have a lot of different angles, it can take longer to focus and get your shit together," he admits. "You know, because you might have this influence, and this influence, and this other influence, which you also want to incorporate."
The Awakening
This constant pull from the duo's myriad influences partly explains the relative scarcity of their releases, and the long gestation period of their imminent debut album, Basar. Really, though, this wide-ranging approach appears to be a product of their rich and varied musical history.
Nomad began record collecting in the 1980s, and was partially turned on to the potential of DJing and electronic music by hearing Beppe Loda and other cosmic disco greats play at parties in the Alps. By the mid-1990s, he'd been turned on to the potential of new forms of bass-heavy, British-spawned dance music – hardcore, jungle and drum and bass, in particular – and embarked on a stop-start production career that eventually led him to Ellen Allien's door. The eccentric DJ and producer signed an EP of experimental, bass-heavy dancefloor productions from Nomad's White Dolemite outfit to her BPitch Control label, before offering him a job working in their Berlin office.
Dirk Leyers was probably destined to be a full time musician and producer from an early age. Having been musically trained, he played in rock, funk and jazz bands before falling in love with electronic music. He moved to Cologne in the mid-1990s, becoming friends with Mathias Aguayo. Together, they started the Closer Musik project, releasing their debut album, After Love, on Kompakt in 2002.
The pair's paths first crossed in the early 2000s, when a mutual friend introduced them at Berlin's infamous Fuck Parade, the extra-frazzled alternative celebration of the city's underground electronic music culture.
"In a way, it was the Techno Viking that brought us together," Nomad jokes. "I knew I had to move to Berlin at that point," Leyers chimes in. "If only to do something against that." Cue more laughter.
Despite Leyers' subsequent move – inspired, he says, by "knowing every stone in Cologne and wanting to open up new horizons," – it would take the duo years to join forces in the studio. "I'd quit production and was more busy and occupied with my day job," Nomad remembers. "Whenever we met, Dirk kept insisting that we get our stuff together and go into the studio and session."
While Leyers was chipping away at Nomad's resistance, the latter was gleefully "counter-pointing" Berlin's techno-heavy scene by throwing block parties with friend Hunee, under the Triple A Soundsystem banner. "It was that Bristol vibe – like playing ragga, hip-hop, Afro and disco all mixed together," Nomad says. "At some point Hunee decided he wanted to go more into the house and disco direction, and I was really eager to try doing a party in Berlin where we just played African and tropical music."
That party was Vulkandance, now a staple of the celebrated German city's nightlife. The first event occurred in 2009, at the height of Berlin's fascination with minimal techno. "I felt it was the right time to finally stand up for that music and promote it in Berlin because wherever you went you'd hear the same DJs and the same music," Nomad says. "I wanted to focus on the rhythms of African, island and tropical music, and re-integrate that with electronic music culture. It was the same sort of idea that Hugo and the boys had when they started Sofrito."
Like the Sofrito crew in London, and the Highlife collective in Glasgow, Nomad's formula included editing and updating classic and obscure Afro, tropical and Latin records. As well as preparing countless "DJ-friendly" edits beforehand, he also invited Leyers to bring machines – including the TR-808 name-checked in their production alias – in order to create live fusions of older records and electronic percussion.
"We did that, and played live shows at Vulkandance, pretty much from the start," Leyers confirms. "The production stemmed from that."
The Language Of The Bass
From the start, it would be their approach to rhythm, and in particular drum programming, that would mark out Africaine 808 productions. If you study their releases, it's the way the duo use percussion that has become their aural trademark. It's this that underpins their musical eclecticism, offering a constant thread throughout their work.
"I think we have an odd way of programming drums," Nomad ponders. "There's a lot of drum patterns, and revolving polyrhythms going on." He freely admits this is a demanding and "monstrous" process when it comes to engineering, adding, "we work with a lot of individual tracks and try to melt them together in this amalgamation of sound."
Their aim is to marry spontaneity, the energy of drums, and driving rhythms. Since each track is started and completed before beginning on a new one, it can take weeks for songs to be put to bed. It all starts, though, with a little rhythmic improvisation.
"It's really handy to lay down a beat and see what happens," Leyers says, admitting his studio partner finds it easier. "Often we start with beats and acoustic samples, and then get rid of the stuff that inspired us in the first place. Then we'll put our own music on top of the beat. Just getting inspired is a starting point."
Nomad describes this process as trial and error. "It's the product of that, experimentation, and of course our musical heritage – what we've been happy enough to learn over the years," he enthuses. "Dirk has a great musical education. I'm more like a self-taught guy. I can't really express myself in the language of music the way Dirk can. There's emotions and sensitivity about the work itself, and that kind of brings us together." Nomad suggests this is why they work so well together, "we have a congruency of musical sensitivities, even though we're coming from different angles."
Despite admitting that they frequently bicker in the studio ("we're like an old couple," Leyers jokes, adding they can "argue over one note") it's obvious they have a shared musical vision. It may be wide-ranging, and certainly time intensive to produce, but it frequently delivers brilliant results.
This brings us neatly to Basar, the long-awaited Africaine 808 debut album. "It took nearly two years from recording the first track and thinking 'this is really weird, it probably won't work on a 12″ single…maybe we should make other weird tracks and do an album,'" Nomad says, causing much communal laughter. "I think during that time we realised what our sound was really about, and it was putting all these polyrhythms into a context that is between dance music and something that is more for home listening. It's dance music to listen to. When we realized that, the album began to take shape."
"In a way, it was the Techno Viking that brought us together."
Basar could well turn out to be one of the albums of 2016. Full of their distinctive, drum machine-heavy polyrhythms and dense percussion programming, it giddily skips between tracks that touch on a myriad of styles and tempos. It opens with a touch of Afro-electro, jazz fusion ("The Awakening"), and finishes with a triumphant touch of Afro-house and gospel ("The Lord Is A Woman").
In between, there are Balearic ballads, "Fallen From The Stars", UK bass-inspired bangers, "Language Of The Bass", juke-influenced, Cajun blues hoedowns and decidedly cosmic moments of electronic psychedelia. There are naturally plenty of melodies, instrumentation and musical touches inspired by West African and South American music. That it not only makes sense, but also hangs together beautifully, is testament to the duo's ability to move in different directions whilst still retaining a unique musical identity.
"At the end of the day, I think we're very open to ideas, and that is something that is getting a little bit scarce in dance music," Nomad asserts. "Really, dance music revolves around trends. What we tried to do with this album was not give a rat's arse about these definitions, and create within a theme. There was no 'this works on the dancefloor' or 'this works for the DJs', 'this is this' and 'this is that'. We just wanted to really break influences, get a lot of history in there, and make this not just about dance music history, but about music history period."
Ready For Something New
Another impressive facet of the album, explored a little in previous productions, is the appearance of guest musicians and singers. These include vocalists Dasha, Nova, Ofrin and Alex Voices (the latter musing on soundsystem culture on "The Language of The Bass").
"All the people we work with are like very close family," Nomad enthuses. "Alex, for example, is a London boy who's been with the Voices Soundsystem. He's an old friend who also played at some of the first Vulkandance parties, sharing the same styles and taste in music. When he moved to Berlin, it was like a homecoming of a friend. It's the same with a lot of the other people on the album."
The album's two other frequent collaborators, Mouse on Mars-affiliated drummer Dodo NKishi, and percussionist Eric Owusu, are integral to the dense, drum-heavy sound that the duo expertly craft. The latter became a friend and studio companion after a chance meeting on a Munich bus.
"He started drumming on one of these plastic tablets on the bus with his hands, so I asked him if he was into music," Nomad remembers. "His eyes widened and he said "yeah". He told me he was playing in Ebo Taylor's band. I said: "I have, like, three Ebo Taylor records sitting in my crate up the front of the bus!" The bus got stuck on the Autobahn for, like, eight hours, so we just chatted about music and quickly became friends."
It wasn't long before Owusu began joining them in the studio, and later appearing with them on stage. Referred to by Nomad as a "one-take guy," he's one of the more significant members of Africaine 808's growing "musical family".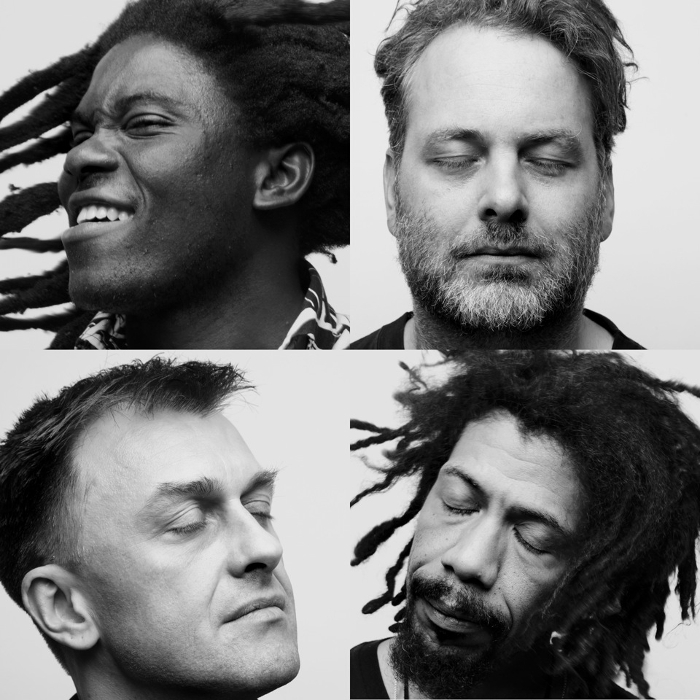 "When you already have vocalists and musicians around you who understand what you're trying to do; then get them involved," Leyers says. "For me, it's about momentum. If the momentum is right, then go for it. The first track we did with Dasha, we walked out of the room and she nailed it on the first take." Dasha had apparently never recorded any vocals before but it worked. "It's just what happens when you're feeling it, and the vibe is right," Leyers adds.
You can certainly feel these positive "vibes" in Basar, which veritably ripples with energy, colour and positive intent. It's an album that makes a statement about the possibilities of electronic, dancefloor-focused music in the 21st century, drawing on a large pool of influences to enhance the listening experience. Half-jokingly, the duo refers to it as a "blues album".
"I had mixed feelings at the beginning, in terms of how I would rate it and react to it, and whether the work aspect would overshadow the music," Nomad admits. "Once we gave the masters to Phil South in May, it took me a while to go back to it. Having done that, I have to say I'm very, very happy with it. I think it's a great album to listen to from the first note until the end. There's not one element that's over-represented, and there are some surprising parts in it. I'm very happy with it, really."
There are murmurs of agreement from Leyers. "I had to do the same as Nomad and let it sit there and marinade for a bit," he says. "When I did listen to it again, I immediately called him up and said 'we've got something nice here'. I genuinely think that."
While waiting to re-assess their epic opus, the duo continued to work on new productions and remixes, including a single for Golf Channel that's due later in the spring. They're also itching to do more live shows around Europe and beyond in 2016.
"Hopefully we're going to get to tour a bit more, with the whole of the band," Nomad says. "It makes a great difference when you have people there really playing live, and you have a different sound in the room, rather than just two guys sitting there with their electronic gear and raving."
Interview by Matt Anniss
Golf Channel on Juno