Posthumous DJ Rashad, Hunee's much anticipated album, Anthony Parasole music, the second Porn Sword Tobacco & SVN collaboration on Kontra-Musik, to a classic HMC reissue and records by Eglo, Antinote, Northern Electronics, Born Free and belated L.I.E.S.  
Maalem Mahmoud Guinia & Floating Points & James Holden – Marhaba (Eglo)
There's no shortage of quality cultural crossovers happening in electronic music at present, from Tapes and Wareika Hill Sounds to the Rvng Intl. FRKWYS series. This project from Floating Points, James Holden and celebrated Moroccan musician Maalem Mahmoud Guinia exemplifies the stunning results that can be achieved from such concerns, with each British producer drawing upon jam sessions that took place in the shadow of the Atlas Mountains earlier in 2015. "Mimoum Marhaba" is unmistakably guided by the delicate touch of Floating Points in its gossamer-light synth lines and nimble production, enhanced by Guinia and his assembled musicians with their distinctive vocal, instrumental and percussive touches. Holden brings a more extreme concoction to the table on "Bania", pushing certain elements into the red for a rugged, authentically African finish.
Listen/buy vinyl
Hunee – Hunch Music (Rush Hour)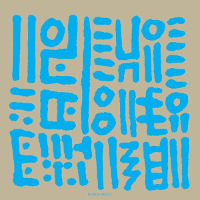 In six years there have been but a smattering of releases from Hun Choi that tease at the flamboyant, playful brand of house music he produces. The breakthrough releases on Rush Hour and Retreat have thus far stood out as his most distinctive artistic statements, but now the venerated DJ has gone further out in his worldly sound travels via his debut album and the roaming space it affords. Seventies roots still echo in the tracks, whether in the sublime woodwind coos of "Silent Sensations" or the broken pirouette synths of "Burning Flower", but these roots are matched with a fearless modernity and a keen experimental instinct that keeps the action moving on. What binds the album is an innate warmth and musicality that finally shapes out the full range of Hunne's skills as a producer, equal to his sterling reputation as a spinner.
Listen/buy vinyl
Leonardo Martelli – Menti Singole (Antinote)
One has to wonder where the limits are for the diverse and consistently thrilling sounds that Antinote deem worthy of release. After the delicate pop magic of Domenique Dumont, the Parisian label shifts focus back to the esoteric dancefloor with this release from Leonardo Martelli, who previously appeared on Drvg Cvltvre's New York Haunted label with a tape-only missive earlier this year. "Filippo" moves with the kind of melancholic electro moves that should get fans of Convextion nodding with approval, while "Francesco" cools things down to a somnambulant lurch of deepest house. "Leonardo" finds a more distinct groove where the beat is buried under unsympathetic processing, embellished by Badalamenti guitar twangs and swooping pads. "Marco" too takes solace in dusty climates with a wonderfully scuffed synth quality and disheveled drums that manage a fine balance between rugged and refined.
Listen/buy vinyl
Scott Young – Commix (Born Free)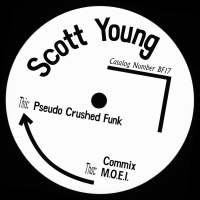 Last seen ushering in a fine debut from Tokyo-based newcomer Powder, Sling & Samo's Born Free label look to another talent from the Asian continent for their latest 12″. According to his SoundCloud page, Scott Young is a Hong Kong based artist, and his sound is deeply entrenched in degraded house and techno styles that manage to be obtuse and easy on the ears at the same time. Commix positions Young in the outfield where noise and niceties can sit comfortably together. "Pseudo Crushed Funk" shimmers with a certain techno urgency with its rapid-fire drums, but the hits fall light and scuffed. "Commix" meanwhile slides down into a dubby house confection laden with all manner of grubby sounds and distant melodic swirls, and then "MOEI" ditches the percussion altogether for a blissful drift into laconic delayed notes. Young has adopted a method that successfully balances split emotions without sounding forced in the process, and the end result is a wonderful thing.
Listen/buy vinyl
Jahiliyya Fields – Chance Life (L.I.E.S.)
Hugely delayed and hotly anticipated, Matt Morandi's return to L.I.E.S. as Jahiliyya Fields comes two years after the Pleasure Sentence 12". In the mean time he has popped up as Inhalants alongside Patricia, but finally there is a full long player of his wild and wide-reaching machine alchemy available to dive into. There are moments of sweetness as on the opening strains of "Chance Life Moon Dance", but they tend to mutate over time into more extreme layers of interference, pitch-bending and effects processing. The likes of "Clear Collar" point to a more dance-ready construction even if the textures within are still free-range. At times the ride becomes quite savage, not least on the grotty acid throwdown "Galcit 210", but there is never a sense of gratuitous excess. Rather, this is a celebration of how to handle noise effectively and create something wonderfully musical in the process.
Listen/buy vinyl
Porn Sword Tobacco & SVN – Feels Good EP (Kontra-Musik)
Since emerging from a temporary chrysalis in 2013, Gothenburg's Porn Sword Tobacco has proven himself to be thoroughly adept at turning his hand to techno curios that fit in with the overall Swedish aesthetic of unconventional, nature-inspired sounds beyond the confines of the club. Of his recordings since moving on from earlier electronica output, the Complaints single with SVN surely ranks amongst the finest, and now the pair are back in action on Kontra-Musik once again. The untitled tracks shimmy through hypnotic, minimalist landscapes where the details are micro-tuned and the overall effect is beguiling. In the rapidity of the noises triggered, a kind of bubbling organic mass is formed despite the rigid sequencing, and it smacks of the leftfield 4/4 meanderings that both artists have rightly made their own.
Listen/buy vinyl
Anthony Parasole – Point God (The Corner)
In tribute to the recently passed basketball player Anthony Mason, New York's resident tough techno torchbearer Anthony Parasole has put together a two-track sure shot on his own label The Corner that tells you all you need to know about the state of Big Apple business. "Percutere" wastes no time in pounding out an industrial piston-pumper of a beat, with just the right line in low-end synth throb underneath to keep things from straying into monochrome territory. "Point God" meanwhile has a more brazen hook in the form of a rising and falling synth line that screams to be played in a dark cavern with nowt but a strobe for company. Such a space is surely the intended destination for these kinds of productions, and Parasole delivers on that intention with aplomb.
Listen/buy vinyl
Acronym – June (Northern Electronics)
It's getting tricky keeping up with all the wonderful new developments from the Swedish techno fraternity, not least when it concerns Abdullah Rashim and his Northern Electronics label. Aside from his own artistic ventures, he has helped draw attention to artists such as Acronym, who is surely getting a healthy dose of recognition these days. Not content with releasing his debut album Mu on cassette back in January, the mysterious producer returns with a second long player barely six months later. Any lover of the icy, expressive sounds that are emanating from northern Europe will find much to enjoy here, as he weaves an enchanting blend of slow-drifting ambience and submerged-yet-purposeful beats that take their lead from bassline techno and add a bewitching mysticism into the mix.
Listen/buy vinyl
With a legacy that stretches back to the early '90s, Carmelo Bianchetti has done a great service to the techno scene in Australia, although these days his Late Nite Tuff Guy moniker garners more attention right now than his original DJ HMC project. Either way, there are key jams in his expansive back catalogue that fetch big money online, one of which being 1996 cut "6AM". Reissued here on a new label Bianchetti's set up called Reflector, and it's not hard to see why it would be a sought after track, as the rhythmic sway of the brazen acid line rubs up against a stout beat in a simple demonstration of deadly warehouse dynamics. There's a trancey twist to "Marauder" on the flip but it doesn't lose out on a chugging, chunky techno undercarriage to buffet everything along. From long time fans (Klock & Dettmann) to new disciples, this is a reissue that will be infiltrating record bags the world over.
Listen/buy vinyl
DJ Rashad – 6613 EP (Hyperdub)
Since his untimely passing last year there haven't been a great deal of posthumous releases to come out of DJ Rashad's archives. One suspects there must be reams more material that will surface in time from the Chicago juke and footwork visionary, but for now Hyperdub have stepped in with a single that perfectly encapsulates the style, emotion and tempo spanning talent the man possessed. DJ Spinn lends a hand on "CCP2", which features some smooth chord touches that soften the edges of the peppy, linear beat, while "Cause I Know U Feel" features Gant-Man chipping in on a track that scatters heartstring-tugging swoons in amongst jagged, chopped up juke madness. Taso guests on "Ya Hot" which worms its way into oddball, angular territory before Manny, Spinn and Taso all club together to round out the eerie tension of "Do Not Fuck".
Listen/buy vinyl