The best new singles this week
Our writers' top recommendations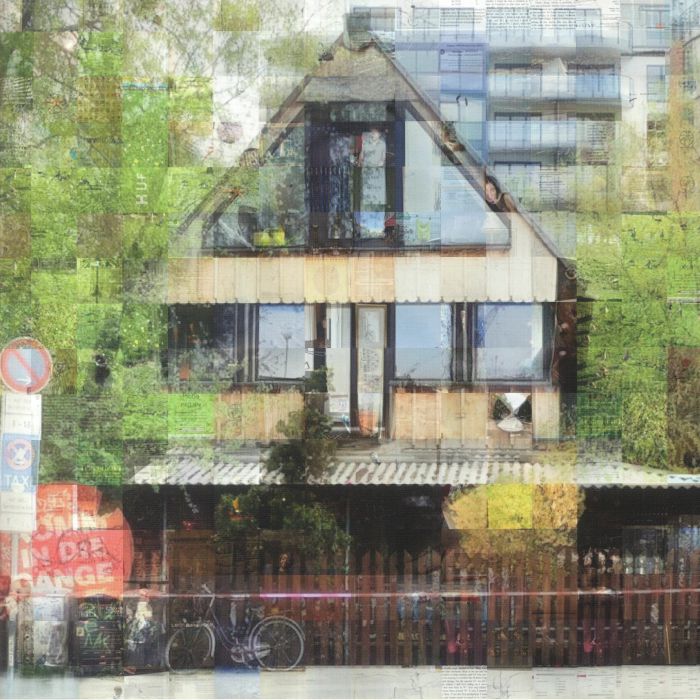 SINGLE OF THE WEEK
Move D 'Pandemix Live Jams Vol 4' (Source)
Move D is back with the latest in his recently birthed 'Pandemix Live Jams' series, maintaining forceful momentum on the fourth chapter of the lockdown recorded compositions. David 'Move D' Moufang has been a key player on the electronic underground for the best part of 25 years, releasing consistently high-grade sounds on some of the most revered labels in the business.
His work has arrived via Aus, Compost, Uzuri, Underground Quality, Philpot, Electric Minds, Workshop and many other fine imprints. Launched earlier this year, his 'Pandemix' range saw him re-animate from a 17-year slumber the Source label he set up with Jonas Grossmann back in 1992, and the latest instalment continues the label's phoenix-like renaissance. As with previous volumes, the material here was captured during extended streaming sessions captured during the first year of the COVID lockdowns, with the Heidelberg-based artist channelling his instinctive performance skills into some seriously immersive improvised sets. The EP opens with the rolling breaks of 'Tides', with grainy samples darting over tension-building chords and evocative synth textures. Choral chants rise and fall as deep bass adds weight to the endlessly evolving groove.
The tripped-out introspection of 'Freedom From The Mask' sees brooding bass undulate across a stripped rhythm track, with thinly spread sonic layers drifting through near-endless space as distorted crowd chants add an unnerving edge. On the flip, 'The Golden Pudelizer' welcomes Raffata 110 to the action, with indie guitar combining with emotive chords and vocal waves as skippy beats and growling bass maintain the tempo. Finally, 'NqqiN' switches things up as the velocity dramatically subsides. Pitch-bent motifs and wiggy sweeps combine over moody bass and sparse drum hits before fizzing chords ride in to pour light into the blackness, with the wonky atmosphere forged here thoroughly indicative of the bizarre times in which the music was recorded.
PC
Various 'Summer Selections Four' (Nunorthern Soul)
Nunorthern Soul have made something of a habit of assembling cohesive various artist collections during the label's 10-year existence. Head honcho Phil Cooper is at it again with 'Summer Selections Four', pulling together a well-formed ensemble of Balearic-minded creators for a six-track slice of sundown bliss. In recent years, the imprint has provided a home to work from the likes of BJ Smith, Blair French, My Friend Dario, and Bonnie & Klein, as well as serving essential re-issues from Joan Bibiloni, Ryo Kawasaki and more.
Sensibly scheduled to arrive in time for the fair weather party season, 'Summer Selections Four' is every bit as kaleidoscopic in scope as the imaginatively curated catalogue that preceded it. Kicking us off in typically sumptuous style, in-form Mansfield-based producer James Bright dazzles with the glorious swells of 'Amber'. Bright has been unstoppable of late, delivering a string of immaculately-carved compositions generally pitched at the ocean-gazing end of the thematic spectrum, and his latest effort elegantly blends soul-soothing Rhodes with an intricately spun tapestry of softly-psychedelic textures for a gorgeous sun-down accompaniment.
Next, Madrid-based producer Be.Lanuit smoothly shifts the atmosphere on 'Nana A Leon', with stirring operatic vocals and sternly spoken words combined with delicate instrumentation over a propulsive Latin rhythm. Seeing out the A-side, US producer Cole Odin arrives with the gently dramatic thrust of 'Growing', where growling synth bass supports choral vocals, gamelan style mallet strikes and brooding orchestration. On the flip, fast-rising Bali resident Gold Suite continues his roundly impressive output with 'The Cowboy', where sensual guitar chords combine with tropical steel drums and shimmering synths as full-bodied bass powers the stunning fusionist groove. North Of The Island's 'I Feel' magically stays the blissed-out course with its seductive acid ripples and bass-heavy drive, before Residentes Balearicos see us home with 'Smoke & Fly'. The Italian artist is another who's shown exceptional flair since emerging a few short years ago, and his EP closer here is a fitting addition to his expanding inventory, with gritty acid juxtaposed against dreamy orchestration and throbbing drums.
PC
D'Arcangleo – Arium (A Colourful Storm)
Italian twins Fabrizio and Marco D'Arcangelo have quietly done their thing since the early 90s, but if you take time to peel back the depth and breadth of their discography it's quite remarkable how much they've done. Their formative years are scattered across a grip of aliases and obscure electronica labels before they found a home on Rephlex and cemented their reputation. Never beholden to one approach, they have been brutally intense at times in mining industrial techno and electro, but their perennial appeal and overriding artistic stamp is one of delicacy rather than intensity. 2002's Broken Toys Corner is a great example – an LP loaded with finely sculpted electronics largely pivoting around the electronica sound of the day. Fractured, skittering rhythms and sweet, soft melodics.
On this new 12" for A Colourful Storm, that's the strain of D'Arcangelo we're treated to. 'Duty' is especially invested in this approach as thinly sliced snatches of percussion jab and poke at mellifluous clouds of melody, rolling with the frantic pace of the drill n' bass era but landing largely mellow thanks to the emphasis on porous pads. Interestingly, 'Spacing Out' carries the same melodic sequence and simply fixes it to a slow-release, pressure-off slice of raw machine beats.
There are other worlds to be explored on the record too. 'Godsonix' has a hi-tech jazz flavour with its urgent, interwoven synth patterns heading skywards, while 'Arium' creates the kind of richly detailed, flamboyant electronica that will have Rephlex devotees dancing their brains in earnest. Making a play for the quintessential EP closer, 'Familiarity' offers a wonderful line in squashed and submerged shards of drums pivoting around an emotionally ambiguous dream sequence. It's the kind of woozy, not-all-there atmosphere D'Arcangelo shape out so well, served up as a timely reminder on this perfectly formed EP.
OW
Dele Sosimi Meets Medlar – State Of Play EP (Wah Wah 45s)
Now, this is certainly an intriguing collaboration. The latest arrival from the always compelling Wah Wah 45s camp sees Afrobeat hero Dele Sosimi join forces with UK underground maestro Medlar to serve four brilliant fusion tracks on the 'State Of Play EP'. Nigerian-British musician Sosimi is an undisputed titan of the Afrobeat sound, having served as a member of Fela Kuti's Egypt 80 band before going on to perform alongside Fela's son, Femi, during the '80s and '90s. Not only did he play keys, but he also worked as music director for both outfits, composing and orchestrating as well as training the band's players.
Medlar, meanwhile, has been in sensational form of late, with the London-based artist releasing a fast-flowing torrent of distinctive releases on all-manner of premium labels. With all this in mind, it's perhaps predictable that the collaboration has proved itself exceptionally bountiful, with each track imbued with its own form of fusionist allure. The EP launches with 'Lord Have Mercy', with Sosimi providing keys and vocals while Medlar takes care of the rhythm via MPC and bass. Menacing chords set the mood as they hover over shuffling drums, while Tamar Osborn threatens to steal the show with his expressive sax solo. 'All About The Dance' is a deeper affair, with hypnotic machine drums and deeply rooted bass driving evocative keys and grainy synth solos. On the reverse, Zito Mowa joins the fray for one of the record's highlights, with life-affirming vocals soaring over heartfelt melodies and a gently off-kilter backing track. Finally, completing an essential EP we find the yearning melodies of 'State Of Play', where the delicately melancholy mood resumes via atmospheric pads, freeform synth solos and pulsing drum machine rhythms. Brilliant work across the board, and hopefully not the last we'll hear from this most inspired of pairings.
PC
dj_2button – Transient Communications (Dummy Hand)
Hailing from the Weirdos Inc. collective alongside elephant_jams, dj_2button creeps into earshot with a misfit sound which speaks to the modern era of idiosyncratic beatsmiths working to their own internal logic. Much like the collective suggests, this Vancouver-based artist's sound doesn't logically align with anything else but rather burrows into a groove-minded furrow all of its own. The beats tend to fall in loose, funky patterns with a lackadaisical undertone, the synths range from psyched-out arps to scattered sound FX and feedback, and no two tracks take the same approach.
'Distant UFO Signals' has a dubby soundsystem sensibility which chimes with the time 2button spent in Bristol, but it's far from a dub-by-numbers cut. The drums on this track in particular hint at roots in live drumming, and there is a certain rockist approach which steers the ship compared to the genre-faithful style you find in more delineated electronic output. 'Space Jam' lets the beats slop out looser, and even makes a point of snagging the sounds on artful low-res digital sampling, creating that aliasing quality once the stuff of production nightmares before lossless audio became standard. Now that glassy glitching is an aesthetic as much as analogue distortion.
The particular brew whipped up in 'Space Jam' feels like an apt tool to appraise the 2button vibe overall, where celestial techno synths become bit parts in a tangled mess that could as easily be indebted to heavyweight trip hop and the more experimental end of the 2010s dubstep mutations. But really, it's not quite any of those things, and ultimately sounds like one heady tripper conjuring heady trips for other heady trippers to trip out to. The art lies in making these hypnagogic tracks impactful, and in certain moments absolutely club-playable, despite the emphasis on psychedelia and the disregard for generic conventions. Keep an ear out for your favourite weirdo DJ getting busy with this sort of occult party music and seize the opportunity for transcendence without the trance.
OW
Placid Angles – The Lotus (AD93)
John Beltran's Placid Angles project is but one string to the Detroit deep diver's considerable bow. His aliases such as CNS and Sol Set have an intermittent, unpredictable quality scattered amongst a steady trickle of elegiac ambient techno under his given name, and while the 1997 Placid Angles LP The Cry has long been considered a high watermark for the genre, it was only a few years ago when the project resurfaced for an album on Magicwire.
In some ways it's surprising to find Beltran popping up on AD93, a label generally more aligned with contemporary UK techno abstraction, but Beltran's soft-touch synthesis finds common ground with the likes of Leif, Sky H1 and Aboutface, who have released on the label in the past year. Beltran devotees will be more than satisfied with the tone he strikes on 'A Perfect Swim', in which melodious 303 bubbles away underneath thick swathes of pads. 'Stormy Angel' offers something a little different thanks to its strident broken beat and subtly trancey underpinning while 'Moonlight Sunset' edges closer to pacey electro in its rhythmic makeup.
But this is still Beltran at the controls, and melancholic beauty remains the bottom line no matter how electrically charged the drums get. 'Setting Suns' offers something close to his classic mode, all skittering electronica eliciting emotion from the circuitry with the subliminal sadness that makes his music so reliably impactful.
OW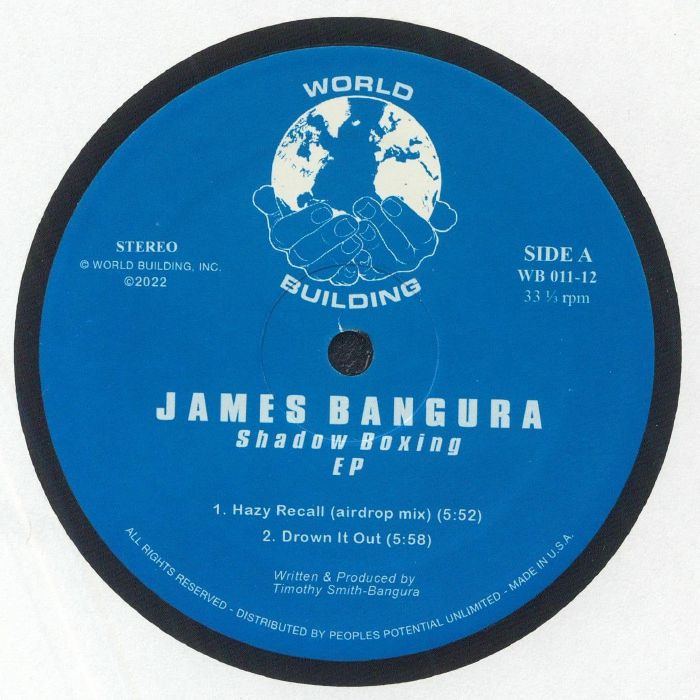 James Bangura – Shadow Boxing EP (World Building)
Hailing out of the reliably fertile Washington DC scene, James Bangura appears on Ari Goldman's World Building label with a record that doubles down on the emergent producer's immaculate run to date. In truth it's hard to pin down Bangura's sound – it absolutely fits with the generally off-kilter approach to house and techno found on DC labels like Future Times and 1432r, but he's swerved from breakbeat to techno and house with ease, injecting each style with flair. If there's one thread binding it all together, it would be an inherent moodiness which feels like it draws on prototypical dubstep.
That aura radiates out of the Shadow Boxing EP, which finds Bangura angling towards smoky, after hours house music for dark, low ceilinged rooms. You can still hear slight threads of his hardcore influences lurking around the edges, but this is his deepest work yet. It's not a million miles from his outstanding 12" on Vanity Press, but there's a thicker quality to the looming pads, a more dusky, heads-down finish on the drums. B2 track 'Analyze, Socialize' is certainly no slouch, with whipcrack drums and cavorting, extravagant bleep lines – the kind Bangura is able to wield with poise across many of his tracks. But even hear, in the midst of a peak time pressure cooker, there's a haunted, mystical quality to the track that pulls you in deeper.
OW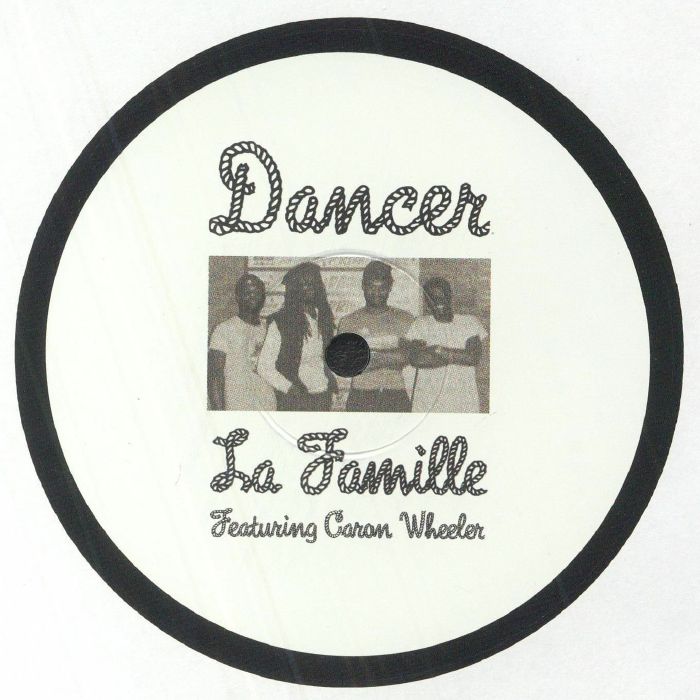 La Famille feat Caron Wheeler 'Dancer' (Freestyle)
While you'd be forgiven for knowing little, if anything, about Brit-funkers La Famille, there's a very good chance Caron Wheeler appears as a brightly-shining glimmer on your musical radar. Before being ushered in as 'the voice' of Soul 2 Soul, Wheeler joined Jazz guitarist Alan Weekes and vocalist Cleveland Watkiss on the short-lived La Famille project.
The band would release just a handful of singles in the early '80s, with each player going on to enjoy careers outside of the group not long after disbanding. Released in 1982 as a white label only, their first joint outing 'Dancer' is a lesser-known British boogie pearl – and until now has been particularly hard to own on wax. The joyously feel-good music arrives as a glorious fusion of jazz, funk and boogie, with a decidedly young-sounding Wheeler providing the infectious vocal lead. The summery jam is presented here in both vocal and instrumental versions, with both incantations sure to enliven clued-up dancefloors when the moment arises. The recent revival in all shades of British street soul shows no signs of abating, and 'Dancer' is unquestionably a glistening example of the now resurgent UK club sound.
PC
This week's reviewers: Oli Warwick , Patrizio Cavaliere.