The best new singles this week
The singles turning the heat up this week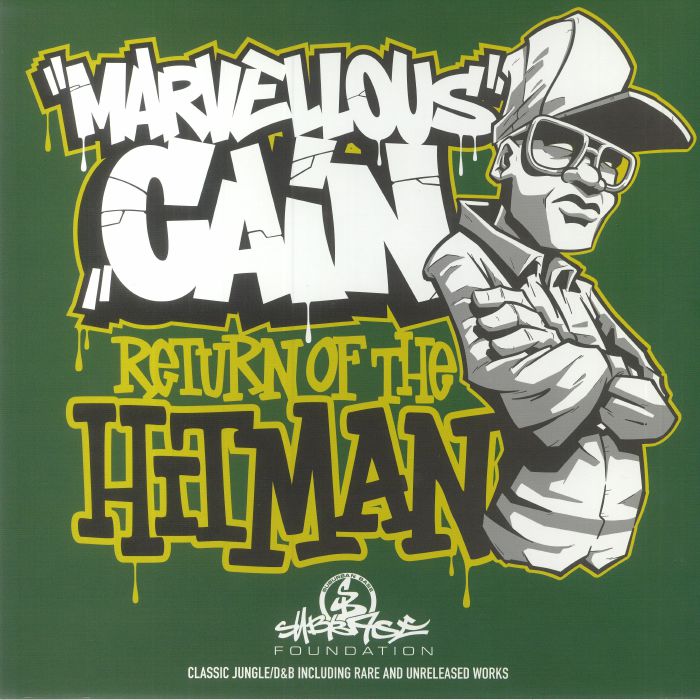 SINGLE OF THE WEEK
Marvellous Cain – Return Of The Hitman (Suburban Base)
Suburban Base have come back all guns blazing since their reawakening in 2021, dropping payloads of dubplates, reissues and compilations to keep die-hard junglists short on cash and swimming in records. The onslaught on your bank balance isn't about to stop now when such an authoritative overview of the mighty Marvellous Cain is coming barrelling into view.
If you ever spent time digging into the breakout years of jungle when the ragga influence was intrinsically woven into so much of the music, you'd almost surely have come across the early work of Marvin Cain. Bursting onto the scene with 'Hitman', the lad from Basingstoke embodied the ruffest end of this wild new sound, first landing on IQ Records before being signed to Suburban Base for a run of 12"s and the Gun Talk LP. Cain's output around this time was much more than just the official releases though – his back catalogue is brimming with dubplates, some of which Sub Base gathered p on an EP last year. Now though we get a full rundown of some of Cain's biggest and baddest, and it's a marvel to behold.
There's just no messing with Cain's canonical approach to amen-mangling he demonstrates on the likes of 'Life Is Rollin', but in the true spirit of early jungle there were plenty of oddly angled approaches which still sound wild and experimental now. The light and nimble-footed approach on 'Miss Out', the surreal effect of his RnB slice ups on 'Jump Up', a dubplate special from 1994, the giddy flex out of 'Everyday Junglist' with another veritable legend, Bizzy B.
This collection is also an interesting look at jungle's progression, with the 'Cain Dubplate Version' of The Runninz Kru's 'Hi Chaperal' tipping towards the more linear roll of D&B, quite prescient as it dropped in 1995. Vitally, Return Of The Hitman points out how influential and pioneering Marvellous Cain was, even if he stayed something of a cult figure in the scene compared to those who made their mint as mainstream culture caught up.
OW
Stimela 'Rewind' (Mr Bongo)
Mr Bongo shed more light on South Africa's seemingly endless mines of musical gold with a re-issue from one of the nation's most beloved acts. Stimela (the Zulu word for Locomotive) were formed in 1981 by guitarist Ray Phiri, following the split of his previous band, The Cannibals. As with his previous group, Stimela produced a prolific output, releasing scores of albums while winning throngs of admirers in their home country.
Weaving mbaqanga threads into a fusionist blend of jazz, soul, funk and boogie, the band's infectious sound saw them included on Paul Simon's momentous (if controversial) 1986 LP 'Graceland', as well as appearances on subsequent album tours. Released in the same year, the 'Rewind' is one of many musical pearls composed by the group, and its loving re-issue affords the opportunity for new generations to own and admire the distinctive Stimela sound. The entire EP is lovely enough, but the prog-leaning voyage of 'I Love You' must surely be considered a strong standout contender.
Pitched perfectly for Balearic excursions, the cosmically-charmed instrumentation enchants as it unfurls, with its portamento guitar motif providing the hook as meandering solos and succulent pads glide over undulating bass and sparkling drums. Immaculately formed and gorgeously evocative, the music conjures the most mystical of moods. Elsewhere, the captivating call and response vocals of 'I Hate Telling A Lie' strike a haunting tone as the adventurous arrangement exhibits the band's supreme musicianship.
'Where Did We Go Wrong' is another bittersweet composition, combining melancholy vocal refrains with heavenly orchestration and stirring rhythms. Finally, 'Shaka Doo Ba' administers a taste of idiosyncratic boogie to the mix, as syncopated swirls drive mischievous synth solos across a shape-shifting bed of tightly-spun rhythms and sturdy bass. Full marks to Mr Bongo for another inspired and thoroughly deserved revival.
PC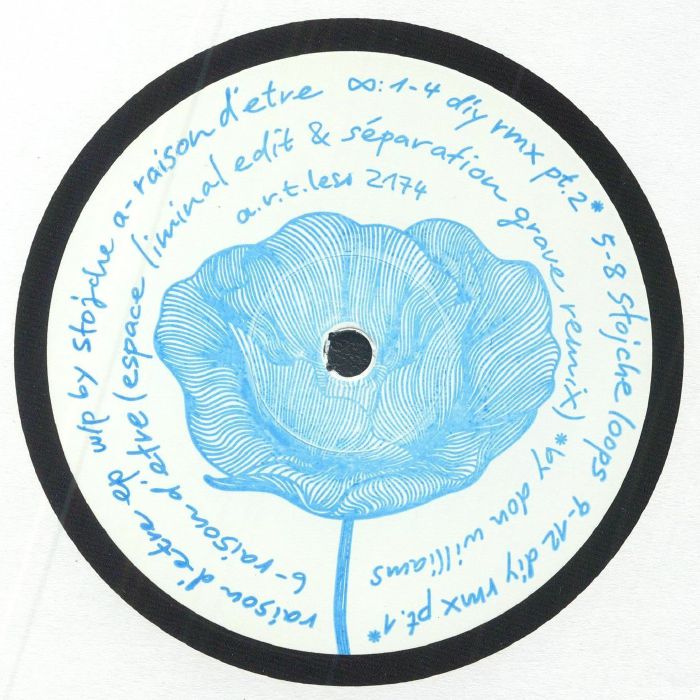 Stouche – Raison D'etre EP (Artless)
When Detroit techno gets as emotive – and moves so far beyond the pale of mundanity – as this, new petals of creativity always bloom. Stojche's new EP 'Raison D'Etre' has three profiles of a rose on its EP cover, nicely echoing the Macendonian producer's many-angled, agile and naturalistic take on techno.
A slow-building tech-trance trampler, this EP centres on the singular track 'Raison D'Etre': a meditation on absolute existence via digitally just strings, axiomatic snares and peak cinematic kettle drums. The track recalls the elegiac climaxes of Teddy Douglas or Mad Mike, but with an extra pH value that stoops the track into a surreptitious vat of acid, rather than simply evoking a watery infinity pool.
But there's something extra-specially endearing about its vinyl version, too: after three main mixes, there's not one, but thirteen new locked grooves for you to play with, touted lovingly by the artist either as 'Stojche Loops' or 'DIY Rmx'-es. Formed from the disjointed components of the main tune, each of these technoic tittilators are like kaleidoscopic still-life studies on glancelike moments found within it, looped ad infinitum like the sonic equivalent of a Mandelbrot set or a Buddhabrot.
Elsewhere, Don Williams (taking a break from Americana crooning – oh wait, it's not the same guy) homes in on the original's Shibuya strings and moody drum riffs. Placing the strings on every first beat, such as Don Williams does, seems to frame the track in an endlessly surrealist landscape; sand timers melt and Greek marble pillars tower over the track's auditory wash. On the B2, Williams returns for the 'Separation Grave Remix', upping the wateriness to maddening proportions with repetitive strain, and forgoing the 303.
JIJ
Burnt Friedman & João Pais Filipe – Automatic Music Vol. 1: Mechanics Of Waving (Nonplace)
You may well have found yourself carried away by João Pais Filipe's drumming before. Within the realm of experimental electronic music, his patterns can be heard twining with groups like CZN (with Valentina Magaletti) and HHY & The Macumbas – two projects which revolve around the drums in a pronounced way. Filipe first came into the orbit of rhythmic investigator Burnt Friedman around 2018, when the pair started embarking on their own explorations of what they term "automatic patterns".
The principle they're working on is composition rooted in doubling and halving, and while at some point the exact breaking down of the method becomes somewhat academic, the overall idea is for the approach to be the defining aspect of the music, not the individual impulses of the individual players. Between Friedman's macramé synthesis and Filipe's dense web of percussion, a lucid whole is formed.
Certainly, if you follow Friedman's music you'll find it natural to engage with this EP. His preferred 'nonplace' sound field encompasses the project, from the warm funk of the angular bass notes on '21-130' to the mellotron-esque melancholy lingering behind the pattering drums on '23-130', comfortably jettisoned from familiar geographical tropes. But as with past Friedman collaborators such as the late Jaki Liebezeit, a lot of the sonic character of this release lies in Filipe's sound. It isn't specified exactly what instruments he was using, but his playing has a dense and foregrounded style which dominates the mix.
Vitally though, the intention for the method to override the individual seems to have worked. Even if Friedman and Filipe's approaches are distinguishable, they're interwoven beautifully, resulting in four elevated works testing the edges of how we engage with rhythm.
OW
Minimal Compact – Statik Dancin (Fortuna)
There's something eternally appealing about the angular grooves of post-punk, no matter how many bands are unearthed from that late 70s-early 80s era. Beyond the widely hailed groups from the UK and New York there were scores more in other parts of the world who caught on to the skeletal, dub-informed arrangements, scratchy guitars and infectiously danceable rhythms. Minimal Compact were one such band, originally from Tel Aviv but relocated to Amsterdam in 1981. After sending demos to the fledgling Belgian label Crammed Discs they were snapped up for a five-track debut EP which propelled them on a seven-year run until they split in '88.
The stand out hit from that self-titled release was 'Statik Dancin', which now gets a standalone single release with the original and instrumental bolstered by a dub version. Looking at 'Statik Dancin' for starters, it's abundantly clear why the track caught on and propelled the band to quick success in the post-punk scene. Pieter Bannenberg's drums are tight and insistent, but still with enough fluidity in the joints to keep things funky, and Malka Spigel's pointed b-lines respond in kind. Crammed boss Marc Hollander lends some giddy bass clarinet flex to the track which cavorts around Samy Bimbach's pitch-perfect post-punk vocals. Quite simply, it's a bomb.
The full five-track EP was reissued by Crammed a few years back, but the real gem on this new single from Israeli label Fortuna is the newly commissioned Mad Professor dub. It's an inspired move which taps into the heart of post-punk culture and its intrinsic relation to dub. Mad Professor's crossover outside of purist dub and reggae didn't start to gather pace until later in the 80s, but his madcap mixing desk style draws parallels with Dennis Bovell et al, making him a natural choice to tease
out 'Statik Dancin' into the consummate B-side dub. He maintains the beat and has all the fun with the melodic elements, letting everything swim in the echo chamber and making for a dangerously potent new club record. It's a fitting and respectful way to bring something new to a bygone classic, expanding the possibilities and presenting a new gem that could easily pass for a hidden treasure from those very times.
OW
Ben Pest – General Maintenance (No Static / Automatic)
Ben Pest's angle on electro has always been tilted towards the gnarlier end of the UK underground scene. Dedicated to the sound since long before the current wave of electro revival (not to mention helping steer overlooked Ninja Tune group Pest), his is an electronica-informed approach that keeps the beats direct and driving for the dancefloor while relishing the chance to do some nasty sound design tricks for extra brain-tweakability.
By way of serving a reminder, this new drop on No Static / Automatic features everything you want and expect from a Ben Pest record. 'Greta Recognise' in particular turns up the heat on the grottiest acid licks, digital graveyard vocoder treatments and plenty of bit-crushing debris splaying all over the mix. 'General Maintenance' welcomes in a little darkside rave energy, pointing to the kind of scene UK electro emerged from, where outdoor parties and warehouse sessions were as vital as any licensed club affair.
It might well be '87 Game' which takes the cake though, doing some frankly astounding work with warping synth lines, crunchy beat deconstruction and general space shaping without ever losing the direct impact of the beat. If you dig on the avant-electro of Second Storey (a former label mate of Pest, no less), or you're just craving something meatier than the general electro-by-numbers fare, you'll find a lot to enjoy here.
OW
Of his many aliases, René Pawlowitz's Wax series is surely one of the finest. In that classic Berlin techno gesture of understatement, the white label hand-stamped 12"s pop up without so much as a whiff of fanfare and seep out into the club firmament. The particular sound explored on this series is absolutely in line with Pawlowitz's other work as Shed, EQD, Head High et al, but here there tends to be a housey demeanour and a general striving for delicacy.
After a three year gap, the eighth entry in the Wax series hinges on this sense of lightness, especially with the A side track. The faint murmur of a blue-hued dub techno riff, achingly beautiful, dynamic pad blossoms and a clicky, shuffling beat are more than enough to make for deep dancefloor magic. You've heard it from him before, but the quality here never tires.
Side B maintains the aura, albeit tempering the higher frequencies to create a more submerged, heads down workout for those who like their deeper than deep house to teeter towards dub techno territory. If you're one of those people, you'll find a lifetime of joy carrying this one in the bag.
OW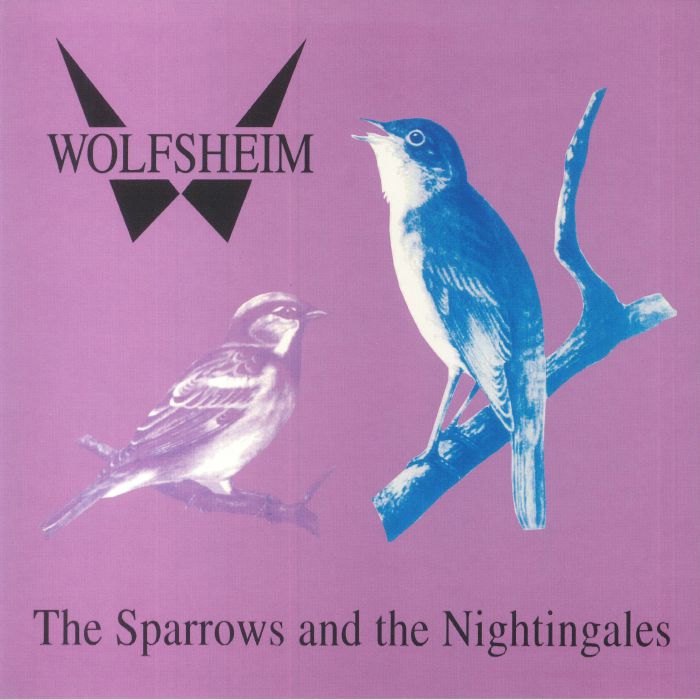 Wolfsheim – The Sparrows & The Nightingales (Blanco Y Negro)
Wolfsheim were Germany's first and best national answer to dark synthpop. Made infamous for their creative differences throughout the late '90s and early '00s, their ultimate falling out led to legal trials, resulting in the effective opposite of a restraining order. In other words, contractual obligations rendered the founding members, Peter Heppner and Markus Reinhardt, creatively inseparable if they were to continue recording and releasing music under the name 'Wolfsheim'.
From Johnny and June Cash to Celer, musical duos that are inseparable in some way always carry with them an extra-haunting sense of meaning. We suppose that the next best means to honor Wolfsheim's work is to reissue their best-known songs, rather than denigrate their careers due to creative strain. 'The Sparrows And The Nightingales' was the pair's first ever single from 1991, and defined their sound and image to come, stratifying ominous strings through chord-strikingly devotional lyrics. "God is on your side / diving cruelty from tenderness / watching all the time / dividing fiction from reality," they go, straddling the bitterness and joy of post-Cold War coldwave.
Radio chatter ensues from the original song's mega-synths and beats, as though the duo are arguing with their own music that spiritual salvation is possible, with the proviso of technological dystopia. The album version, on the B side, is unusually a couple minutes shorter. This is an honorable reissue of a band who, despite their differences, are keen to preserve their image and legacy.
JIJ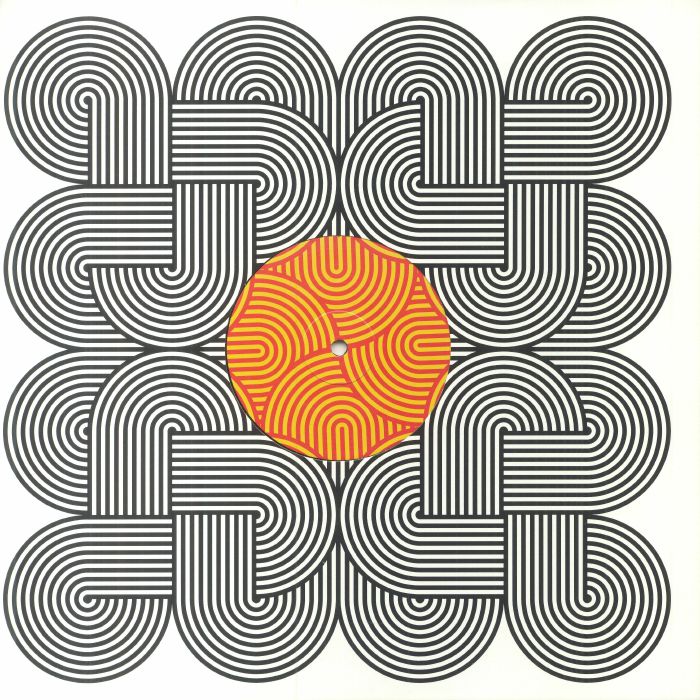 Jkriv – Something Else (Razor-N-Tape)

Brooklyn-based Razor-N-Tape appear to be thriving since relatively recently doubling down their efforts to present original material on their long-running imprint. Having forged an impressive reputation by serving impeccably crafted edits over the last decade or so, the transition to purveying entirely novel compositions has, from the outside at least, been both seamless and entirely bountiful.
The latest instalment comes from label co-founder Jkriv, who teams with a hand-picked selection of Brooklyn's finest creators to serve three original cuts alongside a remix from Detroit maestro, Alton Miller. Kicking things off, the EP's title track 'Something Else' features Brandon Markell Holmes' scintillating falsetto vocals powering over a slick disco rhythm, with spacey synths, propulsive clavinet and chocolatey bass completing the silky smooth summertime vibration.
Next, Nic Hanson and The Phenomenal Handclap Band enter the fray, combining brilliantly across the feel-good grooves of 'Try again'. Funk guitar, rich bass, freaky synths and yearning vocals intertwine as low-slung drums and irresistible percussion maintain the tempo. 'Shoulda Been Me' adds a dose of spice to the honeyed pot, as Toribio belts out his tale of broken love over a bittersweet boogie bed of analogue bass, glassy chords and rippling percussion. Finally, Detroit gem Alton Miller re-imagines the track through his spiritual house lens, pitching the soul-drenched vocals over a trademark arrangement of meditative chords, celestial synths, and Afro-laced rhythms.
This is exquisite work across the set, with each cut irresistibly vibrating at various increments on the disco/house axis. Warm, vibrant, and perfect for the summer season, it's safe to assume the entire EP will do requisite damage in countless clubs and beachside bars over the coming weeks and months.
PC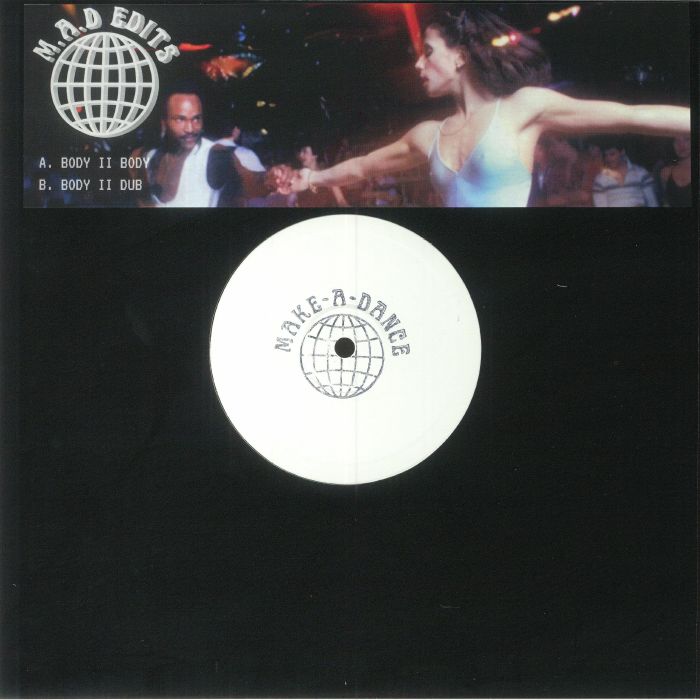 Make A Dance – Mad Edits 002 (M.A.D.)
Scalpel-wielding London mavericks Make A Dance are back in action with their latest floor-focused offering, serving two compelling re-jigs on 'Mad Edits 002'. We can't profess to know an awful lot about the team behind the project, but – from what little we can glean via our tireless research – it appears that their primary collective goal is to ignite dancefloor eruption with their music.
Unquestionably by design, scouring the internet machine for clues leads to entirely slim pickings. A straightforward manifesto appears on their social channels, in lieu of a bio, with the take-home message that the music M.A.D release should: make listeners feel good, smile, and want to dance. To that end, the mysterious pairing must feel rather pleased with their output thus far. Job done, one might say.
'Mad Edits 002' continues where they've left off with previous releases, albeit pitched a little smoother than some of its more pumping predecessors. 'Body (II Body)' re-rubs a well-known boogie burner, stretching out the arrangement thanks to some strategic edit manoeuvres while adding bottom end thump and a gently psychedelic sheen. On the flip, 'Body II Dub' strips the vocals to the bone, adding hazy horn overdubs and sumptuous acid licks to usher the groove deep into cosmic territory. Grab it while you can!
PC
This week's reviewers: Patrizio Cavaliere, Jude Iago James. Oli Warwick.