Spoon Fazer interview – "that should have been number one everywhere"
Some forty years in the making, Spoon Fazer's debut album finally hits
"Ah, so I'm coldwave now am I?!" laughs Simon Patterson, the man behind synthpop act Spoon Fazer and the unlikely recipient of an unexpected and rather belated surge in current attention. It's not a term he'd heard before, but he's not objecting to his 40 year old music finding a new – and altogether logical – home in the musical zeitgeist of more contemporary times.
If you met this well-spoken and polite, middle aged gent from North London in a Camden coffee shop, as we did last month, you would never guess that he was responsible for some of the earliest synth music being made in the UK and that original pressings of his recordings were fetching downright silly money on certain vinyl marketplaces.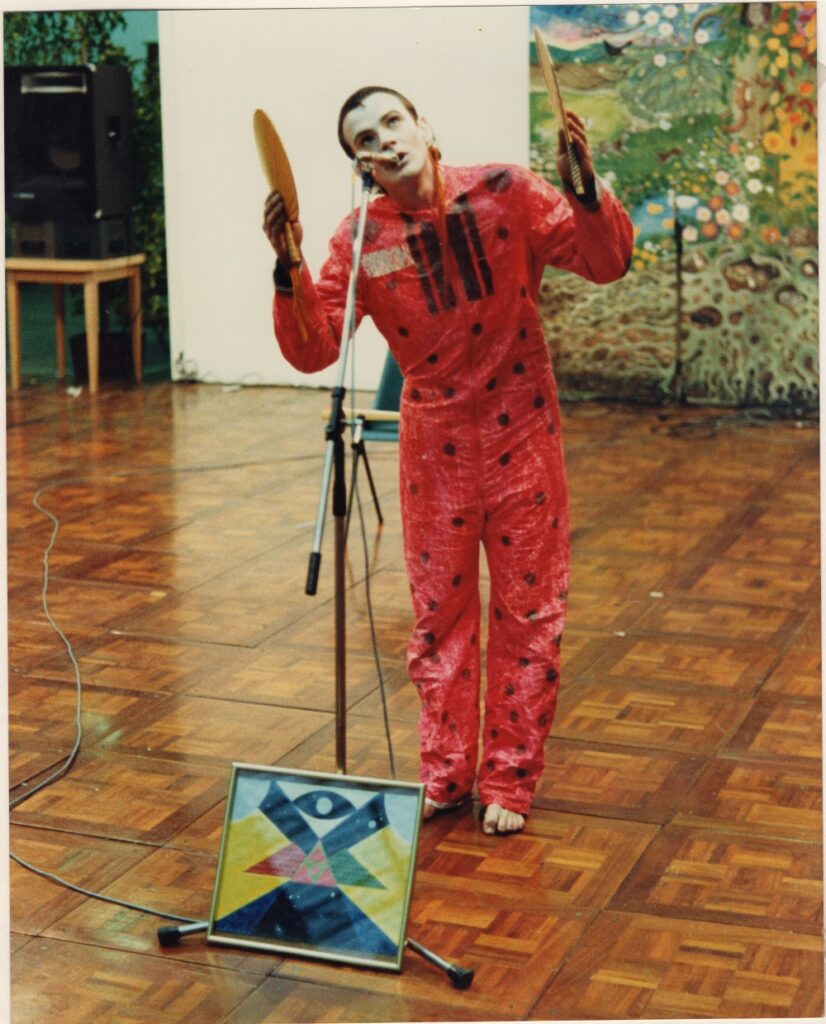 Those who have slightly less disposable cash need not fret, however, as an album – somewhat obscenely, the debut Spoon Fazer album a mere 40 years on from his first releases – of highlights from Patterson's back catalogue has just been released. Alternative Regression Therapy came out on CD earlier in the year, but due to his vintage, and a love of the dark stuff that he shares with Juno Daily readers of all ages,
"I was really excited about the CD," he says, "but I'm even more excited about the LP. I come from a generation of vinyl. I did have vinyl single, 'Sunset' is on 12", but to have Alternative Regression Therapy' as a red vinyl is so exciting."
Although life took over from dreams and Patterson gave up making his often beautiful and poignant synth tracks in the mid-80s in favour of a career in market research, it feels as though, while talking to him about those days and the recent resurgence in interest, he never completely gave up on the dream.
In 2009, the German label Ann Logue collected four tracks for the 'Bam Boo' 7", to meet a consistent interest in that country for his music.
So, while he does appear to be a little surprised by the fact he's sat doing an interview and looking forward to the prospect of vinyl versions of the album arriving, it would be wrong to say it was totally unexpected.
"Really," he says, for instance, of the album track 'Fall In Love With The East', "that should have been number one everywhere." He's also carefully curated and archived all his work from the period, in both visual and sonic form. "I've got loads of songs," he says, "and we're talking about doing a second album…" Far from viewing his works as museum pieces, he sees many as more relevant now than ever, like the anthem for freedom 'Do Different Dances' and its allusions to mental health and suicide . Its opening lines – "They say the world is falling down / Tell us London's about to drown" certainly sound like they could have been written in the last couple of years to say the least.
Patterson's musical roots ultimately lie even deeper than synthpop.  Growing up in Totnes in Devon, he was a member of punk/new wave act The Whippets From Nowhere, who were tipped for big things, made the move to London but then never quite made the necessary grade to close a record deal.  The band finally called it a day with a farewell show at Totnes Civic Hall, where Patterson also appeared as the support act, reborn as Spoon Fazer in a boiler suit daubed in orange paint bought from a yachting show, playing a set of electronic Simmons drums he had borrowed a fortune to buy.
You can see a picture from that show on the reverse side of the CD..  "For a long time I was embarrassed about that picture," Patterson says, "but now I realise it's kind of iconic."
It's certainly proof that he sensed which way the post-punk wind was blowing as the 70s started to give way to the 80s.  He'd seen it in the bands that visited the venues in nearby Plymouth that he'd frequent – he recalls being fascinated by an early version of Human League and OMD show at which their tape machine, playing backing tracks, was considered to be a fully paid up member of the band called Winston.  A trip to see Kraftwerk at the Hammersmith Odeon – now the Labatt's Apollo – in 1981 was another seismic moment in this development, and Patterson has continued to return to see Dusseldorf's finest right up until their most recent UK dates in 2017. 
The other significant influence on the Spoon Fazer sound – and his performance art-style live show – was from even further afield – Japan. "My wife is Japanese," Patterson tells me, "but I had a whole love affair with the orient before I met her. Where did it come from? Well, there was Deep Purple's Made In Japan, Ziggy Stardust, the band Japan." As for the distinctive look that Patterson sports on the sleeve of the album, that's kabuki make up and costume. "It's a stylized form of theatre which is where the humans are almost like puppets," he explains, "it's almost like Japan's version of Shakespeare, an old art form. I'm not a great expert but I have seen it in Japan."
A constant companion through both musical projects was fellow Totnes resident Jimmy Cauty.  A long way before his days in The KLF, Cauty had already made his mark on mainstream culture by drawing a  Lord of the Rings poster that would go on to be a best seller through poster chain store Athena.  He spent the money he made on the biggest PA system that anyone in the locale owned, which was "very handy".  But his role was much more than that – "he was half roadie, half mentor" says Patterson, but also went on to create the artwork for the first Spoon Fazer single in 1980 – the four track 7" 'Music 2 Dance 2'. 
He even made a musical appearance on a track on the second release, the 'Sunset' 12".  Cauty played bass and Wasp synth on the song 'Bälläd Of The Insectmän'  – it appears on the CD version of 'Alternative Regression Therapy', although not on the vinyl.
He and Cauty still keep in contact, although Patterson is clearly reluctant – or at least polite enough – not to associate his famous friend's name too closely with the .project Nevertheless, the final surfacing of the Spoon Fazer LP is at least partly down to Cauty's involvement. Ian Shirley, then the editor of Record Collector, first unearthed the Whippets/Spoon Fazer legacy while digging for information for his 2017 book 'Turn Up the Strobe: The KLF, The JAMS, The Timelords – A History'.
Shirley went on to curate a Whippets From Nowhere album – Concrete Academy through Record Collector magazine, and since leaving the august journal, agreed to release Alternative Regression Therapy through the newly formed OM Swagger label.
The link with The KLF is an interesting connection – but that's ultimately all it is. The significant thing, really, is that the briefest of listens to Spoon Fazer's music tells you that while it's a fascinating snapshot of its time, it's also every bit as fresh and relevant now as the day it was recorded. Treat yourself to a bit of – Alternative Regression Therapy – it'll do you the power of good.
Ben Willmott