Eboni Band announce 40-years-later reissue of 1981 self-titled album
Highly collectable African only album to finally get global release after four decades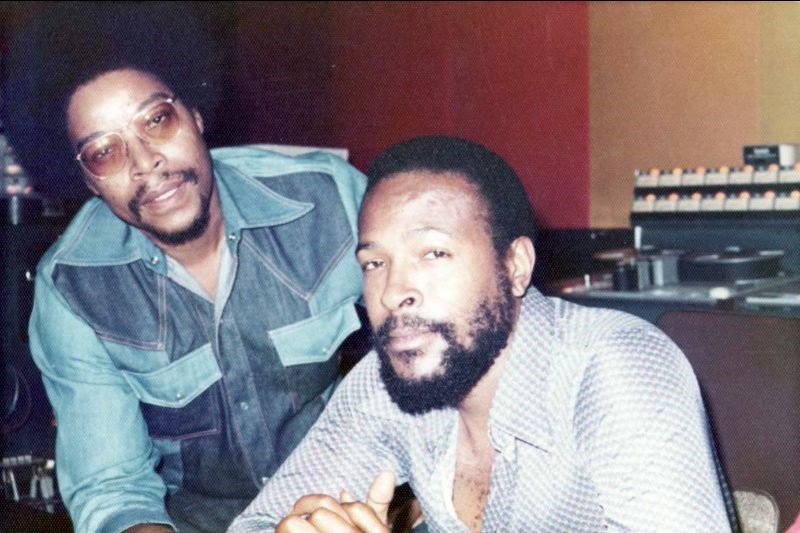 Art Stewart (left) with Marvin Gaye
We Are Busy Bodies have announced they are to give the Eboni Band's self-titled album its first global release, 41 years after its original Africa-only outing.
Featuring Motown session musicians, the JB's trumpeter Fred Wesley, and session musicians from Ivory Coast's Eboni Records, 'Eboni Band' was produced by Art Stewart and Greg Middleton and is considered a pioneering record on the intersection of soul and funk. Motown had originally planned to release the LP, but it was eventually shelved by them and given an Africa-only release.
Drawing strong influence from Marvin Gaye (with Art Stewart having worked extensively with the soul legend), 'Eboni Band' – their fifth album – traces the roots of black music's sociopolitical influences. It also draws heavily on West African griot drumming traditions, with djembe and kora featured extensively, and combines Wolof and English lyrics.
Eboni Band formed on the Ivory Coast city of Abidjan, where founding member Gerald Theus – who founded Eboni Records – met fellow bandmate Abdoulaye Soumare.
Theus and Soumare's music soon made it to the ears of Stewart, who was already an established in-house Motown Hitsville engineer, having produced Marvin Gaye's 'Got To Give It Up' and Rick James' 'Come Get It!'. Thoroughly enthused by the jazz-funk band, Stewart flew to the Ivory Coast to scope out the band's potential, before immediately suggesting they travel to record new music in Los Angeles.
However, the band were soon to be disappointed, after Motown's reaction on hearing the album at a pre-arranged listening session revealed their belief that American audiences weren't ready for the record.


The album has since been remastered by Noah Mintz of Lacquer Channel Mastering for vinyl and digital and will be released via We Are Busy Bodies on June 18.