Chris Carter shares Throbbing Gristle rework 'Heathen Mirth' from Electronic Ambient Remixes reissue
Upcoming set of albums includes reworkings of Carter's work with Throbbing Gristle, his longtime partnership with Cosey Fanni Tutti and solo offerings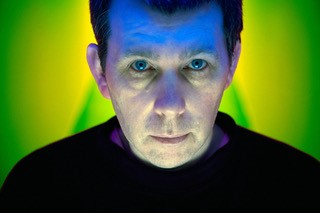 Chris Carter has shared a new track form his forthcoming reissues of Electronic Ambient Remixes One and Three (EAR ONE and EAR THRE), due for release on vinyl and on streaming platforms for the first time, and on CD on July 30.

'Heathen Mirth' is a minimal ambient take on Throbbing Gristle's 'Heathen Earth'.
The upcoming collection of albums includes reworkings by the electronic musician and former Throbbing Gristle member, both of the group's music and Carter's own solo work. Carter is known for his longtime collaborations with Cosey Fanni Tutti, and has formed additional duo and trio projects such as Chris & Cosey, Carter Tutti, and Carter Tutti Void.
The first album, Electronic Ambient Remixes One (EAR ONE), was released in 2000, and was the first in a series of four solo remix albums by Carter and his longtime partner and Throbbing Gristle bandmate Cosey Fanni Tutti. Consisting of reinterpretations of his 1980 album 'The Space Between', it retains Carter's original '80s analogue sound, while still operating in a new space.
Electronic Ambient Remixes Three (EAR THREE) was Carter's second Electronic Ambient Remix solo album. Originally released in 2002, it is not a remix of one album, but rather a range of Throbbing Gristle tracks released throughout their career.
This reissue follows Carter's first solo album in over 17 years in 2018, Chris Carter's Chemistry Lessons volume 1.

'Electronic Ambient Remixes One & Three' will be released on July 30.