"There are many belated parties to be had": FYI Chris on the future and Earth Scum
Meet Chris – and the other Chris – who together make Peckham's finest, FYI Chris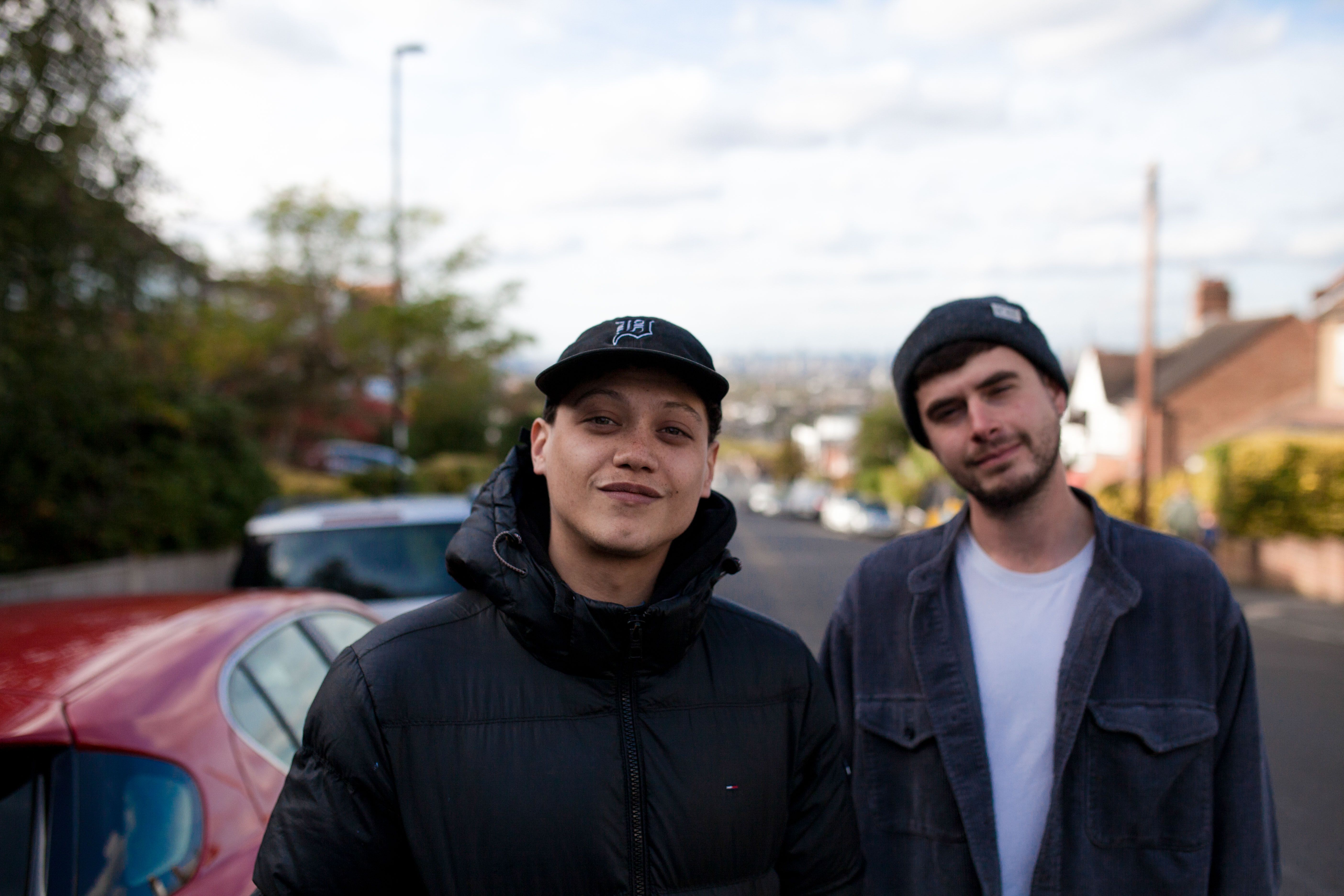 Friends that gravitated towards each other over the course of countless club nights, innumerable bar sessions and even more afters. MPC jams and back-to-backs gradually giving rise to solid reputations for expert mixes and selections, off-the-cuff beats and hooks becoming coherent tracks, in turn forming structured releases. Opportunities born from impromptu situations once par for the course in grass roots music, listening to Chris Coupe and Chris Watson try to explain how they first began working together is now an invitation to lament.
Whether recounting how 2015's Back In The Millennium EP was signed to Rhythm Section after label boss Bradley Zero heard demos dropped at a Peckham house party, or talking soirees that first drew them deep into London's after dark, name-checking Church at Corsica Studios and DMZ among others, if the pair better known as FYI Chris are recognised for making a broad gamut of noises reflecting British electronic music's sense of adventure, their back story is testament to its surrounding culture. Specifically, the importance of community and significance of spontaneity — things notably lacking in today's siloed, algorithmic reality.
Two years in the making, Earth Scum is a fittingly homespun and personal debut LP for the DJ and studio duo. Musically, we open on the hypnotic, haunting, smoked-out breaks gem, 'Pizza Dust', before the record moves through soulful downtempo, slo-mo rave-y garage, choppy funk, and punching filtered tech. There are references to UK nightlife in abundance, from fried chicken shops to euphoric curveball 'Four Teslas'. And the array of guest appearances, including Pinty, Simeon Jones and DJ Morris, can all be credited to close friends and trusted allies.
"It was quite organic in terms of how we began working together," Watson replies when asked when the regular run-ins at gatherings developed into an active musical partnership. "Once we got some bounces of tracks we'd made on the MPC, listening back to those, showing them a couple of mates who just happened to be starting a 12" series, it developed like that, really. It wasn't like we were thinking 'OK, we're going for it'. It was just like we made a few tunes and they just happened to get picked up by pals."
"This was kind of the same time we were helping the guys setting up Rye Wax," Coupe adds, nodding to the pair's ongoing involvement in the treasured South London record store, bar and dancing destination. "You'd just go back to someone's place after, have a few beers and you know, throw some samples into the machine… I was living with Ned [Pegler, AKA Medlar], which was nice because he had a little studio in his bedroom and was writing Sleep, his album, at that time. So it was this great atmosphere for making music."
The pair's preferred studio modus reflects the loose, give-it-a-go informality of those formative days and late nights. Every track on every EP, and the vast majority of Earth Scum, was crafted together, face-to-face, in shared spaces where feedback and thoughts are instantaneous. 90% of the LP was complete when the pandemic hit, but the label, Black Acre, chose to push the release date back while chaos ensued. Both agree the move was sensible, but stay at home pandemic orders meant this entailed entirely new ways of working.
"It was the right thing to do because it allowed time to finish it properly," says Watson, before Coupe explains the end process predominantly involved remote working, which took some getting used to after years spent sitting side-by-side. "It especially helped in terms of mix-downs, so that was something. We're maybe a bit more impatient than some other producers might be on that front — when there's two of you there's a bit of a diffusion of responsibility. We don't really do much on our own, most of the stuff you hear on an FYI Chris, record from start to finish, we've been in the same room making it."
If the task of completing an album in lockdown forced a new approach, putting that record out into a world still largely shuttered, void of many situations traditionally used to test new tunes, is a veritable leap of faith, like throwing valuables into the ether. "I think when you actually hold the record, that's when it feels real. Like this is actually a thing. And we've been getting texts and stuff from mates — 'Oh, I just heard you on the radio' or whatever. That definitely makes it hit home," says Watson.


Earth Scum arrives at a time when release schedules have never been busier. Nevertheless, it stands out despite the deluge of quality vying for attention and an eventual spot in the bags and boxes of taste-makers when events tentatively resume. The album's stylistic scope has a lot to answer for. "I think it comes from our DJ styles, you know. We throw everything at it including the kitchen sink, and like to bounce around tempos and things like that. So that was fun to basically treat the album playlist like a mixtape playlist or like a DJ set we might play," explains Coupe.

"There's so much good stuff to play right now, because people have been inside but keeping the fires burning all this time," says Watson, his voice filled with a tangible pride in the resilience of creativity and ideas. "Bandcamp Fridays, this new whole structure of monthly releases of either four tracks or 25 tracks or whatever. I wonder if that momentum will carry on. The scheme is happening, I'm just wondering when people have gigs and stuff is it going to be feasible anymore?
"Everyone was really upset about Spotify telling them that they had to make more music at first, then next month everyone was making 50 tracks," jokes Coupe. "There's like a whole year's worth of music to kind of go back over. It's really exciting to just dig in, and it's crazy to think all these tracks haven't been played in a big room once. Effectively none have really been used for what they were designed."


Variety is the sonic backbone of FYI Chris, but the pair's life view might be easier to sum up if Earth Scum's vocal moments are much to go by. 'On Tik' makes no secret of the fact "money means a lot when you don't have none", while 'Scum Of The Earth' takes direct aim at unemployment and class divisions, spoken word prose vehemently delivered by Watson's uncle, Manchester-based poet and performer Thick Richard. The lines may have been written in a different time, but these sentiments arguably feel more relevant than ever at a point in history likely to be remembered not just for its healthcare crisis, but rapidly widening gaps and the accentuation of inequalities.
"You know, all these things are pretty constant problems. There's not a snapshot here. Last year everyone was basically encased in amber. But now it's almost like everything's back to the way it was. I mean, you know, obviously, there are some major shifts that should be coming," Watson says of the lyrical content, before moving to dance music's own economic debate, which has been thrust into the spotlight by the pandemic's financial fallout.
"It's in such a capitalist, or hyper-capitalist moment, music, or at least it is on the so-called business techno side of things. The only way to respond is by speaking with your money. If you see an event you don't want to go to, then just don't go to it. You can't wait for the promoters to stop booking these people who are making loads of money," he continues, before Coupe quips; "I joke sometimes and say that capitalism ruins everything."
Despite being clear on an urgent need for change, like much of the UK right now Coupe and Watson are eager to see signs of life re-emerging in nightlife, live music, and society, with DJ bookings and inquiries already picking up. "Hopefully everything goes well and we'll play the dates. We've got a few London gigs and I think that's probably how we'll like it this year. Stay pretty local, so we can also catch up with people, you know?"


"It would be nice to get a few of the people we collaborated with into one room and play some records together," Coupe replies when we ask if there are any plans, cautious or confident, for an Earth Scum launch event in London during summer — an evening dedicated to putting sounds into the settings that directly inspired them. As with pretty much everything else right now, time will be the ultimate and only tell. Nevertheless, Watson's thoughts on the matter are weighted with poignancy, not just his typical dry wit, ensuring they hang around long after our call finishes. "I think there are many belated parties to be had, so I suppose we can chuck that one in as well."
Martin Hewitt