The best new singles this week
The weekly windfall from the vinyl tree, as gathered and curated by the Juno Daily team
SINGLE OF THE WEEK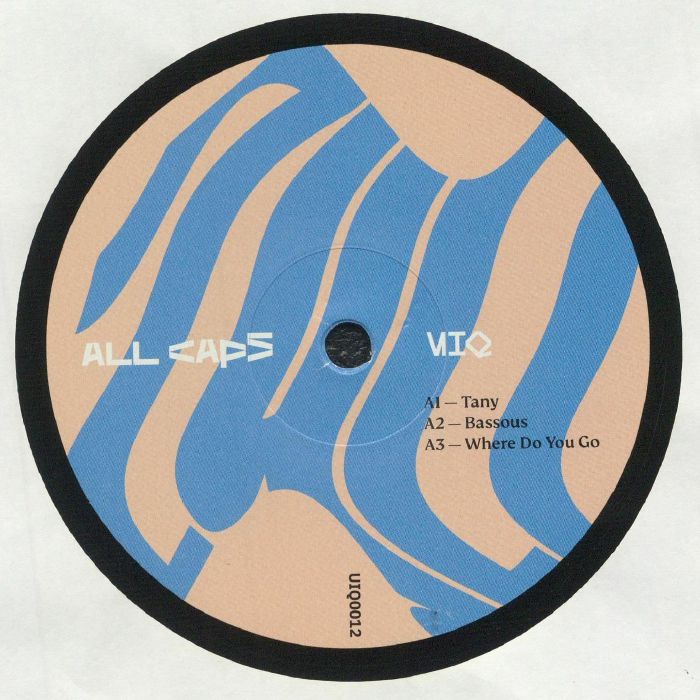 ZULI – All Caps (UIQ)
In a world where everything can be saved, backed up and recalled in a click, there's something to be said for the impact an enforced reset has on an artist. The circumstances for ZULI's own clean break are hardly cause for celebration – he had his equipment and years worth of sounds stolen while on tour – but he's responded to the loss with a proactive verve. All Caps is the first released results from his new start, rebuilding his sound library from the ground up and unleashing the new sound with a rabid urgency.
The information ZULI flings at you is a lot to take in – rather than latching onto a groove and riding it, it feels more like you're swerving your brain through a busy asteroid field. That's especially true on the gloriously hectic 'Tany' – a melee of sonic shards underpinned by deft, bludgeoning bass pressure. There's a surgical quality to ZULI's work, and it ensures that even when chopping up amen breaks on 'Bassous' he's doing it with more flair than the average jungle fancier. His explicit stabs into the jungle arena are even more profound on the wild, distorted splendour of 'Penicillin Duck'.
Maddening loops and sample jerks suggest the rhythmic language of footwork has crept into ZULI's craft, especially on the murky, knotty trysts of 'Where Do You Go', while 'Keen Demag' rides on a lurid half-tempo flex which makes half a nod back to the hip hop tendencies which came through on his debut album, Terminal. But ZULI's roots feel some distance away in the staggering futurism of All Caps, which finishes up on one of the EPs standout highlights, 'Bro! (Love it)'. ZULI has always been smart about his use of melodic elements in fiercely rhythmic, metallic sonic environs, and it's the zinging chords daggering over staccato percussion on this epic finale which confirm you've just been brain-rinsed by one of the boldest operators in active service.
OW

Kyle Hall – MPC Dreams (Forget The Clock)
Kyle Hall returns with the third instalment from his still young Forget The Clock label with a charmed selection of effortlessly immersive house jams on 'MPC Dreams'. The supremely able Detroit artist has favoured a slow but sure release schedule of late, but – such is the joy in beholding the annual blossoming of the spring sakura – the lack of frequency only highlights the value of the sensory experience. Indeed, Japan's Hanami season is in full, glorious bloom exactly now, and it appears to have been the land of the rising sun that proved inspirational for the composition of the EP's opener, 'JJ Dreams Of Nippon'. Immersive chords roll between light drums and loose percussive hits as delicate synth motifs glide over the irresistible bass funk. The arrangement evolves with jazz-funk finesse, informed by musical journeying that travels far beyond the mechanical.

This is achingly soulful and eminently cultured work. Once regarded as the bright light of the motor city's new wave, Hall has by now proven himself a deeply-rooted member of the most illustrious of Detroit's machine funk elite, and it's to one of the scene's most beloved senators that he turns to lace the track on the jagged soul of 'Expression'. Raw, broken beats hypnotise as metallic chords pulse, before Amp weaves untouchable magic through his inspired keyboard dexterity. 'Attack' bounces like rubber with its elastic bass popping over swung beats and harmonious synth/chord duets, while 'Modified' continues the jazz expression with complex chord progressions and yearning synths set against spaced beats, and bass in its very lowest register. Kyle Hall has set the bar extraordinarily high for himself from pretty much the get-go, and this sublime EP vividly illustrates how he's magnificently managing to maintain, evolve, and elaborate with each carefully manifested release.
PC

Fmvee – Who Do U Love? (Queeste Holland)
Hopefully up until now, fmvee has remained an underexposed electronica artist. Debuting several projects throughout 2018 including 'Lotus Freaks' on Total Stasis, 'Bonehead' and '10 Pleasures Crash' – which saw a release on 3.5" vinyl (!) – it was clear from the go that their defining sound was bright, future-nostalgic and, above all, beautifully deconstructed.
Debuting for Holland-based label Queeste, 'Who Do U Love?' feels like fmvee's strongest artistic statement so far. It follows a tumultuous four-month period of living in Los Angeles, in which the artist underwent depression, an intense relationship, a spate of untrammelled partying, and a feeling out of the local beat scene. It was a period of self-reflection, and created an EP which all but sounds like one's own psyche being turned inside out, its every nook and cranny soul-searched.
With the tracks described as an act of "remembrance", a sense of HD nostalgia is achieved through a mega-deep Hadron smashing of freeform jazz piano, hardcore, club, indie jangle and ambient apparitions in the space of five tracks. First, we dive headfirst into restless ice-world agitation with lead track 'the way you see yourself', epitomising fmvee's trademark enthemic style. Despite allusions to trap and jersey club, this track's deconstructionist disquiet makes it uncategorisable, frankly. The follow-up, 'everythingUneverKnewUwanted', feels like a slice of Burial hauntology with its opening rainwater trickles (it's actually a field recording of a local courtyard fountain) and lulling piano reverberations, except it's played out in psychedelic cyberspace instead of the depths of London. The track slowly reveals a sci-fi sophistication with extra textural layers which play out subtly, even after it switches into a soothing, mid-register ambient section.
'thewayothersseeyou' achieves Stone Roses or Cocteau Twins' levels of hypersprawling, drench-out feels, showing off gleaming cymbals and synth, and easily shifting between tempi. 'Seed Perfuming (LoLo v665)' is the most comprehensible track, providing relief in the form of cybernetic future garage before a final return to lilting, impressionistic balladry on 'sobbing'.
JIJ
Nautilus / Mizuki Kamata – Move On Up (Urban Discos)
Drummer Toshiyuki Sasaki, bassist Shigeki Umezawa and keyboardist Daisuke Takeuchi – since replaced by Mariko Nakabayashi – formed Nautilus with an aim in mind: to evoke the 'nautical', abyssal imagery they associate with the rare groove style they covet. The name is also is inspired by the sultry tones of Bob James' 1971 jazz piece 'Nautilus'. But this week they deliver an absolute gem: a synth-rich split single, the A-side of which is a cover of Curtis Mayfield's classic 'Move On Up'.
It's a charming detour from the announcement of their upcoming album 'Refrain', which we have heard consists of original material. Here, the trio deliver boundless euphoria on their version of the Curtis classic, enlisting vocalist Mizuki Kamata for a more laid-back, yet no less energetic interpretation. Its melodic structure seems to have been changed entirely, operating in a much more varied way than the original, and swapping out its driving force for an operatic, feminine, late-night diner feel.

Of course, the band does not sacrifice the hook, and when it does appear following a rapturous vocal climax, the original's tittilating trumpet has become squeaky sine synth. The band opts for an amen-style drum breakdown; they'd better be clear on their copyright for this single, as it's functionally screaming, "sample me!"
The B-side, 'Track 2' – technically given as Kamata's track, not Nautilus' – is also a subtle but no less powerful draw. On it, the band eschew their high-end disco angle for a contrapuntally "chill" trip hop via nu-jazz cut, showing off impeccable recordings and production. This track features intelligent, fake tempo-switches, treating triplet drum rhythms as though they were in different time signatures or beat patterns altogether. In contrast to English on the A, Kamata sings in her native Japanese, opting for a simply soulful style reminiscent of Sade. For die-hard fans of soul, rare groove, and jazz, Urban Discos have curated a release not to be missed.
JIJ

Katatonic Silentio – Tabula Rasa (Ilian Tape)
After the sizable impact of her Prisoner Of The Self album and its attendant all-star remix package, Katatonic Silentio is stepping up to Ilian Tape with a fully formed identity which makes for an intriguing fit on the Zenker Brothers' label. Of course, there's a common thirst for bassweight pressure between both parties, and Ilian Tape is becoming a platform for ever more intriguing abstractions on the hardcore-rooted spectrum, but Silentio in particular is an especially wild card – just ask anyone who's spent time bewildered by her CyberspeakMusic release, Emotional Gun.
The sound design styles of 'Shy-Fi' that open up this EP make it clear we're not in for a dose of conventional soundsystem techno, but something more evocative. In this arrhythmic space, the sonics seem to grip to every angle, suspended from the ceiling and creeping around your kicks. It's ambient sound design rendered in high definition, and it makes for a potent foundation for a dynamic and deep-layered EP.

Rather than stepping up to deliver chunky peak timers as you might reasonably expect on Ilian Tape, Silentio instead opts for a heavyweight electronica which leans on some sludgy tempos – all the better to marvel at her rippling, writhing sound design. 'Midnight Train Breaking Through' does have a mean dubwise swagger which could do the damage in a dance for sure, but the liberal dousing of echo adds a spaced out dimension which overpowers the rowdy bass growls. 'When You Think It's Over', by way of contrast, lets plenty of light in thanks to a beautifully rendered forwards-backwards pad tone.
As if to pointedly hammer home the destination for this music away from the club, the title track revels in electro-acoustic and neo-classical manipulation. Whether the strings are real or synthetic, the progression between slithering sound design and compositional form is an impressive testament to Silentio's ever-growing artistic powers.
OW

Sofia Kourtesis – Fresia Magdalena (Technicolour)
This new EP from the Peruvian-born, Berlin-based artist is as glorious as it is mournful: Kourtesis inscribes and expels an authentic medley of emotions on Fresia Magdalena all within half an hour.

The project's opening track 'La Perla', being the first time she has "really sung on a track", is a touching and cathartic dedication to her father, whom she sadly lost last year, and to his belief in the meditative quality of the ocean: "This song is for him, descansa en paz papa". Aside from releasing a certain amount of grief on Fresia Magdalena, Kourtesis creates a sound steeped in traditional Peruvian rhythms and house percussion – a project which began with some field-recordings taken around the Magdalena district in Lima where her family lives. 'By Your Side', another stand-out track from the EP, is a burst of positive, uplifting energy which meshes beautifully with the artist's profound desire to inspire activism and social change, just as her mother (named Fresia) has inspired her to do in her own life. It really feels like Kourtesis is one notch above most house DJs on Fresia Magdalena, kick-starting a dusty spring into action with these colourful headnodders.
JC

Jay Dee – Rico Suave Bossa Nova (Alim.BBE)
Lifted from J Dilla's seismic LP Welcome to Detroit (2001), a record celebrating its 20th birthday this year, Mr Thing's lengthened edit of 'Rico Suave Bossa Nova' enjoys a limited 7" repress. The lively, bossanova-inspired track is testimony to the late great Dilla's creative taste for interpreting a wide array of lush sounds as part of his beats.

As it happens, this single samples 'Cidade Vazia' by the Milton Banana trio, the opening track to Balançando Com Milton Banana Trio (1966). As Dilla indicates in the album's liner notes, he always had a profound love for Brazilian music, a young Jay Dee warming to Sérgio Mendes and Azymuth in particular. The B-side to the repress also includes 'Come Get It' from the same LP, further proof to the musical range of the sorely missed taste-maker. In some ways, 'Come Get It' slakes the listener's appetite for the Slum Village days during which Dilla honed his beatmaking. The track features flawless verses from the group's Elzhi who raps over Dilla's typically stuttering and cosmic beats, and who blessed us last year with his Seven Times Down Eight Times Up (2020). This two-track posthumous rerelease offers a glimpse into the celebrated artist's nourishing and expansive back-catalogue.
JC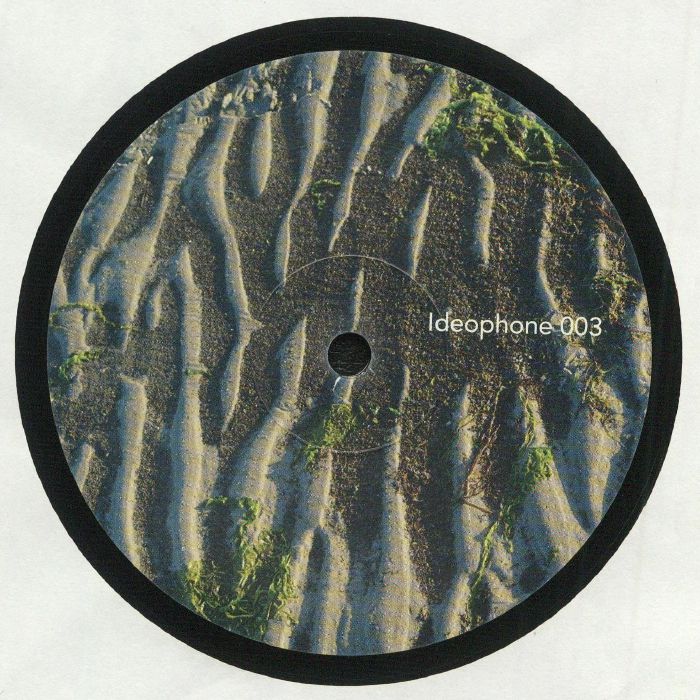 Jiska Huizing & Rudi Valdersnes – IDE003 (Ideophone)

Jiska Huizing and Rudi Valdersnes have taken a modest approach to sharing their works thus far. Their Oslo-based label Ideophone first emerged in 2018, with the pair sharing a 12" with Bjorn Torske before going it alone on their second outing with a refined, leftfield techno sound that asked as many questions as it answered. Now Huizing and Valdersnes have invited a strong cast of artists to revisit the tracks from IDE002 and the results are as intriguing as the originals.
rRoxymore has a keen instinct for building tactile ecosystems with her sound palette, and she brings 'Ballad' to life in a tangled, beautiful formation of unusual percussive hiccups, undulating terrains and atmospheric anomalies. Nkisi meanwhile creates a powerful contrast between reflective ambient dread and shuddering hardcore kicks, and somehow makes the final piece land with a light touch.

The 'Dunes' remix of 'Tetra' marks the rather special debut appearance of Yhdessa, a collaborative project from Grand River and Enrica Falqui – the pair tease the original out as a strong, multi-timbral arpeggio with just the slightest of shifts to keep the track moving forwards. Huizing teams up with Ideophone labelmate Julie Silset as JiJu, rounding this stellar remix EP off with an ambient, field-recording embellished version of 'Cave' which takes the title as a cue and runs with it.
OW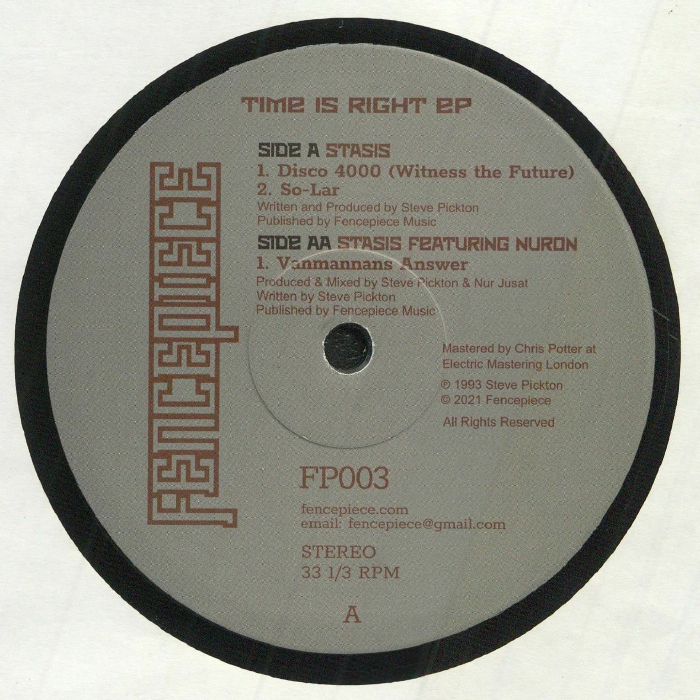 Stasis – Time Is Right EP (Fencepiece)
The fact Stasis is no longer active in the techno scene only adds to the mystical weight his music carries. Emerging in the heady stew of the early 90s, from the get-go Steve Pickton had something else about his craft. A certain intrinsic beauty in the synth strings, a funk in the rhythms, a natural and expressive way of teasing the arrangement. After all this time, his music sounds untouchable – the true embodiment of techno as an extraterrestrial transmission picked up and channeled through a human conduit and the tools at their disposal.
Of course music that special, and by extension rare, ends up being mauled over by the second-hand wolf packs, so be very thankful indeed Pickton has deemed to repress some of his classic material in a low key fashion via his Fencepiece label. On this occasion it's his very first release, originally titled Disco 4000, from 1993, which is getting a fresh airing, and it's frankly staggering to think this could have been the sound of a producer finding their feet. 'Disco 4000' is a glorious vision of techno as a healing, soul-enriching force without ever descending into new age guff.

It's quite simply beautiful, with a little grit and bite around the edges to make sure you know it's real. Likewise 'So-lar', which locks into a more heads-down rhythmic orientation without eschewing the elegance of the lead track. 'Vanmannan's Answer' provides a contrast with the kind of gnarly analogue tweaking you'd expect to find on a Shake 12", delivered with a degree of intricacy that seems staggering for the time. Quite simply, Stasis is one of the all time greats, so don't sleep on this while it's about.
OW

VTSS – Borderline Tenderness (VEYL)
The vanguard of hybridised techno has never felt more vital than in the steamy, sticky 'Goin Nuts'. VTSS, aka Martyna Maja, pits her supple industrial-strength production against LSDXOXO's dead-eyed come-ons, creating a maelstrom of tension in which the drums feel like steel girders tossed about like matchstick cabers. It's the perfect opening to the latest blistering statement of identity from the Berlin-based producer, who's already been searing our ears via Intrepid Skin, Repitch, Hellcat Industries and more.
Even in the tracks without guest appearances, Borderline Tenderness feels like a party. 'C.E.T. Unlimited' turns a blizzard of noise euphoric thanks to a smartly placed hi-hat. Uncompromising deconstruction becomes cheeky and playful due to the particular vocal groans sampled and splayed across 'Woah'. There's even a faithful distillation of OG industrial synth seduction on 'To Whom All Lovers', which features the pitch-perfect posturing of Jasmine Azarian. It's totally distinct from every other track on the EP, and yet seems to reveal a core ingredient in Maja's rush-inducing sound.

Not a moment is wasted across Borderline Tenderness, and indeed every piece feels like its own individual world. Inspiration flows at different tempos, but the energy and intensity remains peaking into the red throughout. Pairing this addictive adrenaline kick with the frankly dazzling levels of production, VTSS has created a cruelly perfect trigger for those who miss a more deviant kind of dancefloor.
OW
This week's reviewers: Oli Warwick, Jude Iago James, Josh Clark and Patrizio Cavaliere