Annie eel aka Hockeysmith gives us her guide to the slippery beast that is Falmouth's eel label


At the vanguard of youth electronic music in the southeast of England, Cornwall's eel are a force to be reckoned with, championing homegrown braindance and weird, skittish electronica. Label owner Annie eel aka Hockeysmith chats to us about their origins, their second label compilation and secret Aphex Twin headlinings at illicit barn parties…
WHAT'S THE NAME OF YOUR LABEL, AND WHO RUNS IT?
We are eel! The label is run by Annie and Łukasz, but we've got a small group of helpers who influence the direction we're heading towards.
WHEN & WHY DID THE LABEL START?
Our "official" start date was in November 2018 when the first eel party happened. What kickstarted the whole project, though, was a free party we threw in a barn outside of Falmouth, and Aphex Twin was the secret headliner. The audience responded so well that we had to make it a regular thing for underground electronic music in Cornwall.
The main reasoning for starting eel was the lack of a local musical platform for weird electronic music. We had a big group of talented friends who couldn't get any gigs, and we decided that we wanted to provide them with a platform where they can freely express themselves.
The problem we had was that Cornwall lacked a proper club infrastructure, meaning we had to borrow, set up and take down the whole soundsystem and stage every time we organised a gig. There was always a lot of people involved and the nice atmosphere around the shows really helped to form a great community of artists.

Poster for Eel at Falmouth Rugby Club, February 2020
GIVE US A BRIEF SUMMARY OF WHAT YOU'VE RELEASED SINCE THEN….
We started off the label with a compilation album eel.comp1. It served as a sort of portal to our local music scene and included many of our Cornish friends & more. Then came the amazing 'Primer' EP from Oh Mr James – a twisted take on acid with a lot of warped vocal samples, breakbeats and even a track built from a sample of an engine revving up.
That had actually been all of the music we released before clubs shut down in March 2020. The pandemic has definitely motivated us to stay active through releasing music. Since then we've been releasing more solo material, such as the IDM EP from Terry Bliss, and a more ambient, ethereal techno album from Seamouse. We've also put out a couple of poppier singles (Hyper Kobra & Down Love) and remixes from Hockeysmith, who's recently been working with the artists Borussia and Tieks. There has been a lot of stylistic variation spanning all over the energy-level spectrum.

At the moment our main focus has been on releasing another compilation (men an tol) with an updated roster of artists including some new and some familiar faces. As most of us are now out of uni and had moved out of Cornwall, this album works as sort of a "reunion party". We were quite amazed at how well our moods matched on the release, even though we were spread out around the world. It's a much more toned down, bit hazy album with a few noisy and more intense tracks.
WHAT QUALITIES ARE YOU LOOKING FOR IN THE MUSIC YOU RELEASE?
First and foremost, we love quirky and forward thinking electronica. In the early days of the label we realised that our favourite releases are very diverse stylistically – every song explores different ideas and genres. I think we want to emulate that in the music that comes out on eel.
As most of our events happened in clubs, there is definitely an overarching dance music element. We want to release stuff that's out of the ordinary, and at the same time is not alienating for our audiences. It's about having the right balance of accessible and more niche music so the label can move forward, progress and reach new audiences.

WHAT KIND OF VISUAL IDENTITY DOES THE LABEL HAVE (ARTWORK, VIDEOS ETC) ?
The visual identity of the label has always been one of our top priorities. We started off as a party series and a lot of our advertising happened through posters hung around town. That meant we needed eye-catching poster design. The main person behind eel's identity is Dougal Gedge, who blended together some oldschool 90s aesthetics with more modern internet stuff.

'men an tol' promotional art by Dougal Gedge
Recently we've had fun with going more towards more playful, magical style, but we've been also been utilising 3D graphics and collages. Just like with our music, there's no set style we go for, and it's a great opportunity for us to work with the friends we met in Cornwall.
WHAT'S BEEN YOUR BIGGEST SELLING RELEASE TO DATE? TELL US A BIT ABOUT IT AND WHY YOU THINK IT WAS SO POPULAR.
Our best-selling release so far has been "Primer" from Oh Mr James. He's a lovely modular synth freak living on a campsite in Cornwall. It seems that our audience really enjoys his take on this sort of glitchy acid with extremely warped vocal samples. We have also heard a rumour going around the internet that Oh Mr James is a pseudonym of Richard D. James. It was quite funny looking at people trying to analyse "Primer" in this context.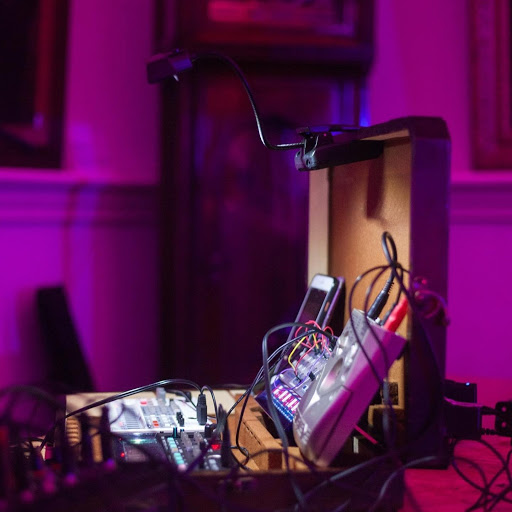 Modular synth setup at Eel label showcase at Falmouth Art Gallery, 2019
NAME ONE RELEASE THAT YOU THINK DESERVED TO GET MORE ATTENTION THAN IT DID
To be honest with you, we see all of our releases this way. It's probably got a lot to do with the current COVID climate and being a new label without any budget for press and radio campaigns yet. We're not from London so it's a bit difficult to infiltrate the scene more. Reaching more people is the biggest hurdle we need to overcome.
IF YOU COULD SIGN ANY ARTIST, ALIVE OR DEAD, WHO WOULD YOU CHOOSE AND WHY?
Annabel would sign Jimmy Edgar because he's class. I love his debut experimental glitchy EP on Warp 'Bounce, Make, Model' in 2004. Yet right now he's making some of the freshest electronic music out there. Jessy Lanza is also one of my favourite artists who writes and produces her own stuff.
For Łukasz it would definitely be AYA.
omoo, 2019

WHICH OTHER LABELS DO YOU ADMIRE AND WHY?
One of our definite faves is Posh Isolation! They are a Danish label promoting Scandinavian experimental music ranging from ambient and techno to trap. Annabel discovered them during her time living in Copenhagen and since we've been very inspired by their sound and positive approach to promoting a community of artists.
Łukasz has definitely been looking towards his local Polish scene and labels such as BAS & glamour.label who have an amazing roster of stylistically diverse music. An honorable shoutout also goes to TT (fka Tobago Tracks)!

Hockeysmith / Annie Eel
WHAT CAN WE LOOK TO FROM YOUR LABEL NEXT?
We've got some big plans for 2021! There's a new compilation on the way, as well as a bunch of EPs and singles from familiar artists and new faces. We're also planning to organise a couple of events in London, and have been planning some educational workshops in Cornwall.