This week's best new singles
Calibre teases his new doenbeat dubby album by scopping single of the week, plus all the other tip top 45s you need to know about
SINGLE OF THE WEEK

Calibre / DRS / Mark Ernestus – Bad & Badder (Signature)
For an artist so readily associated with drum & bass, Calibre has done a grand job of reaching beyond the trapping of the genre to become a more expansive proposition. In the wake of a recent move to Berlin and in anticipation of his forthcoming album Feeling Normal, Dominick Martin drops this utterly striking slab of dub poise which sets his table out away from 160 rollage. It's telling that he's collaborating with Mark Ernestus, one of the most revered heads in the dub legacy of Berlin techno – does anyone need schooling on Basic Channel at this point? With veteran MC DRS touching the mix, the team is assembled for a masterful, head-nodding trip at 140.
'Bad' manages the tricky art of being gritty and mysterious like good dub should be, while still managing to sound crisp and clear in its execution. The vast, billowing dub techno chord pulsing through the track shapes out a mammoth hall, absolutely steadfast and yet still achieving a smoke-like quality as though it's persistently drifting away from you without moving anywhere. DRS takes on a stealthy quality in the mix – there's a suggestion this track might appear in a more anchored version on the album – but his snatches add to the looming dread pressure of the track perfectly. Compared to much dub techno there is still a sense of structure – a drum fill marks out a shift in sections as we drop into the core steppers section, where the undulating bass shows itself the clearest. For all the meditative smoke and mirrors, there's a clear and logical path through the track, not that anyone's in a hurry to get anywhere.
Things get choppier on 'Badder', as the beat staggers and the chord starts twisting and snapping through some gnarly filtering. It's a chance for everything to get a proper dousing, until everything but that insistent off-beat kick is swimming in a pool of delay. But even here, there's a sense of control that stops things derailing into a dubby sludge, whether it's the ballast of a light, ticking hat for a minute or a curbed tail on the reverb. It's Calibre's own take on the dub tradition, and it bodes well for the rest of his album.
OW

The Exaltics / Helena Hauff – Futuros (Solar One Music)
The Exaltics truly embodies what great electro should be about. Beyond the sonic tropes the genre is defined by, the project makes a concerted effort to embrace a pulp strain of sci-fi iconography immortalised in the panes of a thousand comic books, and this pointed, cartoonish futurism bleeds into the music without ever once compromising the seriousness of the sound. Via his own Solar One Music label, Exaltics master controller Robert Witschakowski has produced projects like Das Heise Experiment 2, which came out as a combined graphic novel and double 10" pack. The whole Exaltics catalogue is steeped in titles and artwork that all feed into a kind of mythology, becoming bigger than the music itself.

Witschakowski has also been canny in picking artists to collaborate with. Back in 2012, it was the likes of Gosub and Morphology, while last year he released a whole album with Heinrich Mueller (aka electro royalty Gerald Donald). There were also collaborative EPs with Paris The Black Fu and The Egyptian Lover, and now another electro dream team is formed with Helena Hauff. The German DJ and producer has been significant in the more recent wave of appreciation for electro, and she's done so while pushing the sound in an idiosyncratic way. On this EP though, she's leaving the mechanics to Witschakowski and lending her vocals to the mix.
And what vocals they are – icily seductive, robotically detached, and absolutely perfect for the star systems The Exaltics sweep through. There's a fierce, uptempo thrust to 'Futuros' which feels pitched for peak time – a no-nonsense bass synth, a taut and snapping beat and a strafing bleep line. Sometimes the sweetest cuts are the leanest. 'Creatura' on the flip is a softer affair which leans on more fluid, filter sweeping arpeggios and pads – an equally apt bed for Hauff's breathy, half-whispered vocals. It would be remiss to overlook the presentation of the music too – a stunning die-cut picture disc with Hauff and a gruesome alien (potentially one of the Exaltics?) framed over an action scene in a distillation of everything The Exaltics stands for.
OW

Ron Trent / Chez Damier – The Best Of Chez N Trent Vol 1 (Back To Life)
Does anyone make house music as perfect as Ron Trent and Chez Damier? Even if they followed their own paths from an early stage, their legacies are hard to separate thanks to the absolutely seminal material they created together, not least on their Prescription label. There's an ineffable quality they achieved – absolutely down the line, unfussy grooves, and yet so loose, flowing and soulful. Rooted in reality, vibing at street level, and yet listening to their music feels like floating in the clouds. Music for the sunniest of terraces which makes perfect sense in the latest hours of a dark basement session. Sometimes, the best stuff just isn't supposed to make sense.
Back To Life continues a handy series of represses of serious deep house gold with this clutch of evergreen essentials from the Trent n' Damier vaults, leading in with the lesser spotted vocal version of one of their biggest tracks, 'Sometimes I Feel Like'. The 'Chicago Vox Mix' actually came out under the grouping Last Session, and it features the legendary Alton Miller and Kim Cleveland singing over those unforgettable, swooning synth strings that sound like they're slipping in and out of consciousness.
At the risk of punning hard, when it comes to picking a mix of 'The Choice' to repress you're spoilt for… well, you get it. All the main mixes of this Chez-N-Trent belter are absolute heat, but here we get to revisit the 'Full Dosage', perhaps the funkiest and most jacking of the lot. The swing is up, the groove unrelenting, just riding a perfect construction for six minutes with a snatch of vocal and that crisp synth lick. The B-side takes things deeper with the heads down thump of 'Warfare', a swirling late-morning jam with the restorative qualities to keep a weary dancefloor working.
OW

Dynarec – Studio Defeat (Return To Disorder)
There's a lot of electro being made these days, make no mistake. So much, it can get a bit tricky sorting the wheat from the chaff, but fortunately there are some people whose razor sharp instinct ensures quality every time. Helena Hauff has been flying the flag for what many might consider an un-trendy kind of electro since her rise to prominence a few years back – she favours the rowdiest, raviest kinds of sounds, or else the most guttural, bunker-dwelling distortion fests. None of the sleek and slender machine bubbles in her bag, or indeed on her label.
Return To Disorder comes up trumps once again with a welcome return from DynaRec, a French producer who has been at it for about 20 years on the fringes of the scene and through the waxes and wanes of popularity electro tends to endure. In terms of the label, this represents the more accessible end of the spectrum, but it's still electro with a non-conformist bite which speaks to Hauff's tastes as much as DynaRec's innate flair.
'Expert Text Reader' is the consummate lead track, with a crazily catchy vocoder sample and a poppy instinct that flirts with the snarling sinister elements of the track to create the perfect sense of tension a good electro hit should have. 'Ray Mentor' has a distinctly different feel, leaning much more on a heavyweight beat, but with space for a sweet and stirring breakdown that speaks to DynaRec's bold and confident compositional chops. 'Messiah' is perhaps the biggest surprise, a tough a bumping four to the floor track with plenty of gnarly synths but a positively funky, almost-house disposition. 'Twisted Helix Posture' resets the frame with a calmer tonic to finish on – perhaps the more familiar-sounding of all the tracks on the record, but still steeped in the unique quirks of this most special of electro artists.
OW

The Private View – Through The Wall EP (Stay Awake!)

London five-piece The Private View – perhaps describable as a jazz, industrial and prog inosculation – present their new EP 'Through The Wall' this week, and the follow up to 2019's self-released EP 'Knock, Turn'.
Hitting the ball rolling by all studying at the Trinity Laban Conservatoire, the band – including composer and producer Max Winter, electric guitarist Tara Cunningham, and drummer Jonathan Ward – lend their new EP to Stay Awake. They're a club night cum radio show cum cassette label cum scarf brand, responsible for a dizzying spate of releases and NTS Radio shows detailing the most sinister of gothic, tape-bound talent.
The band delve into industrial prog-electronica here – evoking the likes of Deathcrash, Tara Clerkin Trio and Grouper – and are treated to a new mastering whirl from Rupert Clerveaux of AD93 fame. Existing in stark contrast to the sombre rapture of 'Knock, Turn', the tracks on this follow-up are shorter and chillier, relinquishing the need for super high-octane climaxes.
Intro-ing with the two-minute 'Outro', Cunningham's ghostly voice fades in and out against a muted emo guitar riff, like the slow drawing and undrawing of a silk curtain. Manic, whispered voices creep in, establishing a terrifying mood. It feels like getting lost in an underattended music venue, ducking into the wrong doorway, and finding yourself warped into halls of Dracula's Castle. The follow-up 'Plane Song' emerges to a grey daylight, but it still isn't without the creep factor, edging in jagged drum brushes and rusty background squeaks. "The window seat is too much for me", we hear, a moment of overwhelm before a breaks nto a raunchy crash of drums and bluesy, surfy devotion. As the EP's climax, it seems to disappear as quickly as it butts in – the band seem keen to make a short but sweet statement, and they succeed.
The closer – the 5-minute droner 'Through The Wall' – is a slow, hypnagogic jazz piece, this time swapping out Cunningham's vocals for Winter's, who sings of a desire to not "talk anymore". Darkly instrumental, math-rocky beatswitches ensue, like American Football on datura. Touching on themes of indescribability, Winter's vocals dance over the instrumental horizon, preceding a build-up of almost psychopathic horror, before a final section of relievingly melodic clarinet and swaying drums. The whole EP feels like holding up your lighter before it flickers out. Gloomy AF.
JIJ
Julius Eastman / Ensemble 0 – Femenine (Sub Rosa)
The reinterpretation of Julius Eastman's music has proved a difficult task. Towards the end of his life, many of his written compositions were seized or destroyed by the police. Given his idiosyncratic, personal style of notation, surviving works were often simply too difficult to decode, and could only prevail through the memories of those who worked with him.
Ensemble 0 – a French three-piece from who perform others' compositions as well as their own – have this week released their take on 'Femenine', a minimalist, ringtoning hour-long piece, and one of Eastman's longest. It is the sibling piece to a now long-lost work of similar length, 'Masculine', which was usually performed at the same time.
Falling squarely in the long-form minimalist canon, fans of Charlemagne Palestine's 'Strumming Music' or even the spiritual jazz of Pharoah Sanders will be enthralled. Written for an octet including double bass, synth, and flute, 'Femenine' is a slow burning beauty, which, given newfound recorded clarity by Ensemble 0, has bass tones so lush and thick that they all-encompass. The piece's core saxophone motif is amorphous, creeping in unwittingly from the vibraphone's same melody. Despite its headiness and weight, the double bass flaunts a deft playstyle, dancing across time through fairylike pedal notes and jazzy aleatorism. As Eastman said himself of the piece's ending – which softens and thins the instrumentation to high-toned, diminished elysium – "The end sounds like the angels opening up heaven…"
JIJ

Rheinzand – Rheinzand remixes (Music For Dreams)
Reinhard Vanbergen, Charlotte Caluwaerts and Mo Disko's Rheinzand project has won plenty of admirers since first appearing in 2016, and last year's eponymous LP on Music For Dreams offered a kaleidoscopic spectrum of meta-disco deviance for fans to devour. On the 'Rheinzand Remixes' EP, the ever-reliable Danish label call upon a select cast of remixers to work their respective magic on four stand-outs from the album, with each delivering interpretations rich with personality and imaginative flair.

First up, Sean Johnston dons his Hardway Bros cap to flip the script entirely on his version of 'Obey', dispensing with the original's delicate instrumentation in favour of a powerfully hypnotic and wide-eyed trance-out. Equally bold in his revisions, Red Axes morphs the previously driving 'Kills & Kisses' into a bittersweet and cosmically-charged sunrise anthem. In Flagranti retains the smoke-filled mystery of 'You Don't Know Me', adding a decidedly psychedelic sheen to the already tangible eastern mysticism of the original. Finally, Richard Sen endows the delightfully wonky 'Strange World' with just a touch more solidity, making full use of the vocal while adding warmth and mass to the hugely effective original blueprint. Four wildly varied and equally compelling reworks here, rendering this cleverly conceived collection particularly desirable to eclectically minded collectors.
PC

101 Band – Crazy Kind Of Feeling (Emotional Rescue)
Emotional Rescue launch a tantalising re-issue series with Patrick 'Duckcomb' Billard, kicking things off in style by presenting a sought-after slice of reggae soul from Haile Maskel's 101 band. Singer, guitarist, and bassist Michael 'Haile Maskel' Ashley emerged from the fertile musical landscape of 1960s Trenchtown, and during his career worked with an extended list of reggae luminaries, including Lee Perry, Sugar Minott, and Dennis Brown. After relocating to LA in 1983 he set up Opulence Sound, and it's from here that he and his in-house 101 Band originally released 'Crazy Kind Of Feeling' back in 1986. Some diligent digging from Duckcomb helped unearth the previously unreleased 'Dub Take 1', which is included here alongside the original and Discomix versions.

The original's lovers rock feel is infused with the sun-soaked atmospherics of California and Jamaica in equal measure, as feel-good vocals soar over horn stabs, guitar chugs, and the tightest of rhythm sections. The dub mix is arguably more of a straight-up instrumental, allowing the backing track room to breathe while offering only the merest glimmer of tape delay to fill the lyrical void. Finally, Duckcomb does a fine job on his Discomix, splicing and rearranging sections from the vocal and dub versions to forge his extended and eminently enjoyable hybrid effort.
PC

Tadi feat DJKR – Seven Diamond Lines (Offen Music)
The latest release on Vladimir Ivkovic's ever-fascinating Offen Music takes us deep into the heart of Buddhist spirituality. The piece centres around a seven-line Guru Ripoche prayer which has been practiced in Tibet for at least 1800 years – it was said to have been passed to the human world by dakinis. There are different layers of meaning to the words, but it's significant that this particular recital is by Dzongsar Jamyang Khyentse Rinpoche, one of the most famous living lamas who advocates for non-secular Buddhism thanks to his varied education from multiple teachers across different branches of the religion.

The A side cut finds the prayer framed by a powerful production by Shanghai based producer Tadi Yan, who creates just the kind of brooding, slow and heavy backdrop you'd expect of an Ivkovic set, or indeed his sparring partner Lena Wilikens, who reportedly dropped the track at a gig in Warsaw in 2019. From throbbing analogue low end to delicate tabla, string stabs and atmospheric drones, it's a powerful, swirling production which does credit to the mantra-like repetition of Khyentse Rinpoche's prayer. The B side presents the unadorned prayer just as it was recorded in Taipei in 2013, during a Ushinishavijaya Puja.
OW

Lerosa – Authority EP (Lunar Disko)
A couple of years on from his excellent Bucket Of Eggs LP on Acid Test, Lerosa returns to Lunar Disko for a single of opulent robo-disco – the strain he does so very well. It might be remiss to lean too heavily on Leopoldo Rosa's heritage, but he's always worn his Italo influences on his sleeves when rolling out the fiercer strains of his music, and so it goes on the wonderfully sassy opener 'Authority'. The drums fire off like jackhammers, the monosynth leads squelch with intent and the poly strings yearn with cybernetic desire. It's full of the 80s melancholy you'd expect to hear on the dancefloor of Tech-Noir, and it sounds absolutely mint. 'Grey Velvet' meanwhile leans a little more towards synth-pop, although there's a hysterical edge to the track thanks to an artfully off-key clash between key synth parts.

Watch out for secret weapon 'Background Check', which switches stance for nagging electro dystopia, with the slightest of beats hiding behind a thrumming cascade of arpeggios. Meanwhile on the B side the electro-disco tones of the A side have been tempered into a more plaintive mood replete with choral synths and faux-guitar, before we're treated to an emotive electronica reboot of the track from the one and only Passarani.
OW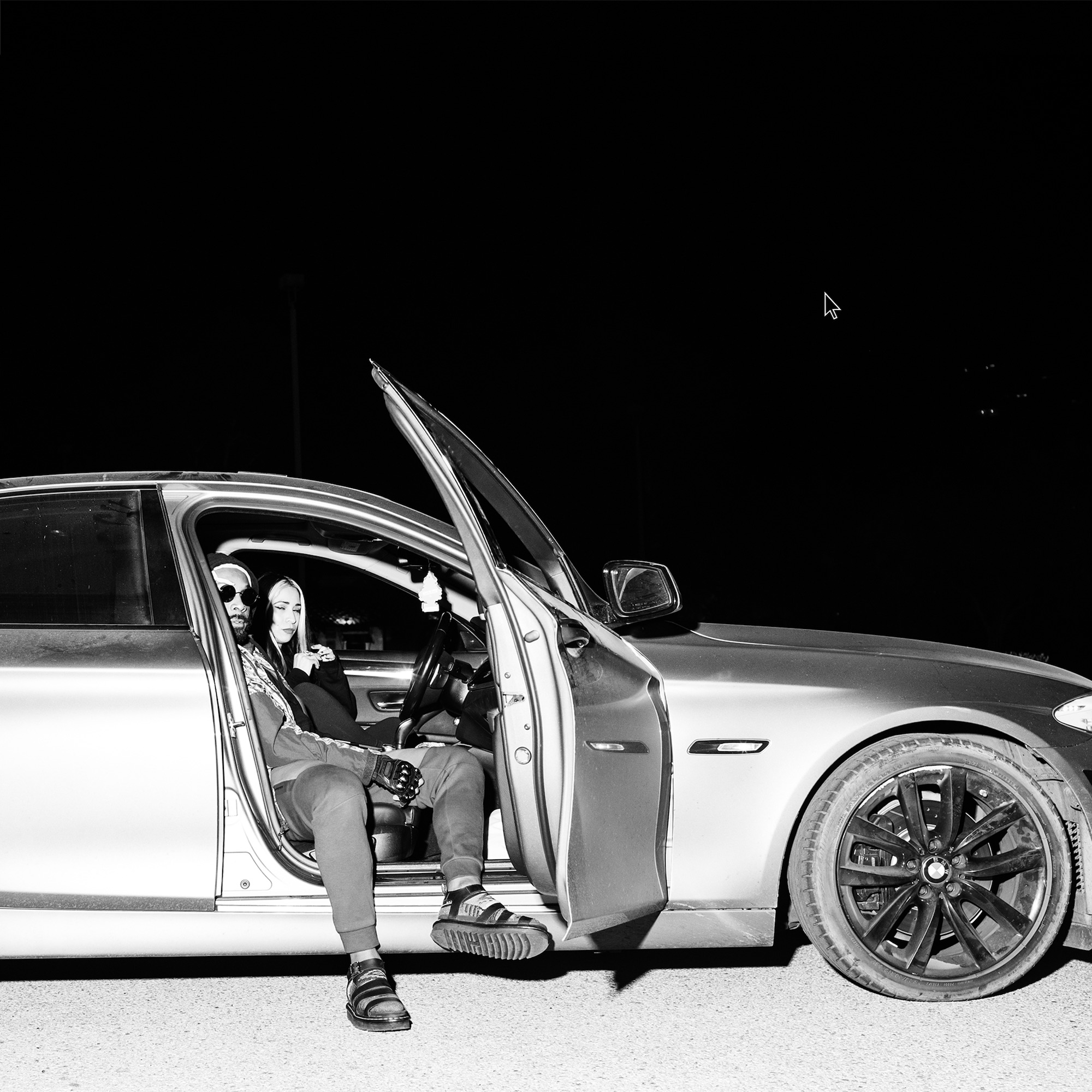 JPEGMAFIA – EP2 (Universal)
The inimitable JPEGMAFIA, affectionately known as Peggy, took to youtube last week to celebrate the release of EP2!. In the livestream, the small crew, with a small setup of some VHS cameras and a drone, ascend "the top of the mountain" where the artist basks in the sunshine, performing tracks from the new release. At a tight 17 minutes over 7 songs, the short project has Peggy spitting intricate verses with few if any stops for breath over some idiosyncratically low-key and experimental beats made by the polymath himself – primarily on a moog little phatty. What makes Peggy stand out in a way quite unlike others, is his continued ability to engage the relationship between the internet and an increasingly polemical world of politics in his music. This is visible on EP2! which both lambasts the performativity of the black squares posted on instagram last year, and delivers witty and subversive lines like, "I love my baby like Trump loves Putin in the deepest way". On the whole, EP2! is a mostly intimate affair but is further proof that Peggy continues to make music with zero regard for generic conventions; on 'PANIC ROOM!', for example, he tells us "this style got no sequels, Peggy found no equals".
JC
This week's reviewers: Patrizio Cavaliere, Oli Warwick, Jude Iago James, Josh Clark