This week's best new albums
All the best albums this week, selected and assessed by Juno's elite reviewing ninjas


ALBUM OF THE WEEK
Etch – Strange Days (Seagrave)
Coincidentally, I watched Kathryn Bigelow's 1995 film 'Strange Days' a day or two before planning this review of Etch's eponymous new album. The sci-fi cult classic, set on New Year's Eve in 1999, depicts a riotous Los Angeles in the grips of economic, racial and class tension. The main character, Lenny, is a black market peddler of virtual reality memories stored on special discs. These can be experienced by wearing a 'SQUID', a strange electrode-fitted helmet which feeds re-experienced stimuli directly to the brain.
The film is stressful and brutal. All of its characters are at the end of their respective tethers, and, given the real-world potential of VR technology and the angst of 2020, the world it portrays might not seem far off. In another respect, watching 'Strange Days' is an exercise in hauntological voyeurism. Unlike New Year's 2020-21, it is a vision of excitement and revolution, and paints a bitter but hopeful vision of the much-lusted-over 1990s.
Zak Brashill, who has released music as Etch since 2013, is no stranger to the kinds of harsh realities portrayed in the film. Releasing a variety of dark garage and experimental bass music on labels including Keysound, Wisdom Teeth and Sneaker Social Club, he has explored many moods over the years – but none so dark as on this new vinyl LP.
He says "a lot of the tracks are cold and hard-edged and have been produced in an uncertain and quite downcast period of time for me." Brashill, who hails from Brighton, has lamented the "deterioration" of the city's music scene, much like Bigelow's collapsing Los Angeles.
Like the bleak influence of dark technology on daily life, the album chugs forward in a calculated but grim fashion, its musical palette a mixture of browns, chrome and greys. The opener, 'In a Monochromatic Wilderness of Pain', is a reference to the Jim Morrison lyric from the Doors song 'Strange Days', and spells out this mucky mood. Guttural digital synth patches, and huge, plodding but dry drums, mesh together at a heady and unusual 100-ish BPM, like an unrelenting grey goo. Matching the hollow psychopathy of urban genres like grime and footwork, the follow-up 'Strange' is equally unforgiving, blending mechanoid additive synths with a stuttering, ruined breakbeat.
'The Man With The Other Face' is a reference to "some of (Etch's) favourite iconic horror characters like Buffalo Bill, Leatherface, Jason Voorhees". The ever-familiar tone of the track's classic 909 hi-hat sounds like one of these psycho killer's stabbing knives, or the hiss of a homicidal robot letting out steam. All the more frightening, its queasy reese basses are like the sinking feeling of being cornered. Horror references abound, 'Distrust' also samples dialogue from John Carpenter's grotesque masterwork 'The Thing'. Macready, the protagonist, speaks into a tape recorder, a last breath of survival after being held hostage by a hideous alien parasite. The sample fits easily into Etch's sonic world: it's like recovering the hopeless last words of a puny raver infested by the horror of UK garage.
The album takes a sharp left turn, 'Naitsri Complex' being a meticulous darkside drum n' bass track replete with piercing subs and distant sword sheathing sounds, proving minimal is lethal. Though, despite the album's bleak outlook, Etch is not without hope, admitting that there are moments of "clarity and euphoria" if not elusive positivity. 'Red Moon is the vacant but soulful closer, a bittersweet breakstep track whose resampled RnB croons, even while repeating like a sadly broken record, still evoke a slim quiver of human beauty.
It's still undercut by tension, though. Every track is peppered with infrasonic bass, exploiting the natural human stress response to frequencies below 30Hz. With not much hope, 'Strange Days' pines after what is buried there.
JIJ

Shcaa – No Moon At All, What A Night (Apollo)
Sacha Khalifé is one of those artists who orbits the minimal house scene without ever being dragged into its rigid, formulaic structures. Recognising the creative potential in a broad palette of sounds reduced to their tiniest iterations, the Paris-based artist's compositions move with crystalline elegance and playful curiosity, whether edging towards the dancefloor or kicking back in a more relaxed mode. Having released on labels like Archipel, Blank Slate, Grow and Sharingtones, Khalifé has demonstrated his affinity for experimentation within the reductionist field without losing sight of form and function, but his sophomore album for Apollo finds him gliding into resoundingly pop-indebted realms.
The first whisper of a 4/4 hi-hat doesn't even come in until the third track on No Moon At All, What A Night – before that we're treated to Khalifé's processed voice morphing around limber guitar and lush chords. There's a rich degree of sound design at work, and even when a beat rears up in earnest, the emphasis is on expressive brushstrokes rather than functionality. 'Moralia' in particular calls to mind the crossover qualities of Bruno Pronsato's work as Archangel and his Public Lover partnership with Ninca Leece.
There are groove-oriented moments to enjoy too, such as 'Oons Ide' or the classically French micro house joint 'Siskor', but these pieces serve as isolated moments juxtaposed with more eclectic fare. 'Sometime' places Khalifé's voice and acoustic guitar front and centre in a Sufjan reverie before drifting into fragile ambience, and 'Fantasia' creates a mutant pop strain that would sit comfortably alongside Matthew Dear.
Khalifé's harmonic compositions and pristine production make this a logical fit on Apollo, where ear-pleasing confections and atmospheric electronics so often split the difference in the name of accessible abstraction. Expressive, adventurous and surprising for anyone familiar with his past work, Khalifé has ably taken his artistry into bold new territory and created a highly personal, beautifully rendered LP.
OW

Nailah Hunter – Spells (Leaving Records)
Nailah Hunter's debut Spells originally came out on Leaving Records as a cassette-only release in 2020, but such is the spellbinding beauty of the music contained within, it's only right a more lavish vinyl edition comes forth. The LA-based artist brings the glorious sonics of the harp back into sharp focus, following in the great tradition of artists such as Dorothy Ashby and Alice Coltrane in taking this classically-rooted instrument into exciting new terrain.
Hunter's approach is largely ambient, echoing the similar sentiments found in contemporary pedal steel guitar players to expand the horizons of their chosen instruments using electronic processing. There is space for her voice to come through too though, and it takes on an almost choral tone on opening track 'Soil Song From Silence'. Crucially thought, the singing is placed lower in the mix to act as another harmonic layer rather than the focus. It's the lead plucks of the harp that occupy the foreground on these teasingly short vignettes.
On the topic of length, at little over 12 minutes long it feels debatable to bill this release as an album, but in fact the music feels just right in this concise form. There's such a rich, opulent quality to the sound field on each piece that two minutes feels like all you need to be transported a sizable distance by Hunter's layered playing. Akin to a thimble-full of consommé, the ideas and expression are concentrated, each passing moment purposeful when so much ambient music makes excessive use of infinite running time. It might be over in a flash, but Hunter gives you so much in a short space of time, you're not left wanting by the end of it.
OW

Wagon Christ – Recepticon (People of Rhythm)
Luke Vibert is a man of many, many talents. Adopting a number of names – his own, of course, but also Wagon Christ, Amen Andrews, Plug, Kerrier District and more – he makes everything from raw, kickarse jungle to cheeky electro and acid. He even invented a new genre, 'Rave Hop', with one of three albums he dropped at monthly periods over the summer, that came about when he decided to prank a friend who would obsess, at moments of ahem, chemical abstraction shall we say, that he was hearing music more slowly than it should be. But of all his names it seems to be his first, Wagon Christ – that's right, the one that earned him bragging rights to 'W' in the official A-Z of John Peel's record box – that people warm to the most. There certainly was an outpouring of love for the idea of 'Recepticon', his first album under the Wagon Christ banner for a decade, when news and an official Soundcloud of clips emerged. Well, the vinyl is here at last, and it's defi9nitely worth the wait. Even as someone who loves all of the various Vibert incarnations, there's something definitely warm and inviting about these excursions.
Just check the way the album opens, with 'Hello' patching together numerous greetings themed samples, handclaps and brisk beats and woozy, almost easy listening floating harmonies and tickling keyboards enticing you in. A lot of crate digging has gone into the selection of sounds and especially voices – we reckon Brian Blessed, John Peel and Lee Scratch Perry are in there among many more – and the daft, friendly sense of humour often stemming from the latter, although there's clearly a subtle wit to the musical phrasing. Hip-hop beats re-routed through a stoner's paradise of warm, cuddly sonic textures (see 'Boogie Serious', 'Likewutchadoo' or lots of others moments) are the order of the day, though from the ravey stabs of 'Lunderneath' to the more headnodding 'U R Here', there's a freedom in tempos and moods that goes to make the 14 tracks here a breeze to take in. Best of all is possibly the 'Funky Drummer' breakbeats and wobbly two note b-line of 'Bleep Me Out', a ragga MC declaring "make some motherfucking noise for the Luke!!!" over the mid-tempo headnodder. These are sentiments we can only second.
BW

William Basinski – Lamentations (Temporary Residence)
Anyone looking for a buoyant, jubilant start to the year in sonics? Who are we kidding… William Basinski's modus operandi has long been rooted in aspects of decay and degradation as expressed through gaping chasms of ambience, not least on the seminal and rightly lauded series of The Disintegration Loops albums released in the early 00s. His methodology, focused on manipulating archives of time-ravaged tapes as an instrument and sound source, yielded sonically satisfying effects to match the poetic notions the approach conjured up.
That same conceptual stance drives the latest album from the prolific ambient cowboy, as he constructs new pieces from tape loops and sonic experiments reaching back as far as 1979. There has never been a shortage of compelling material from Basinski, on Temporary Residence or any of the other labels he regularly works with, but this particular release is especially worthy of your attention. The clue is in the title – Lamentations – and the opening track 'For Whom The Bell Tolls' sets a suitably ominous tone to drag us into the gloomier end of Basinski's repertoire.
It's not a mono-dimensional downer though – there are moments of cracked beauty and light that cut through such as the winsome piano refrains of 'Tear Vial' and the dreamy opera loop 'All These Too, I Love'. The latter in particular develops a curious kind of funk, while also sporting some of that haunted ballroom splendour that converts to The Caretaker will be immensely satisfied with. Primarily this is an album of murky pastures and aching beauty, with operatic voices cutting through the tonal poise on numerous tracks to add an explicit emotional heft to the music, not least on highlights 'O, My Daughter, O, My Sorrow' and 'Please, This Shit Has Got To Stop'. If you're looking for pastoral, new age escapism look elsewhere – this is ambient music as a grim and nuanced reflection of a mixed-up world.
OW

Vodor L Zeck – Learn To Hack [Sitdownandance]
For his ninth release, Vodor L Zeck, hailing from Turkey, has released surrealist electronic album 'Learn To Hack' on Sitdownandance. Releasing music for over a decade, and having been a part of Berlin's Various Vegetables rave crew since 2015, Zeck also ran the label Zanderhythm from 2010 onwards.
Zeck's musical output is stylistically diverse. 2019's 'Great Life Outside' was a high-end deep house and ambient excursion, whereas 'Learn To Hack' is more drum-heavy and aggressive. Like a Max Ernst painting come to life and given a boombox, he commands a masterful take on the bizarre, embarking on harmonic twists, turns and billabongs while still retaining a danceable funk.
The tracks feel as generative as they do well thought-out. Openers 'Flunk' and 'Backtowhat' are barrages of sample-heavy drums which sound like their making wasn't fully human, nor fully computerised. Light-hearted as the album is, it is also maddening at points. 'Toohot' has a nauseating melody which sounds like Jeff Mills dressed up as the clown from 'It', taunting us while we lose ourselves in a half-nightclub, half hall of mirrors.
Acidic excursions and trip-hop breakdowns abound, before settling into standout track 'Waitingfor'. It is an intense meditiation; a harmonic procession of bells and chimes undercut by an intoxicating sine-wave chord which shapeshifts, soars and dominates the mix. Another weird track is 'Caykur', an odd one out which stops and starts, finding irony in layering growling swamp acid with cinematic strings. Not many dance albums achieve such a distinctly quizzical sound.
JIJ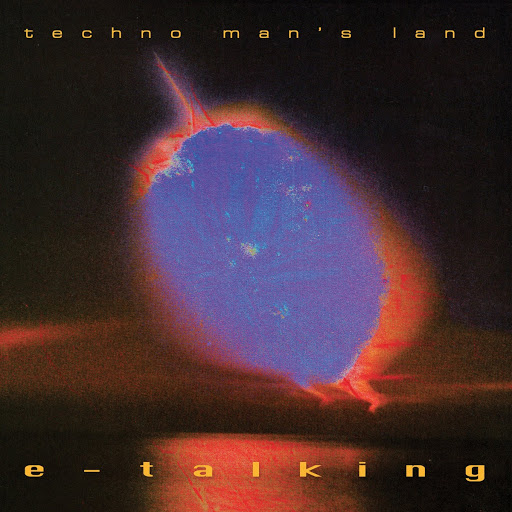 E-Talking – Techno Man's Land (Going Good Records)
E-Talking is one of those up-and-coming names which has proliferated, seen and heard everywhere. The Berliner – real name Emmanuel Corre – has already released his first EP with Laksa on AD93's Blue Series, is a resident DJ on Rinse France, and is one half of the balearic duo Nummer.
Corre now debuts his first LP with Going Good Records, 'Techno Man's Land'. A retrofuturistic digital affair, released in both online and CD formats only, the album is a whirlwind of confocal moods, sonar beeps and neon freakouts.
Its release is accompanied by a quote by the writer Jon Franklin: "Simplicity, carried to the extreme, becomes elegance". But there's a lot more complexity to it than meets the ear. A triumph of percussive and sci-fi sound design, drums whizz past in fractions of femtoseconds, with expositional tracks like 'Insider' and 'The Vaults' reconciling cavernous cosmic voids with space acid. By the time we reach the track 'Clinic – Hole', with its ghostly short-wave pads and breakneck drums, we're fully beamed up. In this alternate reality, our tiny, inefficient '70s invader-craft has enough warp drive in it to scour a yottaparsec.
This is the kind of music which opens up voids in the mind and body. Halfstep heater 'Experimental Psychosis' evokes Apollo-era R&S in its mid-album exploration of laser ricochets and LCARS bleeps. The ambient moments are sublime too, with standouts 'Angstrom' and 'Hyperawareness' blending vacuum-muffled angel choirs with monolithic mission-to-Mars buildups.
Do not be fooled by these moments of peace, though. E-Talking continually ups the aggression, closing with a dazzling series of tracks including 'Rush' and the jungle one-off 'A New Language'. In particular, the fourth-to-last track 'Self – Annihilation' is the chug tune we're sure many producers have dreamed of making but could not achieve. It is a slow plod through the divine asteroid belt, hailing the listener's transformation into a Kubrickian starchild. Like the amorphous shape on the album's front cover, we are left spaghettified.
JIJ
This week's reviewers – Oli Warwick, Jude Iago James, Ben Willmott