The best of this week's albums
The cream of this week's albums, as personally recommended by Juno's crack reviews squad

The Avalanches – We Will Always Love You (Universal)
Genre-bending is par for the course in 2020, but none have done it with as much originality as The Avalanches.
Not only was their classic debut album Since I Left You a gleeful melting pot of dance, hip-hop and psychedelia, it also borrowed a myriad of old sounds and gave them entirely new purposes. Over 900 samples were used to make it, but a case of throwing everything at the wall and seeing what stuck this was not. Despite how utterly effortless it felt, this was an album crafted with the utmost love and care by serial crate-diggers, who ensured that every beat, vocal snippet and instrumental flourish augmented its unparalleled euphoria.
Illness, band departures, and the arduous sample-clearing process contributed to the 16-year delay of their follow-up Wildflower. Any fears of a Chinese Democracy-style disappointment were comfortably squashed. Leaning further towards trippy 60s motifs, the group freshened up their brand of 'plunderphonics' by incorporating live instrumentation and bringing a host of collaborators on board. Better yet, the wait for their latest effort We Will Always Love You has been no way near as long or troublesome. Founding member Robbie Chater, who kicked his alcohol addiction before starting work on the new album, described it coming together "like a single thought, that was followed through in one process."
Where its predecessors were blissed out party records by-and-large, We Will Always Love You is more spacious and ethereal. The album was largely inspired by the story of scientists Ann Druyan and Carl Sagan, whose romance was captured and transmitted into space alongside an assortment of sounds representing life on Earth, in the hope that it would reach extra-terrestrial beings. It encouraged Chater and bandmate Tony DiBlasio to contemplate the idea of spirituality, leading We Will Always Love You to feel more like a voyage into the cosmos rather than the kaleidoscopic rave of albums prior.
Hints of melancholy are peppered throughout, reflecting the malaise of modern life as well as the emptiness of travelling among the stars. This is particularly noticeable through atonal touches, lovesick phone recordings contributed by Superorganism's Orono Noghuchi, and on the desolate title track. Moving at a deliberate pace, Dev Hynes' anxiety-ridden quasi-rapping intertwine with ghostly vocal samples and wistful piano ("Think about leaving the house/But my fears aren't letting up"). Fear not, these moments don't hamper the indelible sense of joy that comes so naturally to The Avalanches. There's still a fair share of straight-up floor-fillers too, ranging from the infectious funk of 'Music Makes Me High' to the rumbling techno of the Jamie XX-assisted 'Wherever You Go.'
Sampling remains at the heart of their sound, but they're used more conjunctively here, allowing the band's guests to truly stamp their mark. Featuring Kurt Vile's languid meditations about being "reborn", a driving rhythm and towering pitch-shifted harmonies, 'Gold Sky' is a stellar reworking of Americana. Leon Bridges' tender vocals mesh well with the breezy pop instrumental of 'Interstellar Love', while 'The Divine Chord' charms with its bouncy melody, sweeping string sample and Johnny Marr's subtle yet warm guitar licks. Even Rivers Cuomo's songwriting-via-spreadsheet approach works on the stunning 'Running Red Lights', perhaps the poppiest venture during the 71-minute runtime.
Sure, We Will Always Love You isn't as immediate as The Avalanches' previous work. But that was never the intention. Instead, their craft has deepened and matured, and with their existential curiosities laying the groundwork for dazzling stylistic excursions, this is an LP that will make you think and dance in equal measure.
MDW
Charles Webster – Decision Time [Dimensions Recordings]Known for a string of jazz-inflected house and downtempo 12"s throughout the 00s, Charles
Webster enjoys the status of a connoisseur, his musical influence resonating widely across the dance continuum.
On Decision Time, the first album under his own name released in almost two decades, Webster exchanges any past focus on moody and jittery danceability (heard on classics I Understand You and It's Not What It Was) for a more precise musicianship more often heard on his Presence alias. Depth and texture are cornerstones, with Webster's background as a recording engineer shown off in impeccable vocal recordings and attention to detail.
The breadth of the album is wild; vocalists – collaborators from Webster's musical past, the likes of Ingrid Chavez, Sipho 'Hotstix' Mabuse, and Sio – are present on every track. It even ends on a two-track co-collaborative coda with UK legend Burial, consisting of The Spell and the ambient dub Second Spell.
Webster's production idiosyncracies lend very well to the low-level warmth of a new vinyl release. Despite its eminent quality and scope, the album still sounds innocent, retaining a lo-fi aspect deployed via tactical underproduction of certain elements. Thandi Draai's vocals on the track Music, for example, rest in the middle of the stereo field, sounding more like a beautifully trapped ghost than an audiophile's razor-edge ideal. Emphasis falls not on clarity, but vibe; tracks like We Belong Together, Wait and See and Secrets Held are fuzzy clusters of pure mood energy.
In a world where many dance artists might be said to fail miserably at making albums for meaningful home listening, Webster has successfully done so. Rather than operating in them directly, Decision Time captures the more hidden essences of soulful and jazzy house traditions.
JIJ

Various Artists – Test Pressing III (Muscut)
Inhabiting a zone where experimentation doesn't have to mean sterilisation, Muscut has spent eight years amassing a modest but significant catalogue of fringe sonics that deal in themes such as minimalism and repetition. Dmytro Nikolaienko founded the Ukraine-based label with Test Pressing, a self-explanatory safety check to see if there was interest from the record buying public. Fortunately, Nikolaienko's keen curatorial ear has prevailed and now at release 20 we're able to slide into the strange amalgam of errant pitches, organic found sounds and pinprick rhythms that make up Test Pressing III.
There's a prevailing wooze to the melodic dimension of this collection – a warped tape of warm, jazzy chords at times, a stuttering concrete sequence of sharp stabs at others, but always friendly and approachable. For all the serious sound processing and gallery-like ambience that lingers around this music, there's also a playful glee and child-like curiosity guiding the creative decisions. That manifests in fuzzy layers of disorienting tone and sample on Nikolaienko's own 'Jazz Tape' and chirruping modal rain drops on Jan Jelinek's turn as G.E.S. on 'hipinterval 1&2'.
There are some standout moments where more formalised track structures emerge, such as the dub-speckled rhythmic incantations of Koyil's 'Vag' and the coolly off-key, flute-dressed funk of Marble's 'LESBEE (Shaggy Bumblebee)'. Andrew Pekler's 'Early Bird (Loose)' is immediately satisfying thanks to the cosy chords underpinning a cascade of modulating percussive blips. It's a simple approach executed perfectly, much like the foggy delay reverie of Ahnnu's spiritual closer, 'Wandering'.
Ultimately, every track has its own unique slant, and it would be hard to imagine this specific configuration repeated anywhere else. Therein lies the beauty of such a collection, where an ineffable commonality draws together disparate threads to create a whole that makes sense only through the Muscut lens.
OW

Jabu – Sweet Company (Do You Have Peace)
Out of the Young Echo melting pot comes one of the sweetest projects in the Bristol underground. Jabu are something of a mature prospect now, having grown through a few configurations and stylistic slants to now form a trio made up of Amos Childs, Alex Rendall and Jasmine Butt. Not content to stall, there's also a constellation of other kindred souls feeding into their latest album, Sweet Company. Their last, the majestic Sleep Heavy on Blackest Ever Black, was an inward, heartbroken affair, but this time around the mood feels lighter if no less dreamy.
Jasmine Butt has become one of the truly magical entities within the Young Echo universe, gracing all kinds of projects with a delicate vocal delivery that comes on like Twin Peaks' Julee Cruise rooted in reality rather than the Roadhouse. Her turn on opening track 'Water Temple' is simply spellbinding, floating amidst the gossamer threads of production as though the lingering notes might subsume her at any moment.
Daniela Dyson makes two appearances on the album, delivering her poetry through a shimmering haze of delay on 'Slow Down' and 'Sweet Company' as she glides between English and Spanish. Meanwhile Sunun lends her dub-rooted presence to 'Lately', surely the 'hit' of the album with the catchiest chorus and a pleasure-delay sub bass that ranks amongst the tenderest ways of eliciting bass face I've ever heard. Rendall sounds at his best here as he intones a masochistic message to his lover – the kind of bittersweet sentiment that suits his high notes perfectly.
Jabu shape out a very considered world on Sweet Company – the palette, the processing, the lyrics and cast of characters all feed into one perfectly distilled vision. What's beautiful about the record is how natural and grounded it feels, even as those fragile melodies and dream pop hooks carry you skywards.
OW

Jonquera – Darkos (Bamboo Shows)Fresh from two cassette compilations detailing some of the best new trancehall talent, Lyon label Bamboo Shows now celebrates its one-year anniversary with its first 12" LP release, Jonquera's Darkos.Jonquera, known for their tricky dance excursions as one half of duo The Pilotwings, flaunts a lesser-heard and more downtrodden style on Darkos, blending the far reaches of dancehall, medieval soundscapes and biomusical drones. The album sounds like the backroads and alleyways of an impossible dark ages techno-civilisation, straddling the immense gap between futuristic and ancient motifs.
On the A-side, we are thrust into the exposition Couvent Des Cordelius, a sensory overload of eerily filtered rain ambience, distant animal calls, and the steady chug of an illbient beat. The track effortlessly establishes Jonquera's sonic world without letting on too much of what is to come; subsequent tunes Darkos and Saint Cotson unearth completely new territories, where the former is a dubbed-out study on a chantlike bass voice, and the latter is an anxious, droning view of an immense technoscape. There seem to be few constraints on Jonquera's palette. The track 'Don Bosco' – featuring a strained flutey sound, boxy dub drums, and an ASMR whisper-song – combines so many far-flung influences it's hard to pinpoint exactly where and how they meet, only that this meeting-place is not of this Earth.
The B-side is the A's lost subterranean alter-ego. Undiscovered alien organisms chirrup and splutter on Beutson Ardent, while ancient warriors swing swords and maces in perfect time with dread-ritual drumming on 'Pont Dé Djabe'. Veurtsio is one of the album's most ambitious fusions, wherein the artist creates a glacial dancehall rhythm out of metallic womps worthy of any techstep or darkstep track. The album lulls before reaching a melodic climax at Grand Deuc, in which we return to Darkos' apocalyptic overworld, ever-exhilarated with each metallic crash, deep thud and ghostly woosh.
JIJ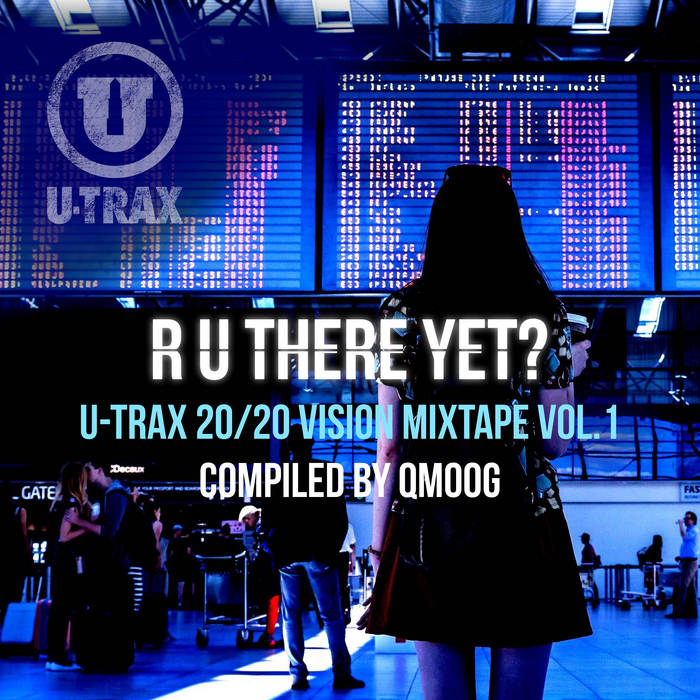 Various – R U There Yet? (U-Trax)
Independent Utrecht label U-Trax – arguably the most prominent Dutch homage to 90s Chicago and Detroit techno, electro and acid – releases its first ever digital compilation mixtape today, R U There Yet?
Their name referencing the pioneering Trax records, U-Trax was active throughout the mid-'90s. After almost two decades' hiatus, they're back in action.
Now, the new mixtape – compiled by artist and friend of the label Roy 'Green' Parker, a.k.a QMoog – consists mostly of classic tracks from label mainstays including Bishop, P.A. Presents and African Nightflight. Titanic electro standards such as The Last Rung Of The Ladder and Channel Pressure sound better than ever, fresh from Thee J Johanz's remastering like miraculous polished gems.
Recognising that the crossing of temporal boundaries is what electronic music does best, Parker has also secured four completely new, as-yet unheard tracks for the compilation, and with this 4-track venture comes a reaching-out into uncharted musical territory. New York rapper and producer Thavius Beck, for example, has contributed one of his own instrumental tracks Birdsong, a wonky hip-hop piece featuring the strange synth-mimicry of avian calls. QMoog himself donates Where Are You From (Full Mix), an early-mix house moodsetter emoting something between sensuality and acid fidgetiness. A standout track, w1b0's remix of Mr Joe Abe's Hit Me, is a wonderfully muddy and masochistic electro take on the Boxtel band's blues-grunge original.
R U There Yet? is certainly the futuristic vision it aims to be.
JIJ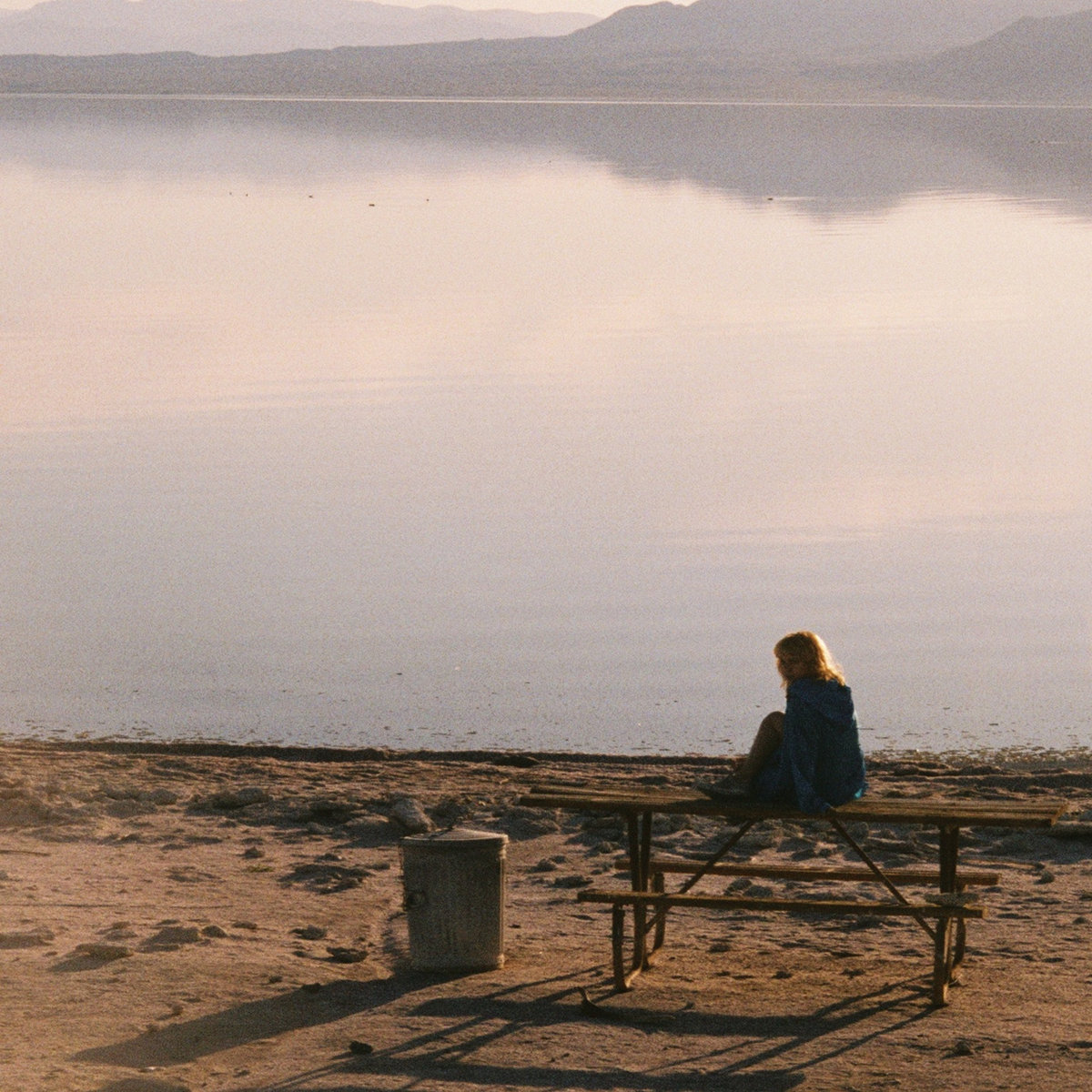 All Things Blue – Get Bit (Terrible Records)
Dipping your feet into the waters of All Things Blue is like being swaddled by the warmth of familiarity. Ending the year on a euphoric high with the release of their debut record, the LA indie-rockers share the exhilarating album Get Bit.
The brainchild of India Coombs (aka Blue) and Jon Joseph, the album showcases a sonic dexterity that blankets the harsh realities that this year has gifted. Woven with the heightened imprudence of social media's influence on our instantaneous lives, the amalgamation of woozy psych-rock and dream pop combined with a dusting of shoegaze has produced a record dripping in golden intrigue.
From start to finish, Coombs' vocals provide a steady constant amongst the dreamy instrumentation. Whilst melancholic tracks like 'Buddha and Penelope' present as lush melancholia, the sharp injections of abrasive rock on 40 seconder 'Scratch' showcase the band's multitudinous energies. Yet it's the boozy bar anthem 'Legend of Chav' and spaced out 'Dicking Around' that stands out as the immediate highlights.
Offering a landscape of swirling melodies in which to project your own interpretations, All Things Blue provide reoccurring peace and comfort with the perfect halcyonic backdrop. And after this year, my God, do we need it.
PS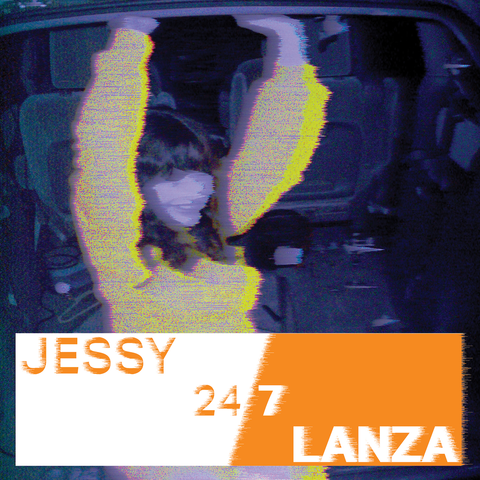 Jessy Lanza – 24/7 [Hyperdub]
24 hours a day, 7 remixes per album. That's the mantra for Jessy Lanza's new '24/7' re-mixtape, a multi-artist reinterpretation of her 'All The Time' album released in July. Drawing from a diverse stylistic and regional palette, the synth songster has curated seven new remixes from friends, successfully inflating the original's cutie-pop balloonery to even bonnier proportions. Lanza's labelmates focus on swaying the listener, building on her and co-creator Jeremy Greenspan's chirrupy production style. Lead artist Foodman enriches the original Alexander's bustling romance with a dash of crossrhythmic Japanese dancehall, while Proc Fiskal opts for a surrealist 2-step remix of Lick In Heaven containing one of the most swung beats known to humanity. Glitch-star Loraine James likewise deploys a lumbering complextro for her alternate Face. These tracks feel like a response to Lanza's self-described channelling of anger in her music, matching the emotion's unpredictability with newly frustrated rhythms. Tension is relieved by straight-up dance grooves by Kate NV and Martyn Bootyspoon; their takes on Baby Luv and Like Fire will hardly fail to shift bums in the coming year. Fellow Canadian Visible Cloaks also makes an appearance, dropping a molten, deconstructionist take on Ice Creamy. DJ Swisha drops an unprecedented jungle closer for the title track.
JIJ

Various Artists – Sharpen, Moving (Timedance)
Two years on from Patina Echoes, Batu's Timedance label returns to the compilation format with a broader expanse of artists that feed into one of the UK's most idiosyncratic club labels. The longer run time affords a little more space for shifts in energy, which is especially evident in hi-tech ambient opener 'Lost Caller' by Kit Seymour. He's but one of the new faces brought into the Timedance aesthetic, joined by an eclectic spread from techno shapeshifter Peter Van Hoesen to pointillist pressure cooker Akiko Haruna. Happa fires off fiercely angular, industrial strength rhythms, while Mang x GRAN lays down a pummelling, trance-inflected slab of bombastic future shock. There's also a healthy show of strength, strangeness and subtlety from Timedance regulars like Bruce, Ploy, Metrist and Batu himself, but it's the new additions that make things interesting as they widen the scope of this most crucial of labels. There is a familiar modus operandi at work here, testing the limits of dance music structures and contemporary sound design, but Timedance by its very nature is hard to pinpoint. Sharpen, Moving does a grand job of maintaining that slippery nature while keeping things from getting too convoluted.
OW

Jane In Palma – Safety Net (Snake Free Roofing)
When fire destroyed his studio and pretty much all of his prolific artistic output, Julian Smith didn't decide to find new premises, but rather a new life. He waved goodbye to California and a life loaning his creativity to big brands and headed to the island of Mallorca in search of surfing and freedom. 'Safety Net' is his second album since making the move and it reflects both his contentment at his current existence and a remaining rage at the one he left behind. It's defiantly DIY, but there's also something luxurious – in sonic terms at least – about the ambient daydream 'French Coffee' and the slow hip-hop stepping of 'Paris Blues'. That said, there are also spiky, punkier moments like the album's title track, all driving drum machines and spidery, almost rockabilly guitar, Smith's voice wonderfully drenched in slapback reverb. Definitely an experience of two halves, as the tense, leftfield post-punk (see also the wonderfully wonky 'Soft and Lazy') rubs shoulders with a more blunted, horizontal vision of tracks like 'San Sebastian Prophet'. Nearly everything here, from either side of the divide, is short and sharp, so there's very little chance of boredom setting in, and the liberal use of spoken word samples as well as some ingenious lyrical work, means that Smith's message about modern life and its pitfalls comes across effectively without clumsy sloganeering. Nice work.
BW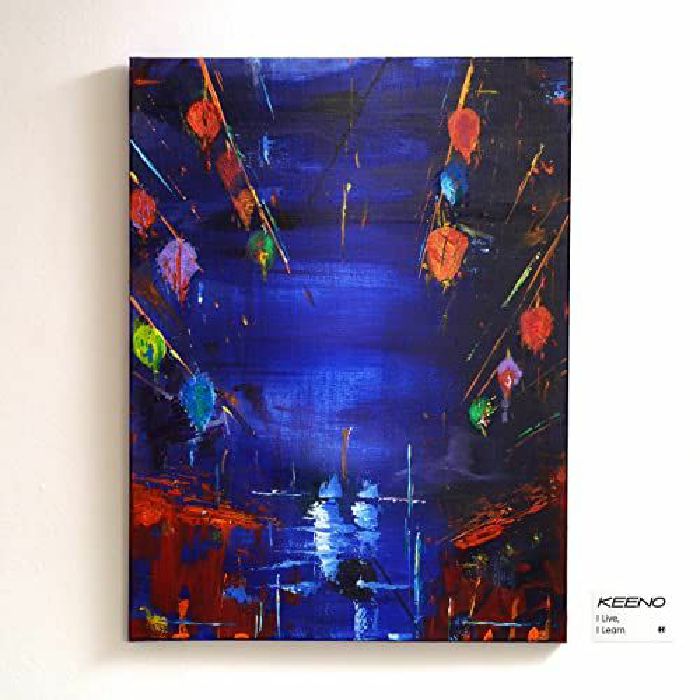 Keeno – I Live, I Learn (Hospital)
The veteran drum & bass label Hopsital is not one to do things by halves, and having seen Keeno progress onto the label proper after cutting his teeth on the Med School offshoot, it's perhaps no surprise that his fourth album should be big – or even massive, to use the correct scene parlance. Across the 14 tracks and two sides of vinyl here, there are big, bold vocal anthems aplenty, with 'Behind The Glass' featuring the tender voice of Kate Wild proving to be an early highlight and 'Antiphony' utilising pianos, jazz guitar and orchestral touches alongside the less traditional scratching and filtered female vox. Not for nothing does he cite Debussey and Ralph Vaughan Williams alongside Calibre and Phaeleh in his list of influences, but there are plenty of different sides to his sound and his collaboration here with Obsel, the aptly named 'Fear', shows he is more capable of sticking in a terrifying pure tone and Amen break rinser with echoes of the techstep days of No U Turn in alongside the more musically sweet interludes.
BW
Reviews by: Matthew D Watkin, Oliver Warwick, Paige Sims, Jude Iago James, Ben Willmott.