Hand-built in Japan with a focus on ultimate sound quality, Alpha Recording System's rotary DJ mixers are the audiophile choice. Greg Scarth gets his hands on the Model 4100.
Cult classic is an overused term these days, but the rotary DJ mixers lovingly hand-built by Tokyo brand Alpha Recording System are as close as you'll get to the definition. There's a mystique about the mixers, not just because of the fact they're produced in limited numbers, but because of the obsessive focus on sound quality that makes them the choice of sonic perfectionists.
Louie Vega calls an ARS "the best rotary mixer I've ever heard in my life", comparing it to a classic UREI. Theo Parrish has been spotted using them since the very early days. DJ Harvey pre-ordered the brand's latest flagship model before it went into production, while Gerd Jansson owns a bespoke unit. Frankie Knuckles was also a fan.
The extensive list of high-profile users tells its own story, but for a more complete sense of what makes ARS special you need to consider the brand's philosophy: all of the mixers in the small product range are built on the principles of the 1970s disco era, when the DJ mixer as we now know it was in its infancy. Nevertheless, those mixers – such as the Bozak CMA-10-2DL and the early 80s UREI 1620 – helped to define not just the sound of disco and house but the ergonomics and design features of mixers as we now know them. It's precisely that legacy which ARS draw on, and you'll see the common themes running through the brand's products: rotary pots rather than straight faders, no crossfaders and a general no-frills approach that gives clues about the focus on sound quality. Inside the case, they're all built by hand, using top quality components individually selected and matched for the optimal sound.
The 4100 is a four-channel rack mixer, offering a total of eight inputs spread across four rotary pots: the first three channels can toggle between line and phono inputs, while the fourth channel toggles between two line inputs, both apparently identical but one labelled as a PC input. It's almost certainly the most simple mixer in the ARS range, with no EQ or isolators, just the bare-bones mixing functions, but it's a mainstay of the brand's output. In case you're wondering just how few mixers ARS produce, the 4100 was originally released in 2009 and this latest manufacturing run features serial numbers somewhere in the region of 350 units. This isn't an artificially limited-edition product, just one that's made in very limited numbers; if you want one, you need to be ready to pounce on the rare occasions Alpha release a batch.
The 4100's 19-inch rackmount case and weighty external power supply unit could best be described as old-school chic, undoubtedly inspired by those classic Bozak and UREI models, but we're not really here for aesthetics. Likewise, if you're looking for modern fripperies like Bluetooth streaming, built-in effects and touchscreens you're definitely in the wrong place, but you probably already knew that. There's a 'master send' loop on the back of the unit which allows you to insert an isolator on the master signal, or you can connect effects to their own dedicated loop, but that's as far as it goes in terms of bells and whistles.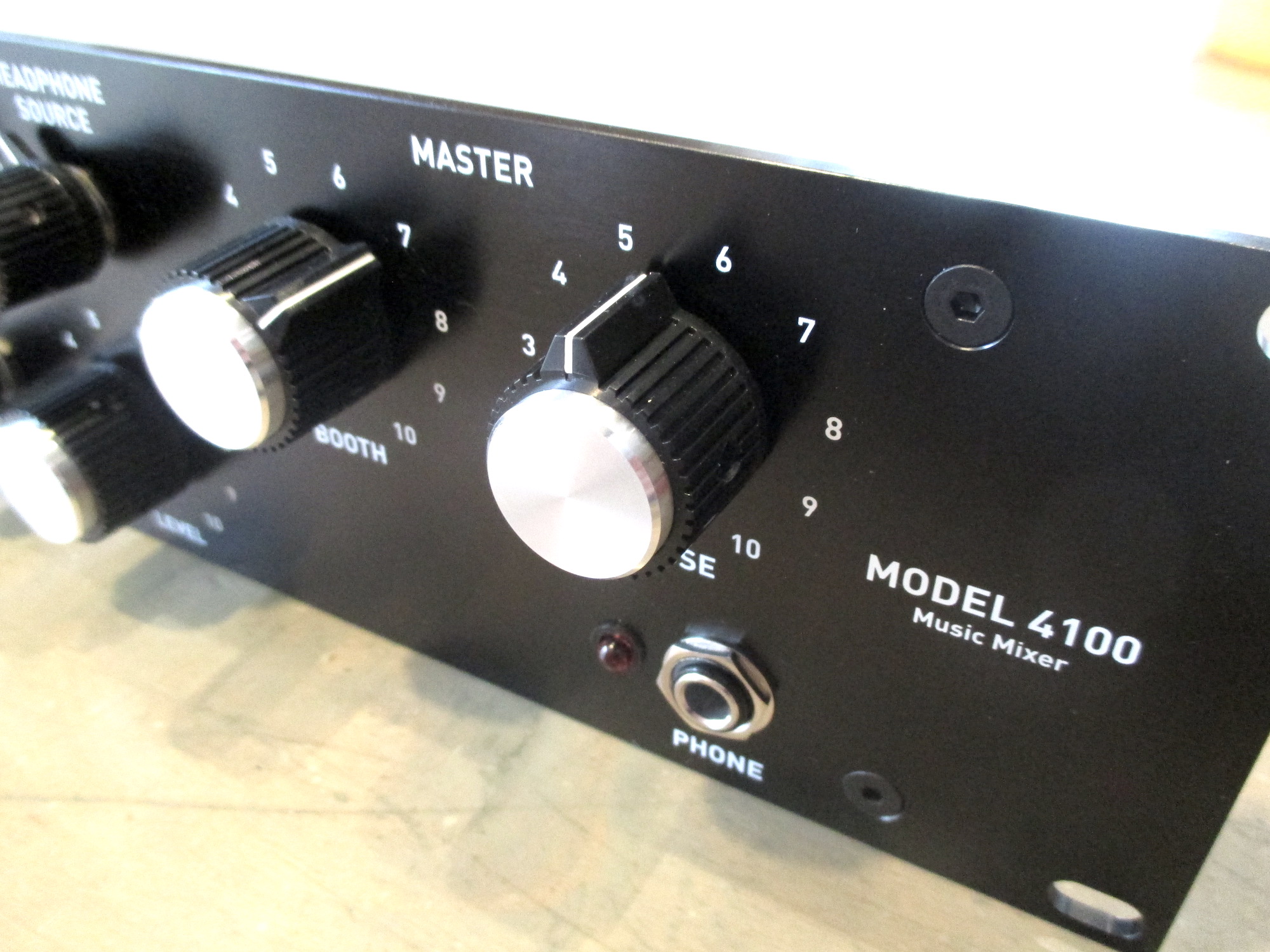 Sound and ergonomics are the only two things that matter about the 4100, and unsurprisingly they're both exquisite. The sound is precise and clear, much less coloured than some of the other rotary mixers on the market, but with a subtle hi-fi warmth and bags of headroom. All controls have a smooth, nicely weighted action. The channel level knobs are well spaced to allow good access, while the effect source and headphone source (cue) rotary switches give a satisfyingly positive clunk as they're turned. The taper of the rotaries on the various level pots (audiophile favourite Alps Blue Velvets) feels organic and works perfectly for smooth blends. The feel of the knobs is also perfect: smooth but not overly light, helping you to avoid sudden, jerky movements (the one exception being the effect send knob, which is lighter in feel, presumably to allow quicker adjustment).
The Model 4100 is the definition of a purist's mixer. It does almost nothing except mix signals, but it does that job with laser-focused precision. There's a reason it's a cult favourite.
Greg Scarth
More info/buy