Pro-Ject's premium record cleaner is our favoured option for keeping your records clean, improving sound quality and extending the lifespan of your stylus.
It's obvious why you'd want to keep your records clean, right? Aside from the short-term benefit of eliminating pops and crackles, it ensures that both the record itself and the turntable you play it on last longer, . Even with the most diligent approach to cleanliness it's impossible to avoid some degree of unwanted debris finding its way onto your vinyl collection; whether that's a tiny speck of dust finding its way into your hermetically sealed hi-fi listening room or someone spilling unwanted substances onto your prized Villalobos white label at an early-morning afters, we're not here to judge.
There are various ways to clean records depending on the level of ingrained dust and dirt, from simple anti-static cloths and carbon fibre brushes through to wacky (and generally inadvisable) DIY techniques like squirting glue in the grooves, leaving it to set and then pulling off the dried mess with the intention of ripping out grit and grime.
A more professional approach comes in the form of the VC-S2 ALU. Manufactured by Austrian hi-fi specialists Pro-Ject, this is a newly released option at the top of the brand's small range of record cleaners. The VC-S2 ALU is a slightly industrial-looking machine around the size of a turntable but twice as deep as your average deck. It's quick and easy to set the unit up; instead of a platter you'll find a bottom plate and top plate in the box, which clamp around the centre of your record to hold it in place with the grooves exposed on both sides. A vacuum arm is fitted which will suck the dirty cleaning fluid off your record as it gets cleaned (optional arms and clamps can also be purchased to allow the unit to handle 7-inch records). You'll also find a gentle goat's hair brush and a 100ml starter bottle of the brand's own eco-friendly Wash It cleaning fluid (enough for around 135 records).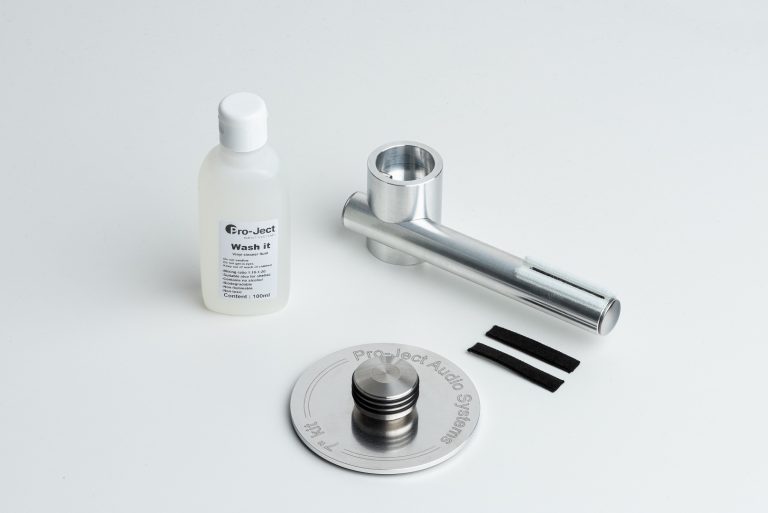 The cleaning process itself is simple and straightforward: clamp the record between the two plates, start the motor running and pour a little bit of diluted cleaning fluid onto the grooves, spreading it evenly with the brush before turning the vacuum arm into place, switching on the vacuum suction and sucking up the dirty cleaning fluid. The vacuum leaves the record completely dry, while the waterproof padding on the clamp ensures that the label is protected throughout the process. Without rushing, it's easy to clean each side in less than 30 seconds. The most efficient way to work is in batches, with a stack of dirty records on one side, clean records on the other and a simple methodical process to work through the lot. It's not exactly a thrilling challenge – and maybe we've been spending too much time on mindfulness apps during lockdown – but there's something almost meditative about the whole thing. At around 10ml of fluid per record, by our calculations it should be possible to clean somewhere in the region of 250 records before needing to empty the reservoir in which the dirty cleaning fluid is stored.
The VC-S2 is priced fairly for what is a fairly substantial machine. There are some much more expensive alternatives on the market, but we're not entirely convinced that they do a sufficiently better job to justify the additional cost. If you're on a budget, the cheaper VC-E does more or less the same thing in a slightly more compact format, albeit with a couple of minor compromises in terms of stability and fluid capacity (the tank holds just half a litre of used fluid, meaning you'll need to empty it much more frequently).
The benefits of record cleaning may not be particularly glamorous, but any remotely serious record collector or DJ will know deep down that it makes sense. A bit like eating your greens or brushing your teeth, it's one of those things that give you a warm sense of knowing you've done the right thing.
Greg Scarth
More info/buy