Erica Synths unveil new valve-based Fusion modules. We're still shipping
The two new Eurorack modules offer innovative takes on filtering and modulation. Plus: a note on Juno shipping as normal.
A note on shipping during the Covid-19 outbreak: In light of current events, we'd like to give you an update on what's happening at Juno. We're taking the necessary steps to ensure our staff are safe, while continuing to deliver your orders as normal. All orders are being sent as usual, and if you order before 5pm GMT your order will be despatched the same day. We have an in-stock guarantee, so everything that is showing as in-stock on the website is in our warehouse and ready to ship to you. Find out more here.
Hugely popular Latvian synth brand Erica Synths have announced two new modules in their valve-based Fusion series. The Fusion VCF is a three-input low-pass filter with recordable CV modulation. The Fusion Modulator is a modulation source based around looping envelope generators with built-in noise and sample-and-hold circuits.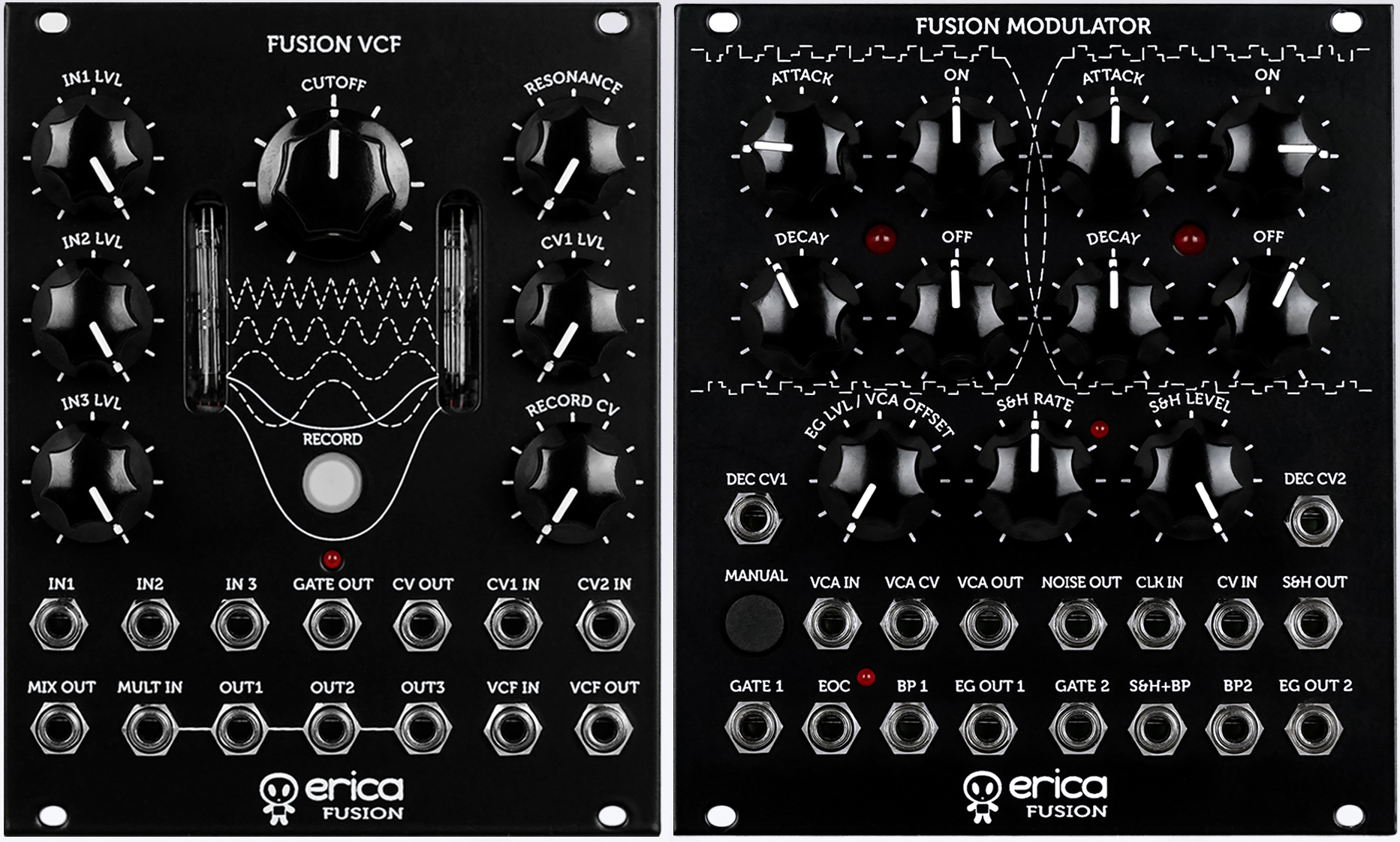 Erica explain:
The Fusion VCF3 is resonant 24dB/oct lowpass filter of unique design that combines vacuum tubes and vactrols providing distinct, soft filtering.
For more versatility, the independent audio mixer and buffered multiple is incorporated in the module, and, most importantly – a CV recorder that records motion of the potentiometer, so you can design advanced modulation patterns.
Features:
– Fully analogue design
– Vacuum tube and vactrol based filter circuit. Because of vactrol lag, the VCF will not accept audio rate modulation, the maximum modulation frequency is 10Hz
– Input signal mixer with gain 2 for signal overdrive
– Buffered multiple for splitting audio and CV signals
– Potentiometer motion record unit with CV and gate outputs
– Recorded CV multiplication and division
Fusion Modulator is a complex, all analogue modulation source with lots of distinct features. It consists of several blocks – two EMS Synthi functionality inspired looping envelope generators with simultaneous unipolar (0V-10V) and bipolar (-5V-+5V), VCA, Noise generator and Sample&Hold.
This makes Fusion Modulator a versatile modulation source for advanced modular setups, especially drone music oriented ones. Set lopping envelope generators to high frequencies and have two sub bass sound sources, use VCA to control the amplitude of the envelope signal, modulate the decay time by random voltages from S&H circuit and get ever evolving sonic awesomeness!
Features:
– Fully analogue design
– Two looping envelope generators with Attack, On, Decay and Off time control
– CV control over Decay time
– Simultaneous unipolar (0V-10V) and bipolar (-5V – +5V) envelope outputs
– Manual trigger button
– End of Cycle output
– VCA with the offset control
– Zener diode based white noise source
– Sample&Hold circuit with internal and external clock source
You can watch a video of the VCF3 in action below via Robin Vincent's Molten Music Technology YouTube channel. The VCF3 and Fusion Modulator are expected in stock very soon.