M-Audio's new flagship interface offers a huge feature set at an affordable price. We find out how it sounds.
Synths and drum machines get all the glory. New releases feel like milestones in the history of music tech, sparking feverish social media buzz and endless debate about features and sounds. Meanwhile, other music making essentials get overlooked by comparison. Audio interfaces, for example, are absolutely essential to the way most of us create music, allowing us to get sounds in and out of a computer, but when did you last see producers getting excited about one on Instagram?
Consequently, the evolution of audio interfaces feels a bit like sitting on the beach and watching the tide come in: at any given moment it doesn't feel like much is happening, but if you take your eyes off it for too long you'll suddenly find your clothes getting wet. M-Audio's new flagship interface is a prime example. Heading up the brand's new Air interface range, the 192|14 boasts eight analogue inputs and four outputs (plus two headphone sockets) at 24-bit, 192 kHz resolution. The real surprise here is just how affordable that level of connectivity has become; a few years ago you'd have expected to pay at least £500 for a similar feature set, but the Air 192|14 clocks in at well under £300, planting it firmly in the realm of affordable entry-level interfaces.
Two things immediately leap out about the 192|14 straight out of the box: it's small, but it's remarkably dense. Weight isn't necessarily a guarantee of quality, but in this case it's an obvious mark of good build quality. The unusually shaped desktop module format is stylish and solid, with a good feel to the knobs and switches, plus high-quality connectors all round.
The spec of the interface is impressive right off the bat, with four mic/line inputs on combo ¼-inch/XLR sockets round the back, two dedicated instrument-level inputs on ¼-inch sockets at the front, plus a further two line-level ¼-inch inputs on the back panel. Outputs are via four ¼-inch sockets on the back and two separate headphone outputs on the front panel, which can be switched independently between outputs 1/2 and 3/4 for versatile monitoring (such as sending a different monitor mix to a vocalist). What's particularly pleasing to see is that no obvious corners have been cut in order to keep the price down. The first six inputs have dedicated gain knobs and LED level meters on the front panel, while the last two line inputs have simple signal/clip LEDs.
For obvious reasons, the spec of an interface is really only half the story. Sound, stability and latency all play just as big a role in practice. Hooked up to my MacBook, the Air played nicely with both Logic and Ableton Live. Side by side with the (significantly more expensive) interfaces that I normally use, the Air's converters and Crystal preamps – as previously found on the brand's M-Track interfaces – held their own surprisingly well. At this price point you wouldn't expect absolute top-level performance on a par with professional-grade interfaces costing ten times the price, but we've come to expect clean and uncoloured performance from budget interfaces and there are no nasty surprises here.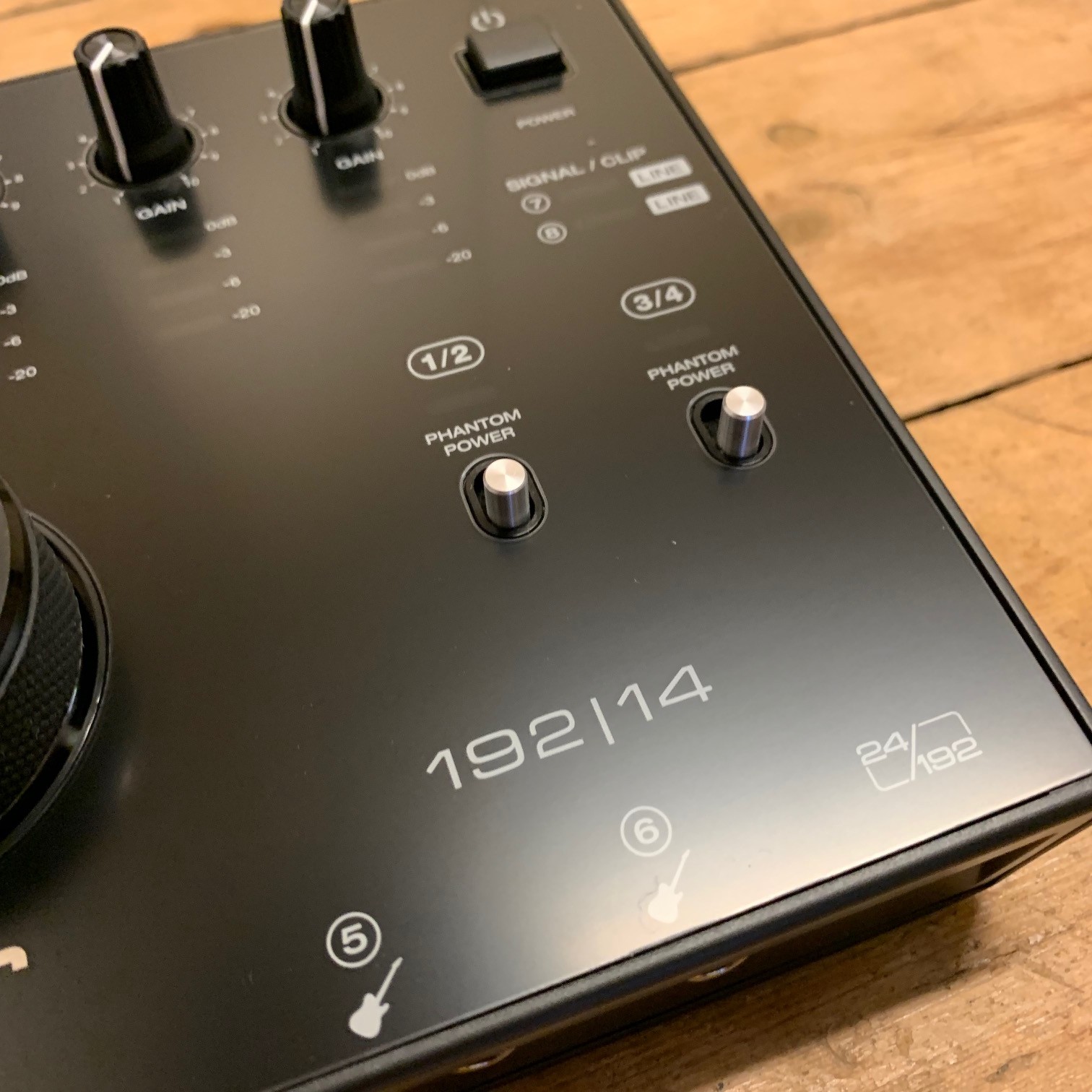 So, what kind of producer does the Air 192|14 appeal to? If it isn't stating the obvious, one who needs a lot of high-quality inputs on a relatively low budget. It's versatile enough to record any sound source you throw at it, from microphones to guitars to synths, but I can see this unit appealing particularly to electronic producers with mid-sized hardware setups. Fortuitously, the recent advances in interfaces have coincided with the proliferation of cheap hardware. Thanks to the rise of Eurorack modular gear and ever-more-affordable synths, there's growing demand for budget interfaces that can cover a range of bases and record multiple sources simultaneously. The 192|14 would definitely fit the bill for a typical setup of a couple of synths, a drum machine, maybe a sampler, some effects and perhaps the occasional vocal.
Are there any downsides? At this price point, not really. MIDI in and out are via ⅛-inch sockets rather than standard 5-pin DIN sockets, necessitating the use of supplied breakout cables, which is a minor inconvenience at worst. Other interfaces around this price point might offer expandability via digital ADAT connections or more advanced monitoring options than the Air's simple but effective volume knob. Whether you need those options depends largely on the way you make music, but alternatives like the Mackie Big Knob Studio or Audient iD22 have you covered if the Air doesn't suit your needs.
Interfaces might not be glamorous, but they're essential to most of us. As we saw in our recent rundown of the 10 best audio interfaces, there are plenty of high-quality options on the market no matter your budget. The Air 192|14 certainly joins our list of favourites.
Greg Scarth
More info/buy