Designed with scratching and portability in mind, Reloop's SPIN is an unorthodox but engaging turntable.
German manufacturer of all things DJ, Reloop steps in once again with an innovative turntable that challenges categorisation. Notable for redesigning industry-standard vinyl decks into club-ready, wallet-friendly and feature-packed products, they now focus their attention on the growing segment of portable turntables. SPIN is the result: a lightweight, battery-powered player for turntablists and adventurous diggers alike, complete with a few digital features for added versatility and fun. Endorsement comes from none other than legendary turntablist DJ Babu, of Dilated Peoples and Beat Junkies fame. He also provides Super SPiN Duck Looper, an app packed with high-grade breaks that can be used as backing tracks for spontaneous (and mobile!) scratching fun. Added to the mix is also a special 7″ scratch record ready with iconic samples and beats – may the fun begin.
The look is high-tech: simple black casing with a light grey panel, channeling more Alien movie franchise spaceship than dusty 45s and hip-hop culture. The turntable is built into a briefcase-style frame, with a handle and sliding fasteners that unlock an easy-to-remove cover. An all-plastic external build makes it an impressively light record player – an undeniably great thing for its intended portability but one that could also prematurely be seen as a red flag when it comes to specialist turntables and building quality. Those concerns dissipate after a first contact with the platter, as it feels quite high-quality and up for the task of frantic record manipulation. The main panel looks uncluttered and stylish, with a 45mm crossfader placed diagonally on the left and all other controls neatly placed on the right-hand side – creating an arrangement that closely resembles decks and mixer set up in battle mode, a must for scratch enthusiasts.
Right from the start, all the basic controls of the Reloop SPIN seem to focus on spontaneity and fast hands rather than careful tweaking. The pitch control, with a range wider than average (+/- 20%) but incorporated as a small knob instead of the usual fader, favours fast and intuitive adjustment rather than pristine blends. The tonearm and cartridge, consolidated into a single structure with no height or weight adjustment, is fine-tuned for stability and fixed to the needs of scratch artists. Also, true to concept once again, the crossfader is fast, light and precise, allowing clean cuts while alternating sound sources between the record and an auxiliary channel for backing tracks. This external source has its own independent volume control and connects into the turntable via Bluetooth, making it easy to use.
As expected, pairing DJ Babu's loop app with Reloop SPIN pulls you into a vortex of dangerous groove-wrecking fun that could last for several hours – it doesn't matter if you're an experienced scratch artist or just a vinyl enthusiast with a general interest in hip-hop culture. The torque of the motor is quite impressive for belt-drive technology, accelerating the platter and reaching full speed rapidly. After exploring its limits a bit, it becomes quite clear that the general stability of the installation is worthy of both aficionado practice and casual party-starting, and although the direct audio output (RCA) isn't necessarily club-ready when it comes to sound quality and definition, it is more than up to task for practising or use in more relaxed settings. It's also easy to record all of one's dexterous vinyl maneuvering straight to mp3 on a USB stick – which will be handy for promotional purposes, or the strengthening of social relations through laughter, in this reviewer's case.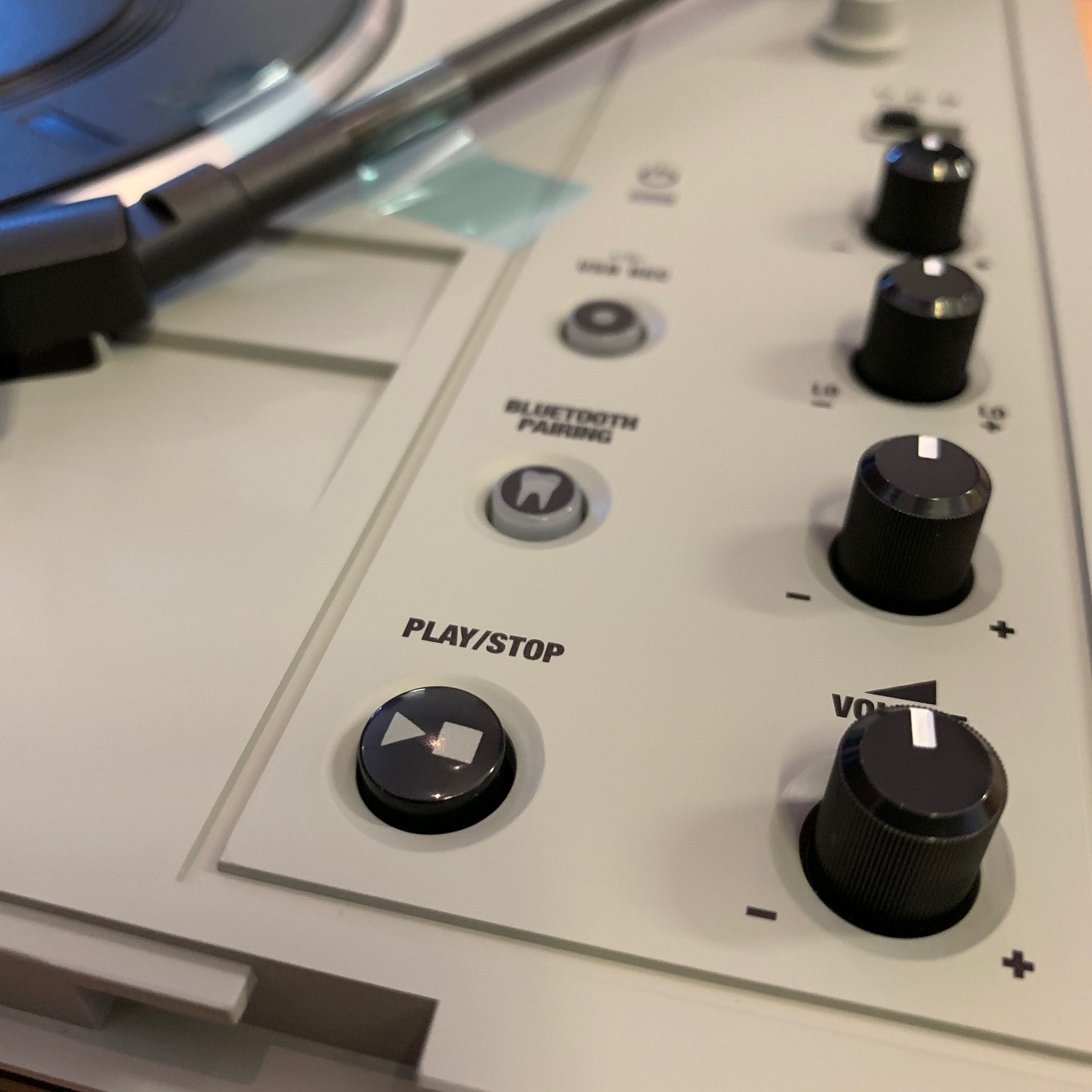 The way all of the SPIN's features are focused on a very specific use make it easy for beginners and casual scratchers alike, while also providing advanced turntablists with a valuable option for practice on the road and putting down ideas swiftly and easily with no need to set up. Besides all the scratch-oriented capabilities, the SPIN also adapts quite well to other uses. Features such as an in-built speaker and two headphone outputs make it a great companion for diggers getting their fingers dusty in unusual crates away from convenient listening booths. All considered, the Reloop SPIN is an accessible, specialist option which more than lives up to the company's objectives, creating a mobile record player for scratch artists and dusty 45 enthusiasts of various levels of skill and commitment.
Marco Rodrigues
More info/buy