Omnitronic's TRM202 is one of the most affordable rotary DJ mixers on the market, but how does it stand up to pricier models?
It's undeniable that rotary mixers occupy a special place in DJ culture; their association with foundational moments in the evolution of dance music, such as Larry Levan's Paradise Garage in 70s and 80s NYC, has elevated seminal models by brands like Bozak and UREI to cult status. With the explosion of DJ culture in the 90s, mixers got more complex, with digital sound and all manner of features such as effects and scratch-friendly faders, changing the architecture of the standard DJ mixer significantly. But rotary mixers were able to maintain legendary status among purists and audiophile DJs, going for huge amounts on the secondhand market and enjoying a new wave of interest for their coveted analogue sound and no-frills design. This demand eventually led to new models being released in recent years, some of them slightly more accessible in price but still cashing in on the inevitable fetishisation that surrounds these mixers.
Audio and DJ gear manufacturer Omnitronic seems determined to flip things around and go in a different direction, creating affordable alternatives that try to retain the original spirit of the rotary. By packing only the essential controls into a simple, well-built product, the third generation of their compact TRM-202 series, MK3, is their latest offering. Rather than adding features to the previous model, it focuses on perfecting the formula with a few adjustments and subtle fine-tuning.
Right out of the box, the TRM-202 MK3 feels satisfyingly rigid and solidly built. The aesthetics and the overall design are decidedly classic, with a focus on function and simplicity, but there are no obviously retro visual flourishes. The weight of the unit also inspires a certain sense of robustness and old-school charm. The layout is clear and simple, with a sturdy but smooth feel to all the controls, nicely resistant knobs and no fragile or plasticky elements in sight.
The first thing catching the eye is the integrated isolator with three big knobs for bass, mids and highs right at the top of the front panel, conveniently placed for playful frequency crushing and party-reviving sound manipulation, inviting the adventurous DJ to release their inner Theo Parrish. In fact, the isolator seems to be the main focus of the TRM-202 MK3, with all other controls hierarchically subordinate in size and placement. Volume controls are now symmetrically placed on each side, right at the bottom. Each channel has only two EQ controls, high and low – once again suggesting a focus on spontaneity rather than minutiae. Disciples of Dam-Funk's school of crowd hyping and real-time education on the dancefloor will find a mic input with dedicated volume control for that time of the night when one simply must tell the crowd about the release date, production credits and the mythical, artist-owned label of the rare pressing being played.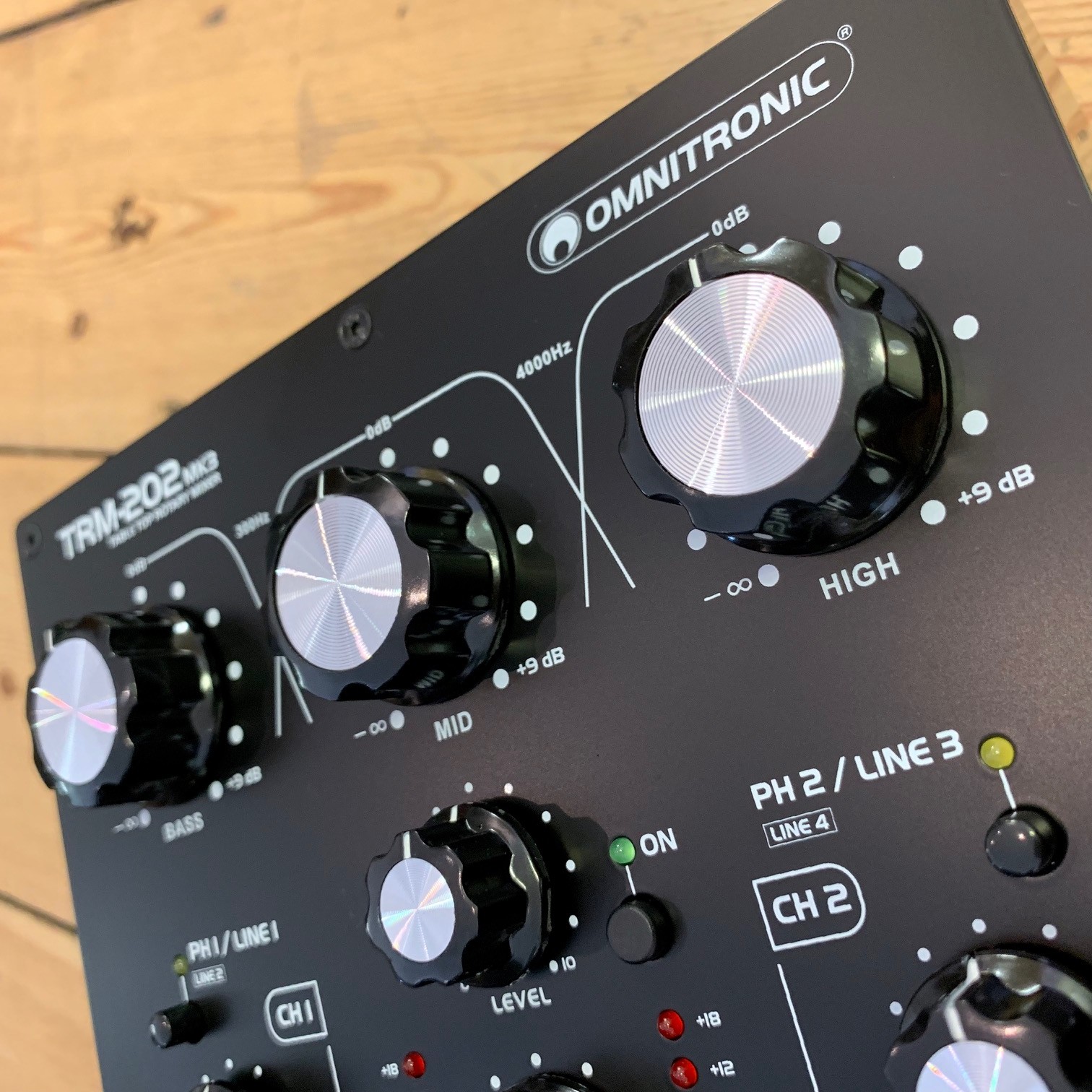 Personally, I used to be skeptical of rotary mixers, attributing most of the hype to fetish and retromania. That was until going on an enlightening DJ trip to Madrid and playing for eight straight hours instead of two. The culprits? A Rane rotary mixer and no curfew. Understandably, my excitement to test the TRM-202 was considerable. Earlier suspicions about the central role of the isolator in the MK3 were swiftly confirmed; the three big frequency knobs at the top are irresistible, not just for creating drastic peaks and valleys in the sound but also to dynamically adjust it on each track, adapting it to the room.
The volume knobs, however, demand a little more restraint and attention; they're smaller, not clearly differentiated from other controls (especially the booth and cue levels) and don't come with corresponding input gain controls. This means that matching the level from different inputs has to be done while mixing, using the potentiometers themselves to control gain. EQ on each channel doesn't feel too limiting; the low- and high-frequency knobs turned out to be quite enough to smooth blends and excite some crisp hi-hats when needed. Sound quality is quite impressive for the price range, offering a small taste of the warm, pristine sound of more expensive classic models. The TRM-202 MK3 also resembles the classics a bit in the way the blends feel different from their fader-equipped counterparts; distinct sound sources somehow gel together more cohesively, sharing a certain punchier and crunchier character that comes from the mixer itself.
In short, Omnitronic's updated TRM-202 is a great alternative for DJs eager to step into the warm, circular pleasures of the rotary mixer without having to sell a kidney for it. It won't offer quite the same level of celestial sound quality as some of the iconic Bozaks and UREIs but it does give a nice taste of that – and it certainly shames a few conventional mixers in the same price segment. Finally, as simple as it is, it is also supremely fun and easy to use, ideal for wild selectors and intoxicated frequency sweeping. Its compact size also makes it a must for smaller booths and portable enough for the odd bit of DJ travelling.
Marco Rodrigues
More info/buy
Check out a rundown of our favourite DJ mixers here: 10 Best DJ mixers.