The focus falls on Japan as Yusaku Shigeyasu investigates how hip hop, turntablism and techno have inspired Kobe's bubbling club scene.
Name cities in the Kansai area of Japan, and Osaka, with the hustle and bustle of its shopping and food arcades, will most liklely be the first to pop in your head. Some, though, might come up with Kyoto, the former Japanese capital famous for its many historic temples. What about Kobe then? It seems to be overshadowed by these two major cities though it's always had much to offer.
As Kobe is well-known as one of the biggest ports in Japan, it has enjoyed the privilege of being the first to try its hand at novel products and cultures from overseas. Despite the catastrophic earthquake in 1995, which marked devastating magnitude seven across the city, it has showed a miraculous recovery. Facing Mount Rokko, to the north, and overlooking the inland sea of Seto, Kobe boasts a warm and mild climate in which a rich, eclectic culture can thrive.
While venues like Larus feature celebrities and DJs playing EDM, there have been underground parties attracting serious music heads even from outside Kobe, putting the city on the musical map. Thanks to its proximity to Osaka and Kyoto, acts frequently commute to parties, exchanging their influences and sharing stages with like-minded talents. But what defines each night are its residents with a distinctive style above all.
Nights thrown by Kazuhiro Honda, aka DJ Kazuhiro, the founder of Grasswaxx Recordings, set a precedent for that. Around 2000, he started organising parties in his home town of Kobe. Honda made his mark as a promoter, expanding his territory as far as to Metro, one of the bastions in Kyoto. At that time, he sought a way of partying that went on to lead the abstract hip-hop and experimental beat scene in the Kansai region, inviting Pole, Freeform, Jan Jelinek, AOKI Takamasa, Riow Arai and Kensei, who was then one of the members of leftfield hip-hop project Indopepsychics. Honda's sense of partying was notably keen; psychedelic decor and Betaland's visual effects provided an otherworldly space for his events. It all coalesced into a distinctive aesthetic. Other local venues like Katakamura, Soul & Blood, Troopcafe (pictured in action below) and Bapple among others resonated in his enthusiasm, attracting followers from in and out of the city.
Honda took his cue from regular Kyoto event Still Echo, a hugely influential gig where he managed to become a resident. Steering towards a more genre-free course at his nights, various domestic acts like Hikaru, Kuniyuki and Artman began making guest appearances. By 2008, Honda put emphasis on an approach that went well beyond the confines of a single style, taking in techno to post-rock. Sharing those stages were the likes of Jeff Mills, Herbert, DJ Krush, DJ Qbert, Martin & Wood and Arto Lindsay. Ironically, however, a nagging question reared its head. "I enjoyed and learned a lot from shifting my style according to parties while maintaining my own character," Honda says. "But I began to feel this dilemma: 'what do I want to achieve from this after all?' In the end I came to a conclusion that it would result in a genuine chemical reaction if I perfected one style and then collaborate with acts from other genres."
Through this conflicting feeling, Honda chose techno as his medium for revealing his real self. In 2009, he turned over a new leaf by adoring the Rawfila moniker that enabled him to achieve more nuanced expression. His parties, accordingly, followed the same path. Phase Factor, Nuit Blance and Grasswaxx – the latter a party with the same name as his imprint – launched in 2006, and stuck to its guns with the likes of DJ Nobu, A. Mochi, Keihin and CMT playing. Honda recalls a particularly memorable night in spring 2009 when he invited DJ Nobu to Kamiya Gekijo, a warehouse in Kobe. "That was down to this epic space with the soundsystem of Saiko Onkyo from the Himeji city and laser lighting by Yamachang," he remembers, "it was absolutely mind-blowing." Despite a rich legacy of those parties, they are all now defunct, instead sparing more time for Honda to run his label. Still, there are voices for their comeback.
Picking up where Honda's parties left, Phc represents heady music in Kobe with its residents, Hal and Pwu, both of whom Honda gives his seal of approval. They have made a path parallel to what DJ Kazuhiro trod, initiating their career with abstract hip-hop and later favouring deep, stoned techno.
Their encounter dates back to the early-'90s when both devoted themselves to turntablism. Pwu was badly bitten by the scratch bug in 1992, when he watched the Juice movie before DJing at Bass, a short-lived club in Kobe whose club manager introduced him to a turntablist for training. That was how he met Hal, who would be his mentor and go on to take third place at DMC championships in western Japan. Before the two formed Halptribe in 2005, they often performed together with four turntables, effects and a sampler, mixing varied styles into an entertaining whole. Having joined Do-Hyo Origin, a collective led by Inden, who contributed his shrill rap to "Shinsou" by DJ Krush, they created stirs with an earthy downbeat mix series, Do-Hyo Magazine.
Around that time, Hal and Pwu deployed Vestax's turntables with pitch controls which ranged +50, drastically slowing down the tempo of techno and house records to combine with abstract hip-hop and broadening their musical taste. Through this omnivorous approach, they managed to display a coherent quality that led them to team up with Masafumi Onishi, a booker of the Troopcafe club, for their regular night.
With CMT as its first guest, Phc was launched in September 2014 and it has taken place in every few months ever since. Looking back on the past guests, Svreca, Mike Servito, Shhhhh, Wata Igarashi and Kuniyuki says something of where the night is heading. "There's no specific concept as such, we are just aiming at a spaced-out sound," says Pwu of the party. "We listen to any kind of music and try to achieve this sound from every direction. It's kind of dope, you know." Hal and Pwu's individual sets are distinctive, to say nothing of Halptribe, a performance project at which Pwu is responsible for two decks and a mixer while Hal edits the sound on Traktor in real time. Through their sessions, seemingly unrelated materials from house, electronica, dubstep and techno are all woven into a solid, heady thread that runs through Phc.
Kobe offers quality music at smaller venues like Bapple and Nagomi Bar though it is Troopcafe, a 300 capacity basement that boasts a history of 18 years, that has played a leading role in the city. When the 1995 calamitous earthquake left the city with catastrophic damage, most of the clubs succumbed to the tragedy. On Honda's own account, it occurred around the time when the city's discos were converting to clubs. As the city saw a sign of recovery, Troopcafe was founded by Hiroshige Wakabayashi in 1998 (it moved to the current downtown location in 2004). To this date, its focus has firmly been set as a stronghold not only in music but in culture in a broader sense.
A restaurant by day that offers selected local food, like Kobe beef, Troopcafe transforms into a club equipped with a powerful soundsystem during the weekends. In charge of operating both sides of the place is chef and DJ Masafumi Onishi. His initial foray into DJing was '90s rock and hip-hop, followed by Junior Vasquez and Tony Humphries' house inspirations to the banging minimal of Ben Sims and German techno. As DJ Telly, however, he threw events with the likes of Shigeki Tamura from A Hundred Birds and IDO, who released on T Raumschmiere's Shitkatapult, cultivating a wider musical taste that covers electro, punk, house, techno and electronica. That represented a formative period when he nurtured a required sense to be at the control of Troopcafe's diverse music programmes. This inclusive attitude has been projected since he stood in for a senior booker while working as a cook in the late-'00s.
In the early days of Bush, one of the oldest nights at Troopcafe that has run for nearly a decade, it often invited Ko Kimura and Satoshi Tomiie, leading the city's house music scene. More recently, however, its guests include Radio Slave, Audio Fly, DJ Masda, Daniel Bell and Rhadoo, leaning towards more understated minimal. Lately, Onishi offered DJ Soichi a residency, stepping down and dedicating himself to working behind the scenes.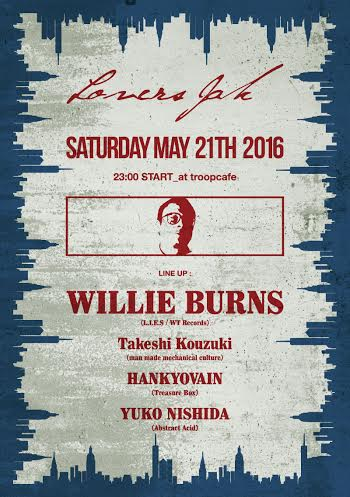 In recent years, the number of regular nights at Troopcafe is on the rise. Regularity sometimes causes things to get stuck in a rut, so to handle this conundrum, Troopcafe has placed a considerable emphasis on unpredictability when considering how to direct its parties. "Dance music and club culture must always be up-to-date," says Onishi. "When we go out, things never exceed our expectations these days. But what locals like us need is something beyond your imagination. We'd rather offer something that wonderfully defies all prediction. Recently, I'll choose and book potent DJs that can show a hidden streak different to their usual character."
Additionally, Troopcafe has favoured local DJs and given them a lot of support through its bookings. Apart from the aforementioned Halptribe duo at Phc, there's Lovers Jak. It has provided Kobe with modern raw house, hosted by Yuko Nishida and Takeshi Kouzuki, the man behind the Man Made Mechanical Culture label who has appeared on labels like Jamal Moss' Mathematics. They team up with Hankyovain from Osaka, creating suitable occasions for DJs like Wille Burns, Andy Vaz and Kez YM.
Building strong relationships with talented DJs and producers in Kobe, a few clubs are now entering a new phase. Troopcade and Bapple are planning to launch their own labels to introduce their residents and close acts to wider audience. Pwu's mix for Bapple is down the line. At this point, there is not much information available on Troopcafe's new chapter, though Onishi, who has been involved with countless events for years, helping foster underground culture in Kobe says with zeal, "we'll put out work by artists in Kobe and get it to all over the world in an appropriate way.
"The idea," he adds, "is that our fellow DJs will make their presence felt worldwide and bring positive feedback to the city's next generation. We need to make this cultural cycle repeat again and again. Nothing but parties can put people involved together and merge them into a new culture you've never seen. I believe in the power of parties."
Yusaku Shigeyasu
Header image courtesy of Troopcafe
Live photos courtesy of Troopcafe
Flyer photo courtesy of Grasswaxx Recordings