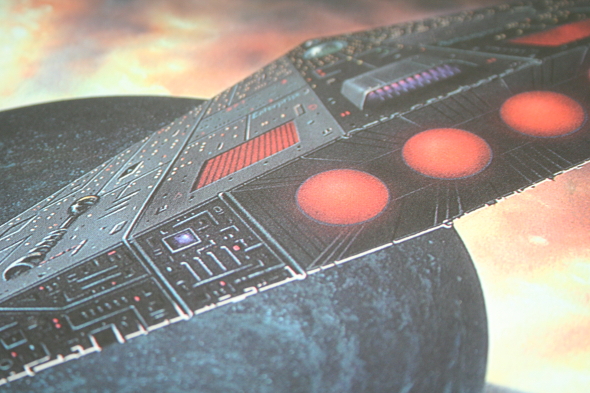 The cover art on 2845 from self-proclaimed "longest-established living space artist in the West" David Hardy features a space ship headed for an unknown world. It perfectly reflects the direction that Gerard Hanson has chosen for this his second album as Convextion. Championed for the past two decades by a steadily growing and always fiercely loyal fan base for his sporadic and sleek, deep techno releases as Convextion and evocative electro as E.R.P., the Dallas producer now pushes the former project farther.
Album opener "New Horizon" recalls the gentle ambience of Convextion's surprise release on Acido a few months ago, favouring cosmic washes of ambience and a stuttering synth loop for its 16 minute duration. The underlying kick drum is so understated to the point that even the gentle musical accompaniment overpowers it. The same sensibility runs through there rest of the album; "Distant Transmission" on the flip revolves around gently shifting bass tones, brittle kicks and airy pads. It may be in the same general category as Convextion's previous work but it seems like Hanson is gradually moving away from out and out esoteric music.
This shift is fully apparent on "Saline Moon". It's one of the producer's most dance floor friendly tracks and sees him hitching his eerie melodies to a solid Chicago groove, replete with a churning bass straight from the Larry Heard playbook. Quite how this subtle but significant shift in style will wash with Convextion's fan base is anyone's guess – and it would not be unreasonable to posit that space-themed titles like "Tidal Friction" and "New Horizon" are a sop to his deep techno diehards – but it does open up his open up his appeal to a wider audience.
That's not to suggest either that Hanson has abandoned his core aesthetic. Even on the stripped back techno rhythm of "Tidal Friction" a mysterious organ riff beams in and the wiry, Juan Atkins-style funk of "Sea And Satellite" is shot through with angelic melodies. On 2845, he may be a long way from home but its seamless glide proves that Gerard Hanson remains one of techno's peerless artists.
Richard Brophy
Tracklisting:
A1. New Horizon
B1. Distant Transmission
B2. Saline Moon
C1. Tidal Friction
C2. Sea And Satellite
D1. Exploration
D2. Flyby