IXVLF returns for next Unknown Precept release
Connor Clasen's vinyl debut, Involuntary Movement, welcomes the Berlin label back after an extended break.
As eye-catching as The Black Ideal compilation which announced Unknown Precept was, with contributions from Svreca, Ancient Methods, Shifted and more, what has arguably been more impressive about the Berlin via Paris label is their eye for talent. Across their vinyl and tape output, Unknown Precept has acted as platform for Corporate Park's Shane English, Primitive Languages co-founder Nick Klein and the spell-check crashing Maoupa Mazzocchetti, three artists who have gone on to gain wider exposure. The last Unknown Precept release introduced the IXVLF project of Pennsylvania musician Connor Clasen and caught our attention thanks to his crazed vocal delivery reminiscent of US comedian Bobcat Goldthwait.
Some seven months after that IXVLF tape was released, Unknown Precept are set to return with a new 12″ which sees Clasen bring his decidely degraded rhythmic electronics to the vinyl format. Taking the title Involuntary Movement , the five-track 12″ is summed up by Unknown Precept as a "fixation on mechanical repetition and unpredictable behaviors through the haze of helium laughter." You can preview all five tracks below with the brutish snap of "Cords" standing out. "Definitely one for the animals," as the label notes.
Unknown Precept will release Involuntary Movement by IXVLF in September.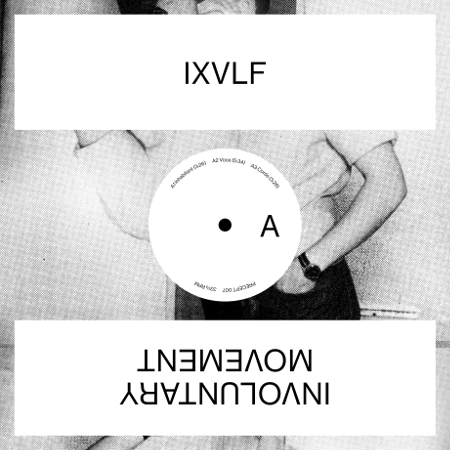 Tracklisting:
A1. Inhabitant
A2. Voce
A3. Cords
B1. Acropora
B2. Never Coming
Unknown Precept on Juno