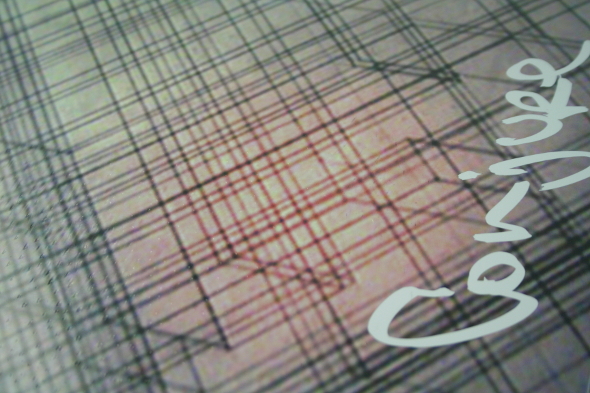 Always existing on the edge of convention, Ramon Quezada continues to be an artist that confounds with his singular vision. His musical identity has been forged on being stoutly unusual, and yet there's something so very instinctual about his work that enables it to speak to all kinds of dancers. It's fair to say that, whether in his lighter or heavier moments, there is an innate physicality powering the music that makes its way on to a 12", but equally he has the depth and imagination to reach beyond when the situation demands it.
Albums are of course a more suitable space for such explorations, and there are seized opportunities as such on this second long player from Qu, but this is a collection of pumped up techno abstractions first and foremost. It serves as an interesting summation of his artistic spirit, as the evidence is there, in the mystical folds between the drums, that he could divert into a whole collection of thoughtful downtempo and ambient pieces and make it a worthy addition to his canon, and yet he chooses not to.
On Conjure, two explicit examples of this mellow side to Qu are "Candlelit" and "Supafly". The former is everything a mid-album ambient piece should be – aqueous pads, rippling effects, processed speech sample, a couple of minutes in length – and the New Jersey artist sounds completely comfortable in that guise. "Supafly" represents a different and quite tantalising prospect, tapping into the kind of low-slung breakbeat funk that calls to mind the early Urban Tribe outings on Mo Wax. The beat and the odd samples fling around the track with a presence that aligns with Qu's dancefloor work while also reveling in a smoked-out haze that leaves you wondering what else the man might be capable of on this tip. If anything, the instant reference points are a surprise from a man who commonly operates so far off the charts.
Sunday morning wind-down fodder is however not where Qu chooses to divert too much of the focus, as there is plenty of exciting work to be done in the heat of the night instead. "Feed Off Of" lights the touch paper to the album perfectly, channeling a militaristic urgency in the drums accented by an urgent announcer intoning the body to "go!" The limber programming of the beats is enough of a thrill, but it's the subtle synth touches that inject that essential strange quality into the mix.
"Whistle Song" brings these unusual melodic elements to the fore in a cascade of uneasy lead lines that froth over the tough stomp of the beat. "Visitation" meanwhile loses itself in a swirl of metallic reverb feedback, ditching the off-key harmonies for unsettling but skillfully managed washes of monochrome texture. Weird as it might be, the mood the track projects is one of minimally lit spaces full of bodies in the full thrust of a disorientating night out. The voice that lurks ominously in the mix issues a command that can't quite be made out, but it feels like an instruction to move.
Indeed authoritative (and mildly scary) vocal insistence is a recurring theme on Conjure. Surely an album highlight, "Toc" is pure incendiary material with its hooky, minimalistic beat and clock-mimicking chant. It feels like the looming directive is a sly dig at the time-slip effect a long night dancing to techno can have on a hapless reveller, and by the time the gnarly monosynth comes snarling in at the end of the track it's hard to imagine anyone disobeying the order.
There is however one distinct alternative to the spooky words spoken by faceless taskmasters, and that comes with the sublime opening to the album. "Lotus" features the silken tones of Charlotte Carter-Allen, whose florally-minded coos flirt with delicate piano over a scattershot drum set and a subby synth in what must be the most apt encapsulation of Qu's music. It's a beautiful, delicately constructed piece rich with soul, and yet these hard edged elements and discordant notes dart in and out of the mix and somehow work their way into the warmer elements and make for a logical whole. It's a bittersweet summation of the balance of life as we know it, and it goes some way to explaining why Qu's music transcends its surface strangeness to be widely lauded, capturing the light and shade of the human condition while providing a framework for working out those conflicts through the therapy of dancing.
Oli Warwick 
Tracklisting:
1. Lotus (In Memory Of Marjory Smarth) feat. Charlotte Carter-Allen
2. Feed Off Of
3. CandleLit
4. Whistle Song
5. Supafly
6. Visitation
7. Get It 'Til It's Gone
8. Toc
9. Conjure