A second Factory Floor album announced
DFA Records will release 25 25 by the duo in August. 
We last heard from Factory Floor back in early 2014 when DFA handed the stem-shaped reins for album track "How You Say" to Hauff for remixing alongside the ever-straight faced Daniel Avery. The results of Hauff's remix were described on these very pages at the time as feeling like a "snapping punch to the jaw." In the period since then, Factory Floor have quietly slimmed down to Nik Void and Gabe Gurnsey, with Dominic Butler departing to form several orally-themed projects with L/F/D/M. In addition to touring as Factory Floor, both Void and Gurnsey have spent some time on their respective fringe projects with the former recording a Carter Tutti Void album with Chris and Cosey and the latter putting out a 12″ on the Drone label.
Some time in the recording studio working on new Factory Floor material has evidently been spent too, with a fresh 12″ entitled Dial Me In from the duo arriving out of nowhere last week. That track will now feature on 25 25, a newly-announced second album from Factory Floor pencilled in to arrive on DFA in August. Mixed down with the assistance of studio engineer David Wrench, this new eight-track Factory Floor set has evolved out of the growing number of late night club shows the pair have been performing these past few years and it shows on the gurgling throb of "Dial Me In" which can be streamed below.
A press release quotes Void revealing "Dial Me In" was the first track the pair recorded for this new album, and she goes on to explain their motivations behind 25 25 as follows:
"At this time we were both exploring new set ups – some unfamiliar gear like modular systems, as well as various machines combined with regular old stuff like my Roland sampler, live drums and effected live vocals. Our shows between 2014-2015 where steadily moving towards late night club stompers, and gradually our tools were becoming more and more mobile within two Peli cases wheeled across the continent. We were forever testing out changing sets from one place to the next. This single is all about transition, adjustment and transparency – something we needed to get out there so that dots can be joined and the next page can be turned ready for 25 25."
DFA will release 25 25 by Factory Floor on August 19.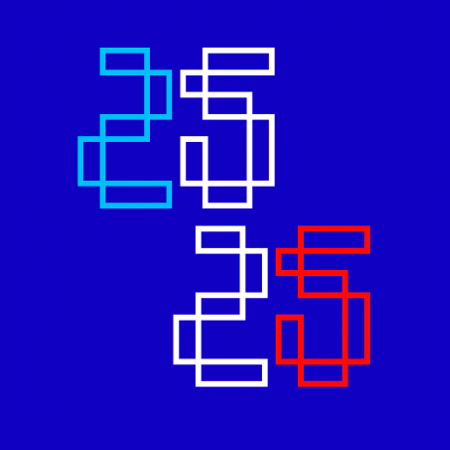 Tracklisting:
1. Meet Me At The End
2. Relay
3. Slow Listen
4. 25/25
5. Dial Me In
6. Wave
7. Ya
8. Upper Left
Factory Floor on Juno