Djrum announces trilogy of EPs for 2nd Drop
The London-based producer kicks off a new run of releases with the Forgetting EP.
It never feels like you're particularly far away from some fresh, modern club wares courtesy of Felix Manuel. Back in March we were extolling the virtues of the man known as Djrum's appearance on Ilian Tape, facing off against mysterious entity Struction (the jury is still out on whether Struction is Manuel in disguise or not). Last year was a little more sparse for the productive producer, with just the one release dropped on Samurai Red Seal. For the most part though it's 2nd Drop where the majority of Djrum material has emerged, including the 2013 debut album Seven Lies. However it has actually been a while since we heard anything new from 2nd Drop – a label that typified some of the freshest variations on the dubstep formula when it launched in 2007. The last release was from Pedestrian & Jasperdrum back in 2014, so it's high time the label got back into the fray.
What better way to grease up the gears than with the trusty Djrum at the controls for no less than three EPs, totalling eight new tracks that span the range of sounds you would expect from the London dwelling artist. Proceedings kick off with the four-track Forgetting EP, scheduled to land at the end of June with the LA EP and Space Race EP both slotted in for the following two months, moving from downtempo melancholy to peppy D&B-esque workouts. You can hear a preview of one track from each of the planned trilogy below, whilst artwork for the series comes from Klone Yourself, a Tel Aviv-based artist Djrum reportedly discovered on his internet travels.
2nd Drop will release Forgetting EP by Djrum on June 24, LA EP by Djrum on July 22 and Space Race EP by Djrum on August 26.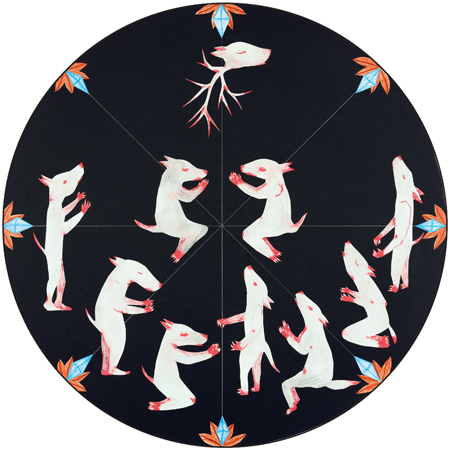 Forgetting EP Tracklisting:
A1. Forgetting
A2. Projection
B1. Induction
B2. Forgetting Coda
LA EP Tracklisting:
A1. LA
B1. Abandon Me
Space Race EP Tracklisting:
A1. Space Race pt. 1 & 2
B1. Sometimes I Share
Header image courtesy of Oliver Clasper
Djrum on Juno