Midwich announce Alex Barnett album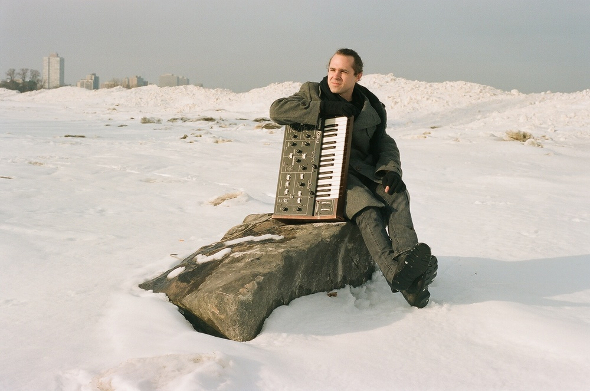 Chew From the Mind from the Chicago artist will arrive next month.
The Midwich Productions label arrived last summer and looked to be a platform for long-term US underground fixture James Marlon Magas to promote the many musicians that surround him in the Mid-West area. Music from Magas himself and the Moon Pool and Dead Band pairing of Nate Young and David Shettler introduced the label, with the distinctive Midwich aesthetic and sleeve design delivered courtesy of renowned artist Mark Salwowski. Following an album from Viands and a Mick Travis single last October, Midwich return with a new offering for April in the shape of a debut solo album from Alex Barnett.
Readers of Juno Plus will know Barnett (pictured above relaxing with a large Moog) best for his work with Faith Coloccia, with the pair releasing two superb Barnett + Coloccia albums on Blackest Ever Black. He's also part of prolific Illinois dark ambient trio Oakeater and has put out a fair few cassettes on Pizza Night, Catholic Tapes and Nihilist. The upcoming Chew From The Mind represents Barnett's debut solo album however, and according to the artist himself the focus is themes of consciousness. "Embracing my own human ineffectiveness and mutant qualities, exploring machine personality, contemplating the functions and malfunctions of the mind, and mapping the suspense of everyday life," Barnett states in a press release.
You can get a taste of how that all manifests itself musically on the album with "Slapwalk" available to stream in full below. Midwich are also putting out a 12″ from Chicago duo HIDE which you can read more about here.
Midwich will release Chew From The Mind by Alex Barnett in early April.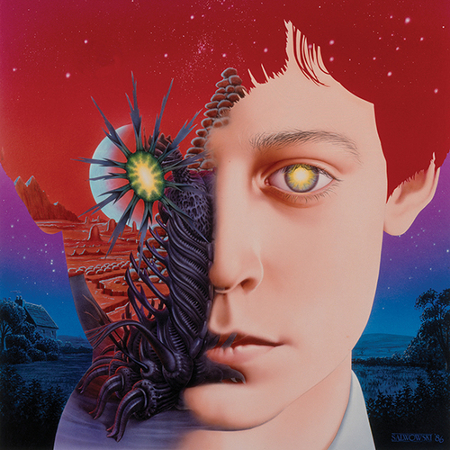 Tracklisting:
A1. Luminous Idol
A2. Dissociative Drift
A3. Slapwalk
A4. Roach Race
A5. Under the Lower Sky
B1. Premonition Reel
B2. Live Ringers
B3. Deep Down
B4. Arches
Midwich on Juno
Header image courtesy of Maria Tzeka