The Bunker New York enters into 2016
The fabled Italian Donato Dozzy is on board for the first release of 2016 from The Bunker New York in addition to a forthcoming remix 12″ from Patrick Russell.
When it comes to new material from Donato Scaramuzzi, one does not have to wait long. 2016 may be less than two months old but we've already been treated to news the Italian has a new label called Spazio Disponibile on the way in cahoots with Voices From The Lake partner Neel, and has remixed Area for a new Tesuji sub-label of Kimochi Sound. Those eager for some solo 12″ swerves from the man known as Donato Dozzy will be happy to see Scaramuzzi is in line for a return to The Bunker New York for their first offering of the year.
Founded in January 2014 as a logical extension of the long-running club night of the same name, Bryan Kasenic's label has called on Donato Dozzy before with their third offering the imperious Velo Di Maya EP by Voices From The Lake. The label has been a bit quiet since releasing Clay Wilson's Skandha EP in September, with the focus on events and their killer podcast series (do check their Resom commission!) but return in requisite style with the Squadra Quadra 12″ from Dozzy.
Furthermore, The Bunker New York have also revelled plans to put out a three-track 12″ of Patrick Russell remixes. With a handful of remixes to his name, the Interdimensional Transmissions crewman does consider himself "a DJ first, and a producer/remixer second," however he now shifts the balance back to production by serving TBNY with interpretations of Gunnar Haslam and Tin Man's Romans project and tracks by Bunker label mates Clay Wilson and Zemi 17. Preview both the Donato Dozzy 12″ and Patrick Russell remix EP below.
The Bunker New York will release Squadra Quadra by Donato Dozzy on March 7 and The Bunker Remixes EP by Patrick Russell on March 28.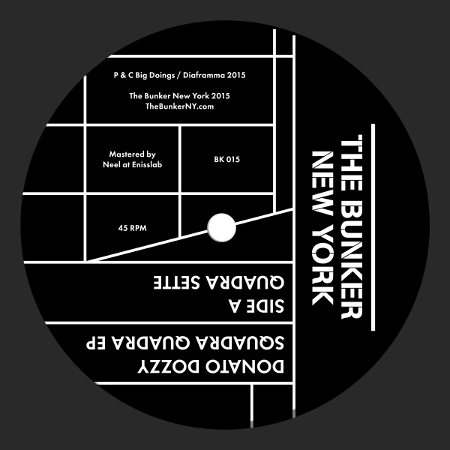 Tracklisting:
A1. Quadra Sette
B1. Quadra Nove
Tracklisting:
A. Clay Wilson – E4 (Patrick Russell Remix)
B1. Romans – Coptos (Patrick Russell Remix)
B2. Zemi17 – Rangda (Patrick Russell Remix)
The Bunker New York on Juno