Blueprint welcomes back Surgeon
Search Deep Inside Yourself kicks off the label's 20th anniversary celebrations.
When you think of UK techno, one of the first labels that should spring to mind is James Ruskin's Blueprint. Founded by Ruskin with the now sadly-departed Richard Polson back in 1996, Blueprint has developed a discography shaped not by quantity but quality with their solo releases and joint project Outline complemented by records from Oliver Ho and Surgeon. The turn of the decade signalled a renewed sense of vigour for Blueprint, ushering in Ruskin and Mark Broom's project The Fear Ratio and a desire to embrace the new generation of techno artists resulting in records from Lakker, Sam Kerridge and Sigha.
Those with a basic grasp of maths will know 2016 marks 20 years of Blueprint, and the label apparently have a raft of releases planned to mark the occasion, promising "Blueprint artists old and new as well as some classic reissues." First up is the return of Surgeon, last seen on Blueprint with a remix of Ruskin back in 2005, with a four-track 12″ called Search Deep Inside Yourself due later this month. Arriving soon after his album, From Farthest Known Objects, this new 12″ sees Anthony Child back in full techno mode for 2016.
Blueprint will release Search Deep Inside Yourself by Surgeon on February 22.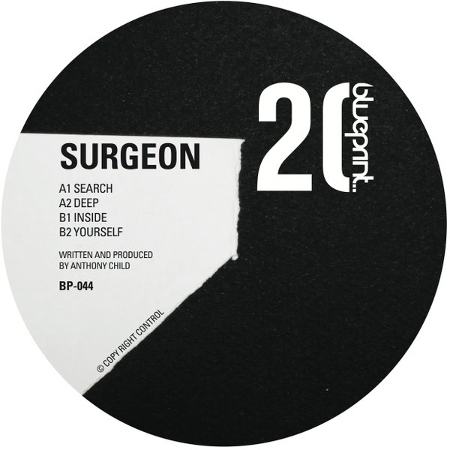 Tracklisting:
A1. Search
A2. Deep
B1. Inside
B2. Yourself
Blueprint on Juno